Day 2 of Brown Girls Do Gymnastics Conference Focuses on Techniques, Workshops & Tours
Tickets Available for Gymnastics Invitational and Exhibition on Sunday
GRAMBLING, La. – July 24, 2021 –  The Brown Girls Do Gymnastics (BGDG) Conference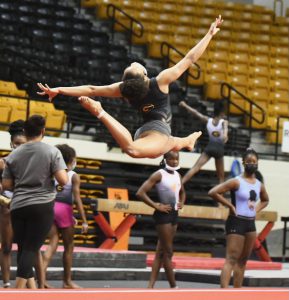 continued Saturday at Grambling State University as young gymnasts focused on enhancing their techniques and parents attended informational workshops.
The event is a collaboration between GSU, The Doug Williams Center, and the Ruston Lincoln Convention and Visitor's Bureau.
On Saturday, parents toured the GSU campus, visited the Eddie G. Robinson Museum, and attended workshops to learn about topics that included injury prevention and mental health.
GSU's Fredrick C. Hobdy Assembly Center came alive with activity Saturday as young gymnasts moved from one piece of equipment to the next perfecting their skills. Girls swung gracefully from uneven bars, flipped agilely across the floor, or nimbly navigated balance beams – all to rhythmic, high-intensity music. Young gymnasts worked on everything from the balance beam to floor exercises. They also learned advanced gymnastics, acrobatic techniques, and self-defense tactics.
The nearby Paradigm Gym in Ruston also served as an event venue. Gymnasts hung from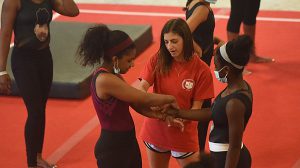 colorful looped silks (fabric) while twirling in mid-air.  Led by BGDG instructor Melanie Sinclair, the girls learned how to use the fabric to wrap, suspend, and spiral their bodies into various positions.
"That's it. Now, kick back. Pretty," Sinclair told one gymnast. "Now, go into a straddle. Perfect."
On the other side of the gym, girls practiced self-defense with Paradigm instructor Cameron Hale, who specializes in kickboxing and self-defense. "This is about them knowing how to defend themselves and deflect a fight," she explained.
Herb Vandenberg, the gym owner and manager, said he was "100% in" when he was asked about his facility being part of the conference.
"Because of the Olympics, it's a really exciting time," he said, adding that he would love to be involved if  GSU launches a collegiate-level program. Grambling has expressed interest in starting a gymnastics program if it can garner partners and support for the initiative. Currently, no Historically Black College or University (HBCU) has a program.
Sporting a "Gymnastics Mom" T-shirt, Tamara Alexander-Maxi attended the BGDG conference with her daughter, Pilar. The LaPlace, Louisiana resident called it a "beautiful and necessary experience."
"It's an opportunity for them to come together with girls that look like them and do a sport that they love," she said. "The idea that (a gymnastics program at an HBCU) doesn't exist is kind of frustrating. I am hopeful for the future that not only will Grambling start a program but other HBCUs as well."
BGDG founder Derrin Moore said the goal of the conference is to increase exposure and access to gymnastics among girls and women of color, provide mentorship to young gymnasts, and offer resources and information for parents.
Teams from Metroplex Gymnastics in Texas and Powermoves Gymnastics in New York will be participating in an invitational from 10 a.m. to 12 p.m. on Sunday. The sanctioned, judged competition will feature the vault, uneven bars, balance beam, and floor exercises.
The exhibition, from 1 p.m. to 4 p.m., will feature former and current collegiate gymnasts from Seattle Pacific, Auburn, University of Florida, Rutgers, and Centenary.
"People are going to see some great collegiate-level gymnastics with a twist because the routines won't be traditional routines," Moore said.
Tickets are still available for the invitational and exhibition. Spectators must wear masks and practice social distancing. To get tickets online, visit  http://www.browngirlsdogymnastics.com or to watch via pay-per-view, visit  link.gram.edu/bgdg.
About Grambling State University
Grambling State University, located in Grambling, Louisiana, is a historically black university founded in 1901. The University has been accredited by 13 accrediting associations and holds accreditations in all programs required by the Louisiana Board of Regents. The 590-acre campus offers 43 undergraduate and graduate academic programs. Grambling State University is a member of the University of Louisiana System. For more information, visit gram.edu.