Grambling State University Gearing Up for Unapologetically Memorable Homecoming Oct. 10-17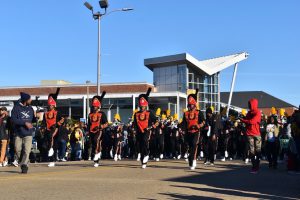 GRAMBLING, La. – Oct.  8, 2021 – Get ready for an unapologetically fabulous homecoming at Grambling State University, Oct. 10-17, 2021. While COVID-19 protocols mean some changes to events, organizers say the gathering promises to be entertaining and memorable.
"Attendees should expect the unexpected," said Kourtlin Williams, the Favrot Student Union Board President at GSU. "None of us, including alumni, have seen a homecoming or Spring Fest in two years so it may get a little wild, but Grambling style. School spirit will be an ongoing thing whether it is through social media, attire, or just being who you are. People will be Unapologetically GramFam and that is the only way to put it."
Williams, of Lake Charles, Louisiana, said he is extremely excited about everything that is coming up.
"We are bringing events for students to learn, network, and build their brands such as: Grambling's Black Wall Street and the Entertainment Panel," he said.  "It will be a time for alumni and students to see what Grambling has and can produce. There will also be events for students to turn up, laugh, and have a good time such as: The DJ Verzuz, Talent Show, My Black is Beautiful Day Party, and Laser Tag."
Each homecoming event features a unique take on the theme "Unapologetically____ A Homecoming Your Way". The "Unapologetically Blessed" praise and worship service takes place at noon on Oct. 10 in the T.H. Harris Auditorium. Oct. 12 features an "Unapologetically Motivated" Greek & non Greek stroll off on The Yard. The My Black and Beautiful: Shades of Brown Day Party will be held on The Yard at 2 p.m., Oct. 13 which is "Unapologetically Dope". The comedy show will be held at 7 p.m. that night at Hobdy Assembly Center.
Oct. 14 highlights the "Unapologetically Creative" entertainment panel at 2 p.m. in T.H. Harris Auditorium and the homecoming concert at 7 p.m. at the Hobdy Assembly Center. Oct. 15 features "Unapologetically Black" events including the Fred D. Hearn Memorial Scholarship Golf Classic at 8 a.m. at Trial's End and the Black and Bougie Maskerade Alumni Party at 10 p.m. at the Hobdy Assembly Center.
"As HBCU students and alumni, we are unapologetically black, unapologetically GramFam, unapologetically motivated, unapologetically whatever want to be," said Chere Kirkland, alumni events coordinator. "This year's theme speaks to that and allows our attendees to live out their unapologetic story."
The Oct. 14 GramFam Lights Camera Action Entertainment Panel will be hosted by Cardellia Hunter, director of film anc entertainment for the City of Atlanta. It will feature current student Kayla Sullers (Power Book IV on STARZ), actress Angela Davis (P-Valley on STARZ), and executive producer/creator/writer Randy Huggins (BMF on STARZ).
"All students across all majors are encouraged to attend this event, participate in the Q&A and get some photos," Kirkland said.
Black Wall Street promises a festival-type feel on Oct. 15. Student and alumni vendors will line the streets near T.H. Harris Auditorium, food trucks will be available, and stage acts throughout the day in the Quad.
The annual homecoming parade takes place on Oct. 16 beginning at 9 a.m. on Main Street. It's a great time to get glimpse of the World Famed Marching Band and Miss Grambling Faith Daniels and the Royal Court. To assist with social distancing and manage overcrowding, parade participants cannot throw favors of any kind. At 2 p.m., Grambling State University will take on Texas Southern University at Eddie G. Robinson Memorial Stadium.
University officials encourage attendees to enjoy homecoming safely and responsibly. All students, parents, alumni, and guests must present an ID and either proof of full vaccination or negative COVID-19 test within 48 hours prior to any homecoming event. It is recommended that those who are planning to attend multiple homecoming events take advantage of the homecoming wristband.
The wristbands will be distributed Wednesday, Oct. 13, 2021, through Saturday, Oct. 16, 2021, from 10 a.m.-7 p.m. in the Tiger Den of the Favrot Student Union.
Homecoming wrap-ups Oct. 17 with "Unapologetically Grateful" activities including a 1 a.m. alumni breakfast bar, an 8 a.m. "Big Event", and 11 a.m. brunch.
All homecoming events will adhere to COVID-19 protocols and are subject to change based on university, state, and Louisiana Public Health guidelines. The university continues to monitor developments in the COVID-19 pandemic. Plans for Homecoming Week remain subject to change based on developments locally, statewide, and nationally, as well as changes in university policy.
A few more items to note for alumni activities:
All alumni events are advance ticket sales only. No tickets will be sold at the door for any of the events shown here.
Purchasers will be provided ticket pickup instructions via email.
Any tickets for the Homecoming game, concert, step show, and comedy show must be bought through the university.
All events are cash bar only, no other forms of payment will be accepted. ]
No refunds. Consider your purchase unapologetic support of the university and current students.
For the full calendar of events, visit  gram.edu.
About Grambling State University
Grambling State University, located in Grambling, Louisiana, is a historically black university that was founded in 1901. The institution has been accredited by SACSCOC, 13 associations, and in all programs required by the Louisiana Board of Regents. A member of the University of Louisiana System, Grambling State University has the academic strengths of a major university with the benefits of a small college. Offering 43 undergraduate and graduate academic programs, the 590-acre campus is home to world-class athletics, an internationally renowned marching band, and vibrant student life that enable our scholars to grow and learn in a positive environment. For more information, visit gram.edu.