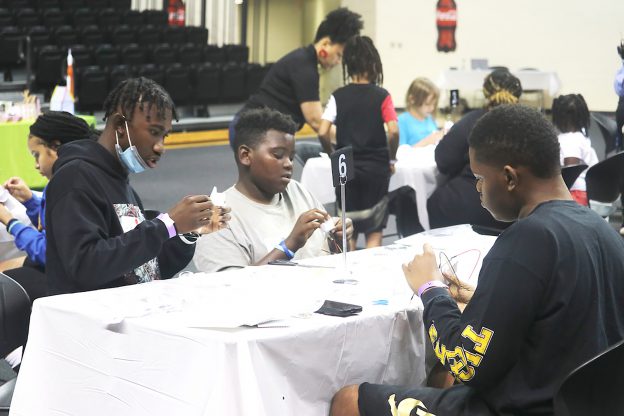 GSU STEM Day sparks fun day of learning for area youth
By Casey McGee, STEM NOLA Director of Communications
GRAMBLING, La. ­­­May 28, 2022 –– The Fredrick C. Hobdy Assembly Center on the campus of Grambling State University was electrified with the energy of students being exposed to the power of STEM learning. 
Saturday's event was hosted by STEM Grambling State, an affiliate of STEM Global Action, which provides children hands-on experiences with fun STEM-related projects that aim to build positive attitudes and confidence towards science, technology, engineering and math. 
"We want to get more minority students involved in STEM, we want to get more people in silicon valley, more doctors, more engineers," said Dana Allen, Director of Programs for STEM Global Action. "There has been a decline of minorities in the STEM fields, so the more we engage them in the community where they are, bringing STEM to them the more likely we are to increase their chances of going into those fields."
More than 100 students, parents, and volunteers participated in the themed STEM Saturday focused on teaching K-12 students about circuits and electricity to help them understand how circuits are used to power everyday devices.
"Grambling is one of those partner institutions that love to have K-12 students here to learn, feel, do and create their own things in STEM," said GSU Director of University Communications Tisha Arnold. "Just to see them working with the circuits and electrical pieces to make their own traffic lights. Those are things that you remember for years to come."
Two GSU Biology professors as well as 10 undergraduate students volunteered their time to work directly with the participants and guide them through the activities. 
One of those volunteers was Stephon Hardin who is majoring in Engineering Technology with a concentration in drafting and design.
"I wanted to volunteer and help the kids because I thought it would be something that's interesting and fun to do to get kids on board with STEM," Hardin said.  "I've always wanted to do something like this, especially growing up in Winnsboro, Louisiana. It's a small town and we didn't get many opportunities, so to be able to do something that involves the kids to be able to get them on track to want to learn and grow is amazing."
STEM Grambling launched its programming in partnership with Grambling State University President Rick Gallot, Jr., Magic Johnson's Sodexo Magic, and STEM NOLA powered by Entergy in November of 2019 with a STEM Fest. A total of 425 K-12 students, 250 parents, 70 college interns, and 25 professional volunteers from the surrounding area participated in the event that featured 50 hands-on activities.
The STEM Fest was followed up with STEM Grambling's first STEM Saturday in January of 2020 focused on teaching 100 K-12 students about the power of Chemistry. They engaged in various activities like pop rockets, lava lamps, and molecular structures and built chemical battery-powered clocks.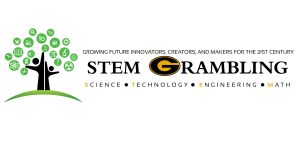 At the onset of the COVID-19 pandemic, the programming shifted to a virtual setting, which allowed students from Grambling and surrounding areas to continue their STEM learning with monthly programming. Since its inception, STEM Grambling has now engaged more than 1,200 K-12 students and 200 GSU college students as interns to have a collective community impact. 
In February, two GSU students were celebrated for being featured on the cover of a commemorative print issue of EBONY magazine highlighting the HBCU STEM Queens competition for successful students majoring in STEM fields. One of the young ladies, Destney Johnson, is a former STEM Grambling volunteer who worked with students at events in Fall 2020 and Fall 2021. 
Johnson, who majored in Computer Information Systems, said she got involved with the nonprofit "because my goals align with the mission of STEM NOLA and I have a passion for STEM, community service, and the youth." 
GSU officials and STEM NOLA's Founder Dr. Calvin Mackie collectively work to ensure minorities are better represented in STEM fields and act on the non-profit's mission to grow, engage, expose and inspire future innovators, creators, makers, and entrepreneurs.
"It's still an exception to see a person of color in a technology field and that's something we're all striving to change. We're still trying to move that needle," Arnold said. "Even as the number one producer of African American computer science graduates and the state's only cybersecurity program, we're really just getting started. We've been around for 120 years so the effort doesn't end, and just to be able to partner with organizations like STEM NOLA is an important step."