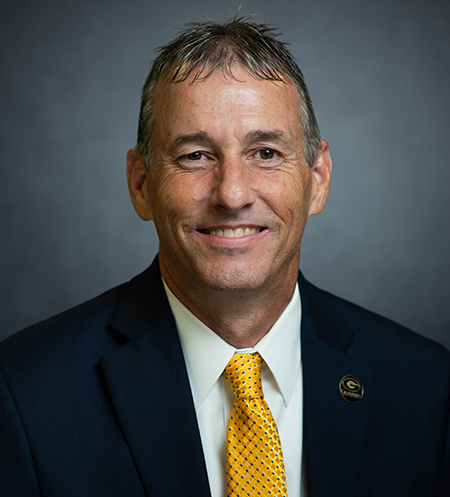 GRAMBLING, La. – June 24, 2022 – Dr. Edwin Litolff has been named Vice President of Finance at Grambling State University. Having served recently as Associate Vice President of Operations at Southeastern Louisiana University, Litolff brings years of experience in the University of Louisiana System and higher education in Louisiana to the role.
"Dr. Edwin Litolff is well-qualified to be our Vice President of Finance," said Grambling State University President Richard J. Gallot, Jr. "I have no doubt that Dr. Litolff's experience will advance GSU forward and provide continued financial stability to the University."
Litolff was formerly named by the Board of Supervisors for the University of Louisiana System as interim President of the University of Louisiana Monroe. Litolff previously served as Vice President and Chief Financial Officer for the University of Louisiana System. Dr. Litolff has a Ph.D. from Louisiana State University, Baton Rouge, Louisiana; a Master of Business Administration, and a Bachelor of Arts in Business Management, both from Southeastern Louisiana University, Hammond, Louisiana.
"It is truly a privilege for me to have this opportunity to continue my service at GSU and I look forward to contributing in a substantial impactful way." Dr. Litolff said. "I look forward to President Gallot's leadership while working with university executives, faculty, students, and staff as we strive together for excellence. I am aware of and admire the critical role that Historically Black Colleges and Universities play in the personal and educational development of students in the state, region, and nation. While working at the University of Louisiana System, I have seen the financial challenges facing all the institutions in the state."
About Grambling State University
Grambling State University, located in Grambling, Louisiana, is a historically black university that was founded in 1901. The institution has been accredited by SACSCOC, 13 associations, and in all programs required by the Louisiana Board of Regents. A member of the University of Louisiana System, Grambling State University has the academic strengths of a major university with the benefits of a small college. Offering 46 undergraduate and graduate academic programs, the 590-acre campus is home to world-class athletics, an internationally renowned marching band, and vibrant student life that enables our scholars to grow and learn in a positive environment. For more information, visit gram.edu.