Fifth-generation Gramblinite plans to become first medical doctor in her family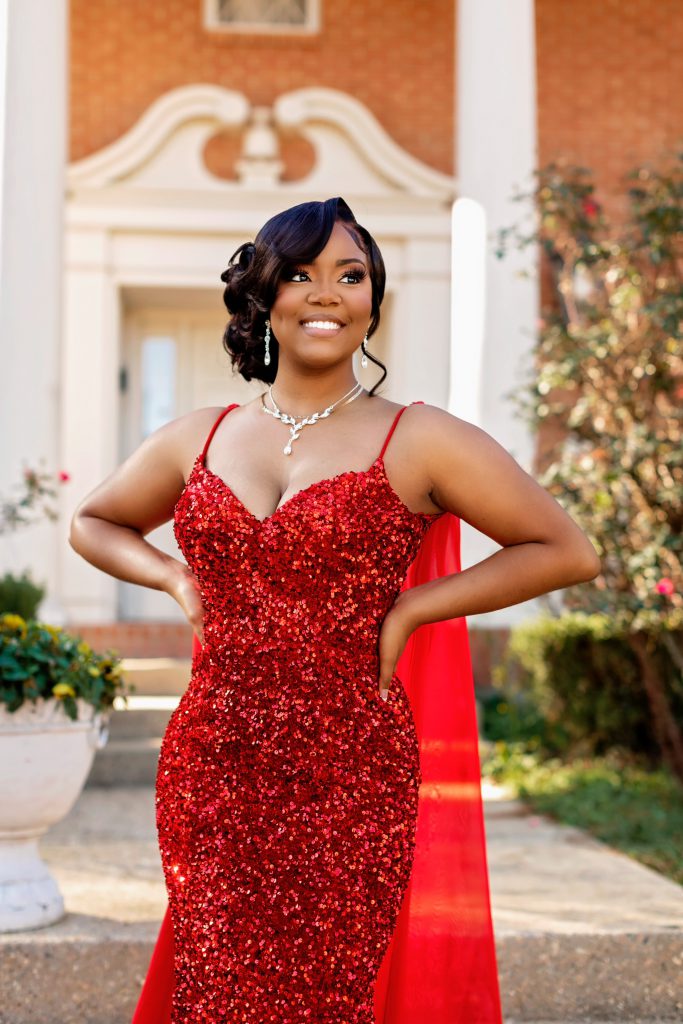 Grambling, LA – September 12, 2022 – Kelli Copes will be crowned as the 69th Miss Grambling State University in a 7 p.m. coronation ceremony on Thursday in T.H. Harris Auditorium, and the junior biology pre-med major said the event will be a continuation of lifelong dreams that have always been focused around "The G."
"My parents both graduated from GSU and I never considered going anywhere else," Copes said. "My dad (Dr. Joe Copes) was a geography professor and Title III director here until his retirement in 2007. And my mom (Carmen Copes) worked in IT. My sister graduated from here with the second-highest GPA in 2007. My uncle [also] works and graduated from here. It was always going to be the 'G' for me when I was growing up. I've never seen myself anywhere else. I knew Grambling would present me with the opportunities I needed, so I went with Grambling. There was never any question about going anywhere else."
Copes isn't the first member of her family to run for Miss GSU — her older sister also ran for the title.
"She was unsuccessful, so it was a little bit more personal for me to make sure I brought it home," Copes said of earning the title.
Copes said her platform to become Miss GSU consisted of three parts — "The Lady, The Leader, and The Legacy."
"The Legacy portion of my campaign has been geared toward what I've done since becoming a student at GSU and the fact I am a legacy from here," Copes said. "The Lady part is just about me continuing to serve the Grambling community with grace, as I've done since beginning my journey here at Grambling."
"Being a leader, every Grambling student's journey is one they'll remember forever, and over the last three years I've tried to be well-rounded and involved," Copes continued. "I've hosted voter registration drives and blood pressure checks, and I've hosted 'Buzz Talks' to help my fellow students. I plan on continuing and building on all of that as Miss Grambling State."
Copes said she hopes to help pull university administration and students together in her role as Miss GSU.
"There seems to be a disconnect at times and I'd like to help with that as well as increase student engagement," Copes said. "Since COVID, the level of student involvement at GSU has significantly dropped, so I'd like to boost those numbers back up. I'd like to start monthly 'Queen's Corner' sessions to keep students actively involved. I like it to be a video podcast – something fellow students will like watching."
Copes has another goal she said she'd like to work on and try to make happen.
"As a product of GSU Nursery School, I'd like to push for the reopening of the school for children of faculty, students, and staff," Copes said.
She said the "Legacy" part of her platform is simply upholding the family tradition.
"I wanted to show that by attending Grambling State University and to help my fellow students realize that what they do here will leave a lasting impact. I've been creating my legacy since putting my foot on the university's rich soil as a GSU student and I won't stop. My charge to my fellow students is for them to consider how they will leave their legacy and to make it a great one for both themselves and GSU."
Copes' 3.96 GPA in Pre-Med has her on track toward realizing her career goal of becoming a doctor.
"I would be the first doctor in my family," Copes said. "That's another longtime goal I'm going to make happen."
Copes said she's experienced many special moments in her time as a GSU student but that at least one stands out a little more than others.
"Serving as a student representative for the University Master Planning committee, I've expressed my concerns about the lab facilities in the STEM building here — old Carver Hall," Copes said. "And seeing those get upgraded made me feel good, even if there were plans to do that before I became part of the planning committee. "
"I've always wanted to help my fellow students and seeing that happen made me feel I had been able to do that in some small way. And that's what I intend to keep on doing as Miss Grambling. Knowing I'm helping someone is always a special moment for me."