GSU alumnus presents $50K check from BP to benefit scholarships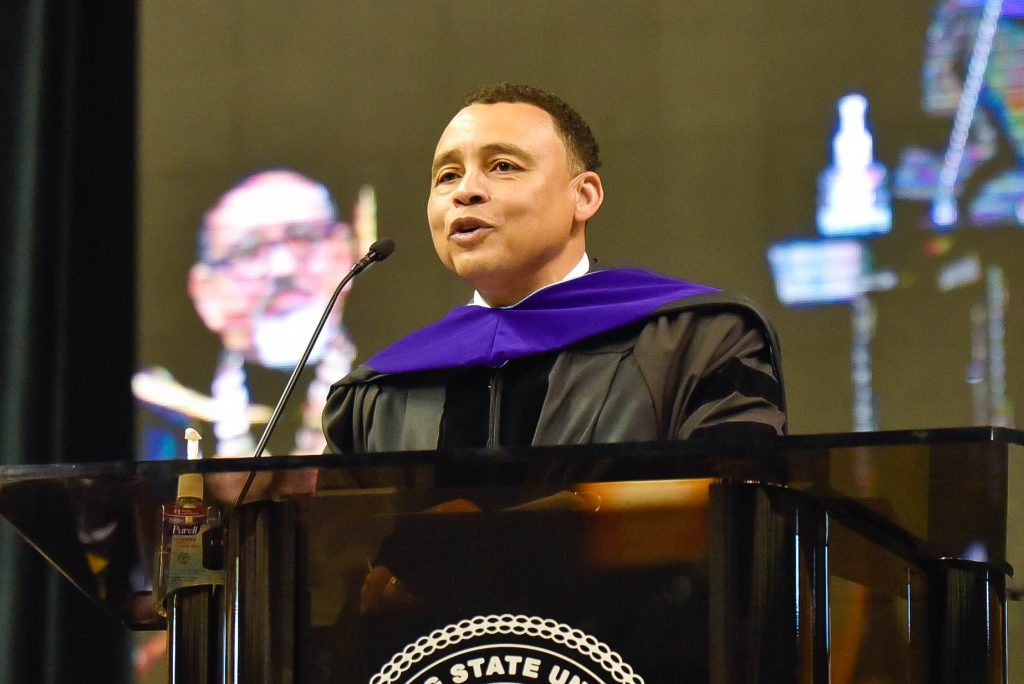 Grambling, La. – December 15, 2022 – British Petroleum (bp) Senior Vice President Mark A. Crawford brought much in his role serving as the keynote speaker for Grambling State University's (GSU) Commencement Ceremony held Friday morning at the Fredrick C. Hobdy Assembly Center.
Crawford graduated from GSU in 1991 with a BA in history before going on to become a 1995 graduate of the Southern University Law Center (SULC). He was inducted into the SULC Hall of Fame in 2015.
Not only did Crawford bring words of wisdom to GSU's newest graduates during the commencement ceremony, but he also brought a $50,000 donation from BP to be used for college scholarships.
"I think BP is supporting an alum who has given a lot to the company, and I think they wanted to make sure that they were supportive of me coming here to give the commencement speech as well," Crawford said of BP's donation. "They understand the mission, they know the quality of students this university produces, and they wanted to invest in all of the great work that President (Rick) Gallot and his faculty are doing here and wanted to be a part of helping them with the mission of educating the African American community."
Gallot expressed the university's appreciation of BP's gift.
"I think it's a testament to an alum who has gone out and done well and the fact that his company is supporting him today," Gallot said. "I think they believe they're making a good investment in our students. Not only did Mr. Crawford deliver an inspiring message, he also left a big investment for students to benefit from."
That message praised the new GSU graduates for making it to graduation while also challenging them to aim high as they continue the walk of life into the future.
"Earning your degree does not tell the entire, complete story," Crawford said. "You made it through COVID and wearing the masks and forced online classes. You made it through the emotional roller coaster during your time as students at Grambling following the murders of George Floyd, Ahmaud Arbery, and Breonna Taylor."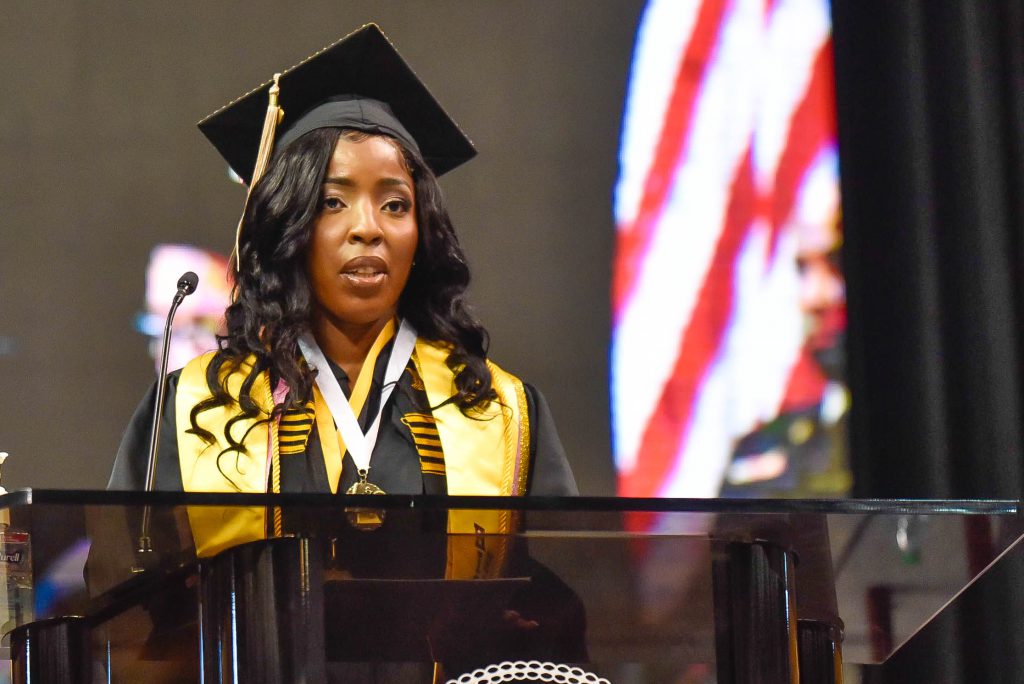 "You made it through cuts in higher education that I know threatened your financial aid, but
you've made it across the finish line and should be extremely proud. You've endured hardship, hard times, sometimes late nights, and some even late flights and you've come out the other side thanking God that you got through it."
Crawford then turned toward the future.
"You need to have confidence in your ability to deliver," Crawford said. "You're prepared to go to greater heights, and you're part of the 120-plus year history of Grambling State University and now carry on the proud legacy of Grambling alums across Louisiana, the United States, and, indeed, across the world."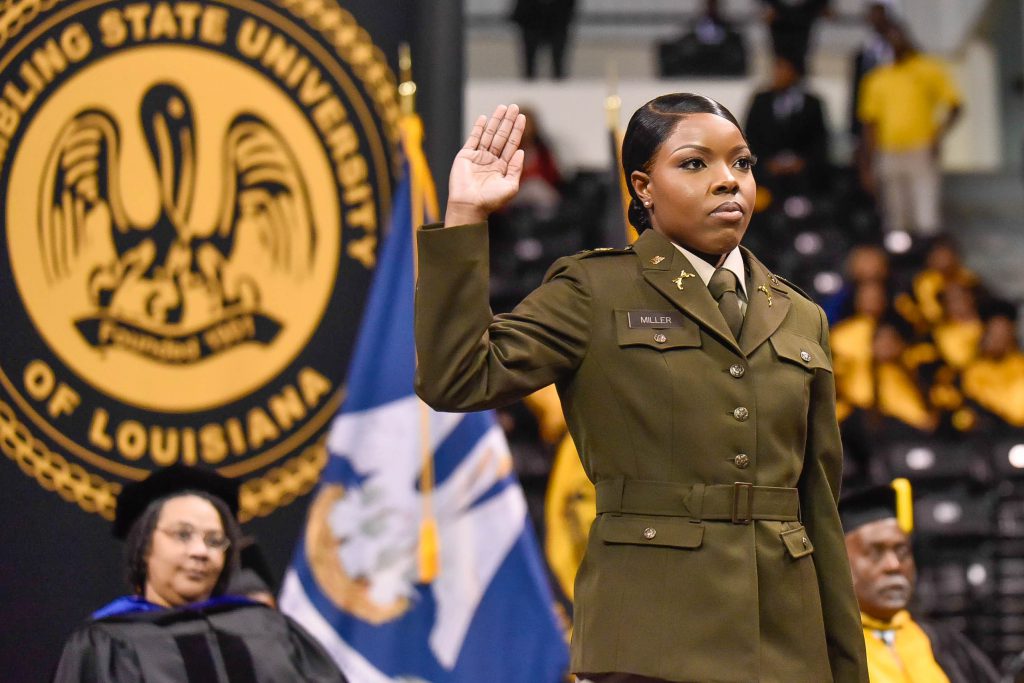 "Aim high. We want high expectations. If you join a company, plan to be CEO. If you start a business, plan to dominate the market. Don't let anybody else's limitations on you, based on where you are from — family background, race, gender, age. And by no means place limitations on yourself. I'm here today as a living witness of what Grambling is capable of producing. You've already shown that you can overcome and overachieve."
Crawford then asked the graduates to remember one thing.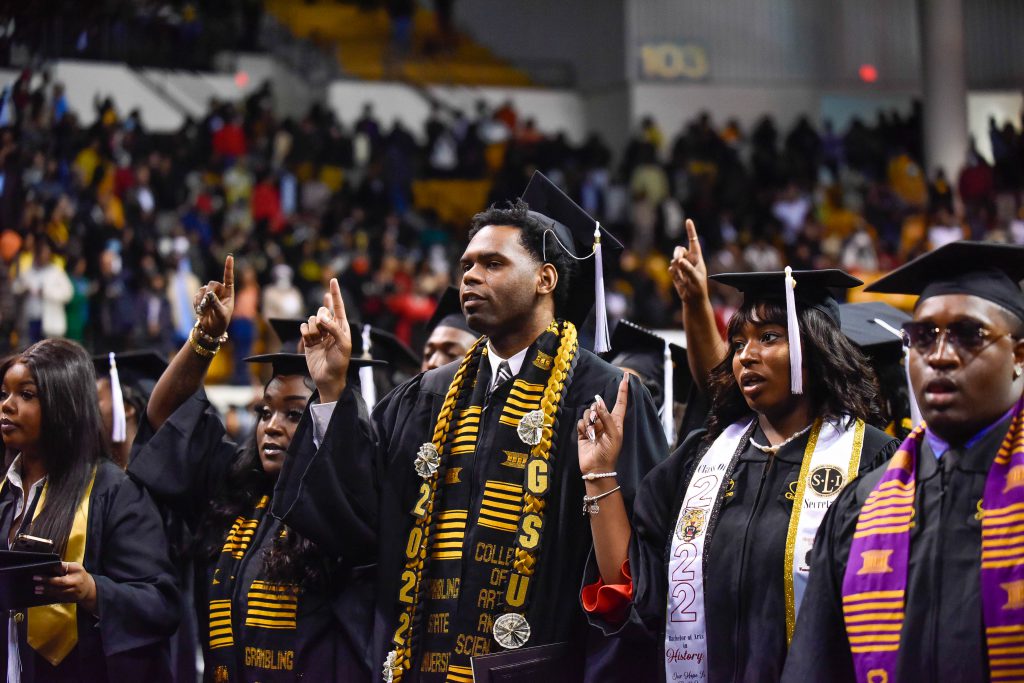 "You're young, you're gifted, you're talented, you're black and you can do anything that you want to do," Coleman said. "You have a great life ahead of you and I look forward to hearing about the great things you'll accomplish in the years to come and how you've helped others along the way."