Baton Rouge native who helped autistic teen acknowledged by University of Louisiana System for choosing GSU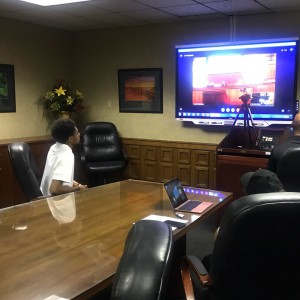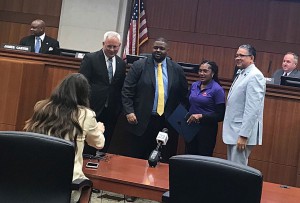 It's been a busy summer for Jordan Taylor. In just a few months he's gone from helping a customer in need to national headlines, a free car, and more than $125,000 in support to achieve his college dream of becoming a Grambling State University Tiger.
"Coming to Grambling has been great," said Taylor as he addressed the University of Louisiana System Board of Supervisors during a special meeting where he was acknowledged for his contributions. "The people have been really helpful, and I want to thank Chairman Perkins, Dr. Henderson, and the President of Grambling State for all of their help in getting me here."
Taylor, a freshman Math Education major, garnered local and national media attention after a social media video went viral. The video showed him helping a customer at Rouse's supermarket where he worked. That customer, Jack Ryan Edwards, age 17, has autism and was shopping when his father when Jordan and he met in at the Rouse's on Drusilla Lane in Baton Rouge, Louisiana.
"It is a great opportunity today to be part of a great story that has taken place over the last few weeks and caught national attention," said Al Perkins, Chairman of the University of Louisiana System Board of Supervisors. "When the story went public, everybody reached out to see what they could do to help Jordan. It was the mayor of Baton Rouge (Sharon Weston Broome) who took a major leap and a major role to reached out to make Jordan's dream of college come true."
To watch the full video of Jordan's acknowledgment, click below or visit https://www.ulsystem.edu/board-meeting-broadcast/
Jordan, from the entire Grambling State University Community, welcome to the #GramFam.