Tag Archives:
high school band camp
In honor of Grambling State University's Band Camp, we'd like to share this "throwbuck" spotlight on how this one influential summer event changed the life of a Grambling State leader.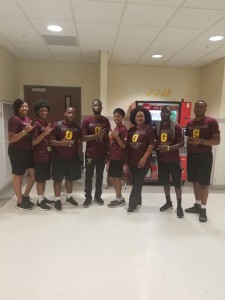 "Every year from age 4 or 5, I attended band camp," said Dr. Nikole Roebuck, the first woman director of Grambling State University's World-Famed Tiger Marching Band. Dr. Roebuck is also the third woman in history to serve as Director of the Band at a historically black college and university (HBCU).
"For the first few years, they made me twirl the baton and march with the majorettes."
"I remember this one day at camp sitting on the steps of Dunbar frustrated. I'm assuming someone had gone to find my Uncle to let him know what was going on," Roebuck remembers. "[Her Uncle Joseph] comes outside to ask me what was wrong. My response was, 'I don't want to twirl the baton.' When he asked, 'Well what do you want you to do?' I said, 'Unc, I want a horn.'" Continue reading →