Demolition at Grambling State for Intramural Center Expansion
C.D. Harris Natatorium Demolition Makes Way for New Intramural Center
GRAMBLING, LA — April 20, 2018 – On April 23, 2018 construction crews will kick off demolition of one of Grambling State's oldest student facilities to make way for the University's Intramural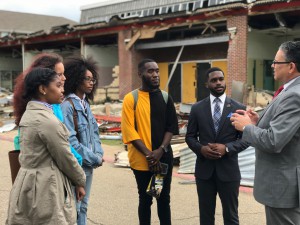 Center Expansion slated for completion Fall of 2019.
The Intramural Expansion project, an $8.5 million renovation and expansion, launches as a series of construction projects kick off at Grambling State this spring.  "We're on the grow," said Rick Gallot, President of Grambling State University. "That means our facilities have to advance to better match the needs and demands of our students."
Grambling State's Intramural Center is home to more than 100 health and fitness programs that serve students, faculty, and community members. Two-Term Student Government Association President, Adarian Williams, who has attended Grambling schools since elementary, said "The Intramural Center plays an integral role in the student and community experience. This expansion will enhance the Grambling experience for incoming generations of students and their families."
During the construction period, the Intramural Center programs will continue to operate out of several student life facilities on campus.
Expansion plans include a pool addition, training facilities, and study and programming space.
For media access and coverage video of the demolition project, please contact Jovan Hackley at mediarelations@gram.edu or call (318) 243-5012.