Residential Life & Housing
---
Housing Flyer - Apply Online Today!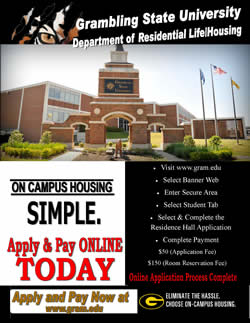 Click here for PDF.
The Department of Residential Life & Housing promotes a safe on-campus living environment that is comfortable, affordable, and well maintained to create a positive living environment for students. The value of the residence halls experience is that students learn to live and interact within a community that respects individuals and encourages good citizenship. Through this experience, students ideally develop a sense of maturity and responsibility. As they participate in various activities such as the campus judicial system, students are intellectually stimulated and practice critical thinking and problem solving.
Slideshow:
RESIDENT ASSISTANT APPLICATION
Frequently Asked Questions
Are all freshmen required to live on campus?
All new incoming freshmen are required to live on campus their first academic year. Transfer students classified as freshmen are also required to live on campus.
When should I apply for housing?
Students are encouraged to apply as early as possible because space in the residence hall is limited. The earlier the student applies, the better the chance of securing a desired accommodation and roommate request. It is strongly suggested that students apply in the early spring for the fall semester.
How do I apply for on campus housing?
You may obtain an application online at http://www.gram.edu/student-life/residential-life/applications/, by contacting Residential Life via phone at (318) 274-2504, or you may pick up an application at the Residential Life Office located in Grambling Hall. Applications for room reservations must be accompanied by a $50 application fee and $150 deposit and mailed to:
Department of Residential Life & Housing
GSU Box 4249
403 Main Street
Grambling, LA 71245. USA
How much is the pre-payment?
Requests for all rooms require a deposit of $200.00 which includes a $50.00 Application fee and $150.00 Room Reservation fee due at the time of application. This payment must be in the form of a check, money order, or credit card.
What completes my application process?
• You have been fully admitted to the University.
• The $50 application fee and $150 pre-payment has been received.
Can I remove GSU's furniture from the room?
All GSU property must remain and be stored in the assigned room.
Can a student change roommates or residence halls before fall semester?
After July 1st, changes may be accommodated as space allows with the appropriate requests and information by all residents involved. All roommate requests must be mutual.
Is my housing application a binding agreement?
Once a student's housing application has been processed, it becomes a binding agreement to which the student is financially committed. Students submitting a housing room application agree to live on campus and are responsible for all housing and meal charges through Spring and Fall commencement, unless applying for summer school housing only.
Is my housing pre-payment refundable?
Your pre-payment for the fall semester is refundable or transferrable to the spring semester, if you cancel in writing with the Department of Residential Life by July 1st. After July 1st, it is not refundable and not transferrable.
After my housing fees are paid, are they refundable?
Payment-in-full is non-refundable unless the student does not register or resigns from the university prior to the close of offices on the 14th class day. In this case, the student will be prorated for the time spent in in the room, but not the application fee. No refund will be made to any student resigning after the 14th class day. No refunds or pro-rata refunds are given for disciplinary removal from the residence hall or residential community.
How can I be released from my housing agreement at the end of the fall semester?
Current residents may submit a request to be released from their housing agreement anytime during the fall semester. Approval will only be given to students who provide documentation and a valid reason for not being able to fulfill their housing commitment during the spring semester (ex. military service, medical condition, marital status, enrollment status). If approved, the student must be properly checked out of the residence hall room on or before the Friday prior to December commencement.
When can a student live off campus?
A student may request to live off campus once he/she has successfully completed 60 credit hours. The request form is located online at http://www.gram.edu/student-life/residential-life/applications/ or you may pick it up at the Residential Life Office. The deadline to submit a request is two weeks prior to school starts. The form must be submitted to the Director of Residential Life for approval. If denied, then the student must acquire on-campus housing.
Can freshmen have cars on campus?
Freshmen are allowed to have cars on campus.
Is there a curfew?
There is no curfew; however, there is an opposite sex visitation policy of noon to midnight in each residence hall.
Are student's items insured by Grambling State University?
No. We recommend that you check your homeowner's or renter's insurance policy to verify the extent of your coverage or purchase renter's insurance for your campus needs.
Do students have to remove their belongings at the end of each semester?
No, however if a resident is not registered and has not paid for the spring semester, then he/she will have to check out by the Friday prior to December commencement. All resident must move out at the end of the spring and summer semesters.

Contact Information:
Department of Residential Life/ Housing
403 Main Street
GSU Box 4249
Grambling, LA 71245
(318) 274-2504 - Phone
(318) 274-4004 – Fax
gsuhousing@gram.edu – Email