Watch Today: U.S. Congress Hearing to Include HBCU President Rick Gallot's Comments on Cybersecurity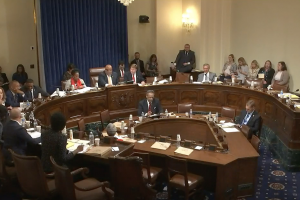 Grambling State President to Testify Before Homeland Security Subcommittee on Cybersecurity and Infrastructure Protection
GRAMBLING, LA — May 21, 2019 – President Rick Gallot of Grambling State University, home of Louisiana's first Bachelor of Science degree in Cybersecurity, is scheduled to testify Tuesday, May 21, 2019, at 2 p.m. EST before a subcommittee of the U.S. House of Representatives Committee on Homeland Security.
Gallot, who serves on the board of energy provider Cleco Corporate Holdings LLC and Origin Bank, will share and answer committee questions on how the U.S. Department of Homeland Security can grow and diversify today's cyber talent pipeline.
"We know that with the right support, HBCU's will continue to lead as a critical answer to the 3-million-person Cybersecurity job gap that exists globally," said President.
President Gallot's remarks are scheduled to be broadcast via live stream:
Watch Live Here at 1 p.m. CST

Event Details
Congressional Testimony
Homeland Security Subcommittee on Cybersecurity and Infrastructure Protection Hearing on "Growing and Diversifying the Cyber Talent Pipeline" May 21, 2019 2 p.m. EST | 1 p.m. CST
To view updates and a full copy of President Gallot's testimony, follow @Grambling1901 on Twitter or visit www.gram.edu/news.