Grambling State's Bring it Home 2019 Kicks Off with Free Download – State of Grambling 
Grambling State University's 2019 Bring it Home has kicked off with a special gift for supporters who've helped grow alumni giving by 14 percent and donate more than $3 million in support since 2017.
Free Download – 2018-19 Grambling State University Annual Report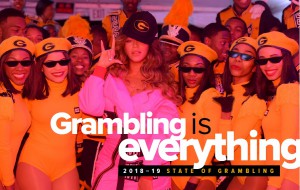 This year's donors, supporters, students, and alumni can celebrate the enormous wins they've helped create – including invitations from Beyoncé, making history with the band, and more.
"Your contributions, whether you've invited us to Coachella or gave up a night out to support a scholarship, are helping cement our place in history as one of America's leading historically black colleges and universities and one of the best places to learn in Louisiana," said President Rick Gallot.

This year's 32-page booklight highlights alumni, student, and the University's operational achievements. Download and give to celebrate this incredible year of achievements.
Give Now: Why Celebrate Bring it Home?
This year's annual report is proof that every gift and contribution to the Bring it Home campaign help create real change on our campus and in the lives of students.
Here are a few ways donor support has helped advance Grambling State this past year:
Student Financial Help
Last Year's Bring It Home campaign helped provide more than $300,000 in direct support for students in need. This impacted the balances of hundreds of students through a variety of scholarships; including GAP which is designed solely to support students in reaching the academic finish line.
Research & Grants
To date, Grambling State's Bring it Home campaign has helped bring more than $2.5 million in grants to campus. Our supporters offer more than a donation. You also ignite powerful conversations, investments, and help from our alumni and community members. Those contributions help fund cutting-edge research in cybersecurity, biomedical research, business, and more right here on campus.
Increased Alumni Engagement
Students are the lifeblood of our campus and as they transition to alumni, they become the anchor of our legacy. In 2018-19, each alumni chapter helped spread the word and grow the investment from our past graduates. That investment showed up, not only in the dollars on the balance sheet; it resulted in recruiting the largest high school day on record.
Join this Year's Success & Receive More Stories
You can be a part of creating even more positive change this year at Grambling State. Give today at www.gram.edu/giving and share the hashtag #BringItHome2019.