Campus Nutritionist and More Fresh Faces Are Your Service
Discover Your Dining Resources and Your SodexoMAGIC Dining Staff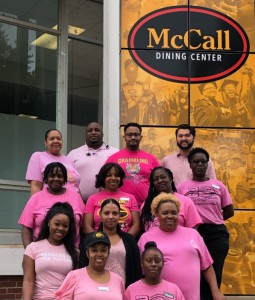 GRAMBLING, La, – October 18, 2019 – If you can't stand the heat, there's no need for you to stay in the kitchen. The SodexoMAGIC team has got you covered. Meet the fresh faces you've seen in the café this semester and take full advantage of the dining resources available to you.
New! Dining Resources

Keep Up With
Do you wake up wondering what you'll eat throughout the day? Roll over and check gram.sodexomyway.com to find out what's cooking.

Get Nutritional Support
With all the healthy options available in the café, it can be tough to choose the right mix of foods to meet your specific nutritional needs or goals. All meal plan holders can schedule an appointment with the campus nutritionist, Ms. Jenna Bison. With her help, you'll be navigating the buffet with a plan in no time.
Infrastructure Update

New! Tiger Express Completion Timeline
Firehouse Subs and Chick-fil-a are coming your way! Your Tiger Express updates will feature more seating, state of the art digital menu boards, and new student programming space. Construction is expected to complete January 2020.
Meet the Team

Alan Johnson
General Manager
alan.johnson@sodexomagic.com
James Fulton
Executive Chef
james.fulton@sodexomagic.com
Jason Rice
Catering Manager
Jason.rice@sodexomagic.com
Jenna Bison
Campus Dietitian
jenna.bison@sodexomagic.com
Jamila Williams
Retail Manager
jamila.williams@sodexomagic.com
Nicole Honore
Dining Hall Manager
nicole.honore@sodexomagic.com
Andrew Benoit
Marketing Coordinator
andrew.benoit@sodexo.com