Whataburger to Open Student Resource Room at Grambling State University
Student government answers food insecurity concerns with new partnership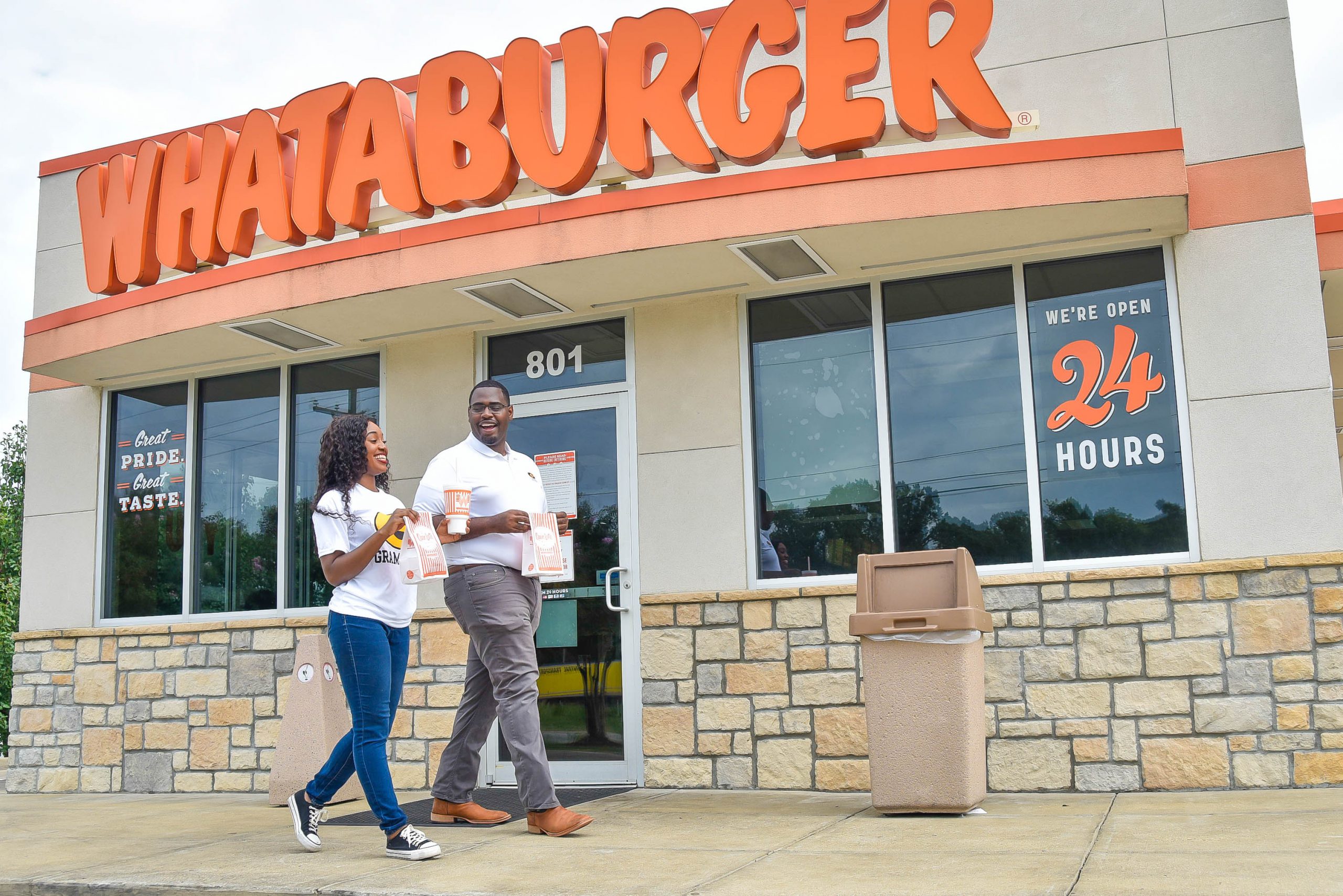 GRAMBLING, La. – August 3, 2020 – In an effort to address students' top welfare concerns, Grambling State University's Student Government Association (SGA) and Graduate Student Government Association (GSGA) announced a partnership with Whataburger to open the Tiger Resource Room Powered by Whataburger in the Favrot Student Union during the 2020 fall semester. The Tiger Resource Room will include a food pantry and resource center for students needing additional support.
"Our student needs assessment showed 80 percent of Grambling students struggle with food insecurity, and Student Government leaders knew the need for a resource room was great," said Steven Wilson, Grambling State University 2019-2020 SGA President.
After a survey of more than 500 students revealed financial hardship, nutrition and security as top student welfareconcerns, Grambling State University's student governing associations sought to establish a joint venture with internal and external stakeholders to organize and operate a food pantry and resource center for emergency food supplies and basic hygiene needs.
"I was actually able to personally see the impact by realizing where my brother would have been had I not been present," said Karmel Reeves, Grambling State University 2019-2020 GSGA President. "When his meal plan swipes ran out, he went to the cafeteria and was shocked that he couldn't get a meal. I realized there had to be another way for students on this campus to be able to meet their basic needs. Our students frequent Whataburger all the time, and I think having the brand associated with the resource room is going to make people excited to come."
Grambling State University's food services contractor, SodexoMAGIC, has joined Whataburger to support the program. Food will also be provided for the pantry through a partnership with the Food Bank of Northeast Louisiana. A Tiger Resource Room steering committee consisting of students from the University's SGA, GSGA and Favrot Student Union Board will provide ongoing advisement for the student-operated resource.
"Whataburger is committed to helping students achieve their dreams of a college education and reach career goals. All too often, these can be impacted by the struggle for basic needs," said Ed Nelson, Whataburger CEO. "We hope the Tiger Resource Room will provide students healthy food and essential supplies to allow them to successfully continue on their college education journey."
"When someone is struggling with hunger, it is difficult to focus on learning. The Tiger Resource Room is such a good investment in the success of the students at Grambling," said Jean Toth, Executive Director at the Food Bank of Northeast Louisiana. "Thank you to Whataburger for helping to make this a reality for the University, and improving the health of Grambling students."
###
About Grambling State University 
Grambling State University, located in Grambling, Louisiana, is a historically black university founded in 1901 that combines the academic strengths of a major university with the benefits of a small college. This combination enables students to grow and learn in a serene and positive environment. The 590-acre campus offers 43 undergraduate and graduate academic programs. A member of the University of Louisiana System, Grambling State University has been accredited by 13 accrediting associations and holds accreditations in all programs required by the Louisiana Board of Regents. With a longstanding tradition of excellence, Grambling State University continues to emphasize the value and importance of each student, exemplified by our motto: Where Everybody Is Somebody. For more information, visit gram.edu
About Whataburger
Whataburger has focused on its fresh, made-to-order burgers and friendly customer service since 1950 when Harmon Dobson opened the first Whataburger as a small roadside burger stand in Corpus Christi, Texas. Today, the company is headquartered in San Antonio, Texas, with more than 830 locations in 10 states and sales of more than $2 billion annually. Whataburger has 46,000 Family Members (employees) and more than 14 million customers who like to customize their Whataburgers just the way they like it. In addition to guests, Whataburger remains committed to supporting students in the communities it serves. In 2020, Whataburger opened its first student resource center at the University of Texas at San Antonio which has provided more than 34,700 pounds of food for over 2,000 students. Visit whataburger.com for more information.
About the Food Bank of Northeast Louisiana
The Food Bank of Northeast Louisiana leads the fight against hunger in our region by providing food, advocacy, education, and disaster response. The Food Bank is a charitable organization that solicits, stores, and distributes food to partner agencies, children and seniors in 12 Parishes in Northeast Louisiana. Together, as a hunger-relief network we serve over 22,000 people monthly. The Food Bank of Northeast Louisiana is a member of Feeding America and a United Way Partner Agency. To learn more about how you can help, please visit www.foodbanknela.org. Follow us at www.Facebook.com/fbnela, or on Twitter and Instagram @fbnela.