From a house without books to a PhD
Commencement Speaker Encourages Grambling State Graduates to be Adaptable
GRAMBLING, La. – November 23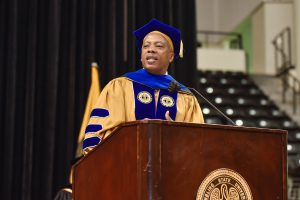 , 2020 – The ability to adapt to change will equip graduates of the 21st Century for success.
That was the message from Dr. Calvin Mackie of New Orleans to Fall 2020 graduates of the College of Arts and Sciences at Grambling State University on Friday.
Dr. Mackie completed his degree in Mathematics at Morehouse College in 1990, graduating Magna Cum Laude and a member of the prestigious Phi Beta Kappa National Honor Society. He was simultaneously awarded a bachelor's degree in Mechanical Engineering from Georgia Tech, where he subsequently earned his master's and PhD in Mechanical Engineering in 1996.
"Charles Darwin said it's not the species that's the strongest or the most intelligent that survives," he said. "It's the species that adapts to change that survives."
The world will continue to change, and graduates have to continue to grow, he said.
"Alvin Toffler said the illiterate of the 21st Century won't be he or she who cannot read and write; the illiterate of the 21st Century will be he or she who cannot learn, unlearn and re-learn," he said.
Dr. Mackie encouraged graduates to hold on to the wisdom from their elders while continuing to learn.
He said he grew up in a house with no books. "I started Morehouse in remedial reading and developmental math. They said, "See Spot Run;" I didn't even know it was Spot."
"I started from the bottom and just like you, now I'm here," he said. "You should be proud of where you are…Grambling has put you in a position to compete against the world.
"Grambling has been telling you every day for four years that you got greatness in your DNA," he said. "And now it's time for you to go out and show the world what Grambling has impregnated you with."
Dr. Mackie has continued to serve the state during his career. In 2017, Louisiana Governor John Bel Edwards appointed Dr. Mackie to the Coastal Protection and Restoration Authority (CPRA). The CPRA was established as the single state entity with authority to articulate a clear statement of priorities and to focus development and implementation efforts to achieve comprehensive coastal protection for Louisiana.
Most recently, Gov. Edwards appointed Dr. Mackie to the Louisiana Science, Technology, Engineering and Mathematics (LA-STEM) Advisory Council. In 2014, Dr. Mackie founded STEM NOLA as a non-profit organization to expose, inspire and engage communities about the opportunities in Science, Technology, Engineering and Mathematics (STEM). STEM NOLA has engaged over 50,000 mostly under-served K-12 New Orleans students in hands-on STEM project-based activities. STEM NOLA has expanded its model to other cities launching STEM Baton Rouge and STEM Grambling in Fall 2019.
For more information, please contact mediarelations@gram.edu.
About Grambling State University  
Grambling State University, located in Grambling, Louisiana, is a historically black university founded in 1901 that combines the academic strengths of a major university with the benefits of a small college. This combination enables students to grow and learn in a serene and positive environment. The 590-acre campus offers 43 undergraduate and graduate academic programs. A member of the University of Louisiana System, Grambling State University has been accredited by 13 accrediting associations and holds accreditations in all programs required by the Louisiana Board of Regents. With a longstanding tradition of excellence, Grambling State University continues to emphasize the value and importance of each student, exemplified by our motto: Where Everybody Is Somebody.