Former Gramblinite, racing team owner to compete in Daytona 500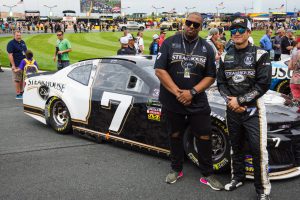 GRAMBLING, La. – December 15, 2020 – For as long as he could remember, John Cohen grew up racing motorcycles and cars in his hometown of Vauxhall, New Jersey. His love of racing was fueled by the stories his father shared when he competed in street drag races in the 1960s. Interestingly enough, it has been since 1963 that a minority-owned team qualified to compete in the Daytona 500.
"Growing up in that area, we all had motorcycles," he said. "[Eventually,] it went from racing motorcycles to racing cars. You race on your foot and it all becomes a bet, like, my car is faster than yours. It became a competition. That's what started my love for racing."
He had a lot of friends that were in the music industry, but he wanted to do something different.
"I felt like everybody was chasing the same thing – music, a clothing line, alcohol – and I believe we as African Americans do that as a whole," Cohen said. "When somebody hits something on point, everybody thinks they can do the same thing. Nobody goes out and does something in their own lane, which can create more lanes for their lane. I feel like me doing NASCAR was a totally other lane and I can create more lanes for myself doing something different."
According to Cohen, African Americans growing up in the city mostly see basketball, football, and baseball. He said basketball is prevalent because it's easy to play and there are courts on every corner. There are a lot of African Americans in basketball and baseball, so the tendency is to gravitate toward those sports.
"Racing as a whole, as a sport, is not in our communities, per se, as an outlet. A kid can't just go get a go-kart and start racing on the track," Cohen said. "When you get to the highest level of the sport, you don't see a lot of African Americans in the sport, so we don't gravitate to the highest level if we don't have anybody to root for as a culture. When Tiger Woods made it in golf, we had someone we felt like we were compelled to root for. NASCAR has just gotten to the level where it has more African Americans to root for. If the community sees African Americans – especially one they can relate to – I think the whole scope of NASCAR and racing will change."
Making lanes for others has materialized in his involvement with the Urban Racing School of Philadelphia. The only minority racing school of its kind, the STEM-based program piqued his interest because it gets youth engaged at an early age.
Cohen's journey to the G started when he attended the Grambling vs. Hampton game at the Meadowlands each year. The football team he played on was number two in the country his junior year, and number four his senior year. Although he and his teammates were heavily recruited, Cohen sent his performance tapes to Coach Eddie Robinson and enrolled at Grambling State University. He was on the team that won game number 400 for Robinson, making him the winningest coach of all time at that moment.
"By us not having social media back then, I think we knew as a whole it was a big deal," he said, remembering how ecstatic Coach Robinson was about the win. "I didn't realize how much of a legend Coach Rob was until I left the school, because he was so down to earth."
Cohen said unfortunate life events resulted in having to move back home to finish his studies at another institution. Regardless of the circumstances, he credits Grambling State and Coach Robinson for inspiring him to succeed on his own terms.
"What [Coach Robinson] instilled in me is pride," he said. "When I left Grambling, I left wanting to have a certain pride to myself that I didn't have to rely on industries like music to make it. In those businesses that I wanted to initially get into, I felt like I had too much pride in myself to be belittled when I can do something better."
He started a trucking company shortly after college, but always knew he wanted more, and that his heart belonged to racing. In 2007, Cohen recalled a conversation with a friend who had a son that was racing. He wanted to get involved so he could see how things operated. The following year, he aimed for bigger series and securing a sponsor. His team began racing in the 2009 season and has since done 11 seasons. Having qualified in 2015, next year will mark the second time his team, New York Racing, qualified for the Daytona 500.
Cohen said the biggest stigma around racing is that it is dominated by white males and that people won't like you. He learned early on that it was important to be authentic. Although others wear polos, his preference is to don sweatshirts, hoodies, and sneakers. Cohen's intentional originality will be seen on the very car his team will use in the race – number 44. For Cohen, the twin digits represent a legacy of firsts – it was worn by Ernie Davis, the first African American Heisman Trophy winner, renowned running back Jim Brown, home run leader Hank Aaron, Baseball hall of famer Reggie Jackson when he played for the Yankees, and Lewis Hamilton, the joint-youngest driver to ever win a World Championship and the only black racer to ever compete in Formula One racing. Cohen also noted that President Barack Obama was the 44th commander in chief and the first African American elected to the position.
"I want that 44 to be in the winner's circle to be among all of those other prestigious numbers for me," he said.
The Daytona 500 is scheduled to take place on February 14, 2021, at Daytona International Speedway.
About the Daytona 500
The Daytona 500 is a 500-mile NASCAR Cup Series season-opener held annually at Daytona International Speedway in Daytona Beach, Florida. Known as the "Great American Race," the Daytona is considered to be the most prestigious and important race in NASCAR, and has opened the season every February since 1982.
About Grambling State University
Grambling State University, located in Grambling, Louisiana, is a historically black university founded in 1901 that combines the academic strengths of a major university with the benefits of a small college. This combination enables students to grow and learn in a serene and positive environment. The 590-acre campus offers 43 undergraduate and graduate academic programs. A member of the University of Louisiana System, Grambling State University has been accredited by 13 accrediting associations and holds accreditations in all programs required by the Louisiana Board of Regents. With a longstanding tradition of excellence, Grambling State University continues to emphasize the value and importance of each student, exemplified by our motto: Where Everybody Is Somebody.