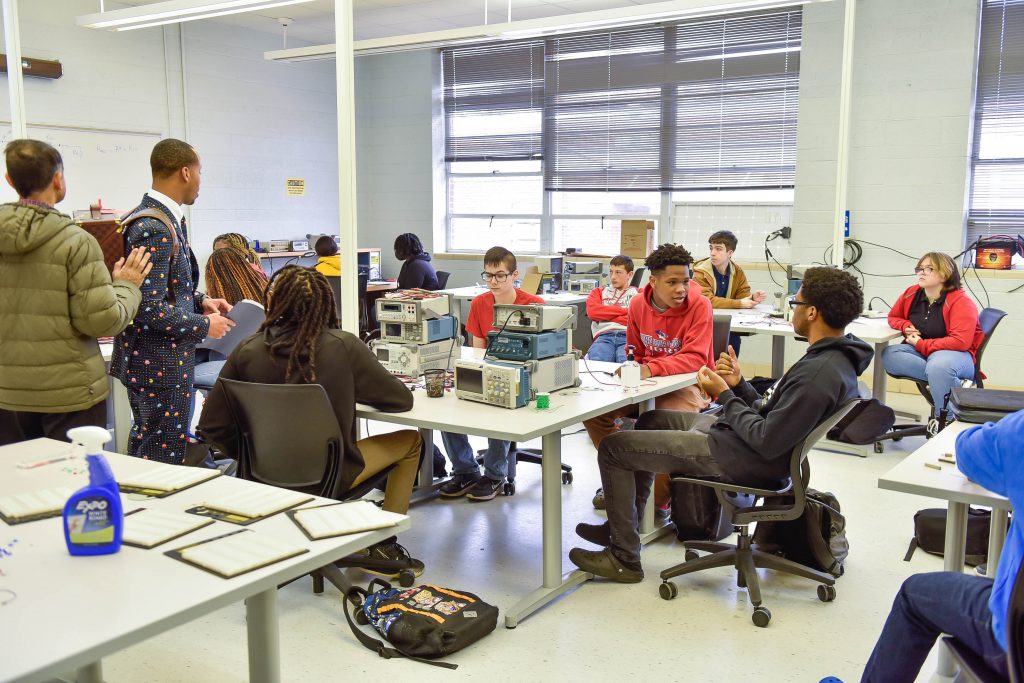 March 15, 2023 – Grambling State University's (GSU) Department of Engineering Technology recently held its High School Day with students from regional high schools attending the event to learn more about GSU and what its engineering technology program has to offer.
"In recent years we've had as many as 170 students from high schools within our local areas," said Dr. Edwin Thomas, Interim Department Head/Associate Professor of GSU's Department of Engineering Technology. "Schools who attended this year were, Carroll High School, Gibsland-Coleman High School, Jonesboro-Hodge High School, Lincoln Preparatory School, and Simsboro High School."
Thomas said the theme of this year's Engineering Day was "Changing the Future."  The attending high school students' Math, Science, and Technology classes participated in onsite competitions such as the Bridge Design and Building Project Computer Activities, Drone Flight Activities, Electrical Circuits Activities, and Mechanical Puzzles.
"The entire experience during our recent 22nd annual Clayton A. Wiley Engineering Week High School Day was amazing," Thomas said. "This activity is one of the department's greatest outreach activities.  Many high school students who participated in this activity have come to enroll in a STEM area as well as other programs offered at Grambling State University.  
We also would like to acknowledge our department's student mentors. They play a huge role in ensuring that our High School Day was successful. Acknowledgment also goes out to the Engineering faculty and staff for facilitating the event as a whole and the different competitions." 
Clayton A. Wiley Engineering Week High School Day at Grambling State is held once an academic year, during the spring semester.  
"For the past two years, we've partnered with the Grambling State University "Connect to Success" initiative where we challenge and encourage our students to develop skills, networks, and attitudes necessary to achieve success; and learn how to gain access to college, select an academic major and overall college readiness," said Dr. Danny Hubbard, GSU's "Connect to Success" Coordinator.
Thomas said engineering is an ever-growing field that offers a multitude of career opportunities for prospective students.
"Engineers create new possibilities from green buildings, to fuel-efficient cars, and to life-saving vaccines," he said. "Engineers develop new technologies, products, and opportunities that change how we live. Grambling State University's Engineering Technology Department wants to continue to engage students in engineering and STEM." 
"Our Clayton A. Wiley Engineering Week High School Day focus is to inspire future engineers with knowledge and enthusiasm by providing the students with an experience unlike any other. Inspiration and motivation are major points for us; therefore, we ensure that we are providing area high school students the ultimate experience, encouraging them to think outside of the box and come up with new and creative ways to go after their dreams and help them to "Imagine the Impossible."