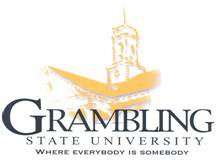 Office of the President
February 18, 2016
Dear Members of the GSU Community:
Keeping with my promise for complete transparency, this is to inform you that the University's strategic planning process is still on point.
I have just named Drs. Ellen Smiley and Adriel Hilton as Co-Chairs to the Strategic Planning Committee. These two are committed to keeping Grambling State University strong and will work expeditiously to get the new five-year plan completed by May 2016.
The Strategic Plan website will be updated regularly and all are encouraged to visit and view the contents. We feel it perfectly describes our current situation—Ready for the Challenge—and we can persevere by staying strong together—We are One!
Thank you all for your hard work and continued support!
With Great Enthusiasm,
Willie D. Larkin, Ph.D.
President
ONE GRAMBLING: Honoring History, Keeping Promises and Fulfilling Dreams
P.O. Box 607.403 Main Street • Grambling, LA 71245 • Office: (318) 274-6117 • Fax: (318) 274-6172 • www.gram.edu
A Constituent Member of the University of Louisiana System • Accredited by the Southern Association of Colleges and Schools
An Equal Opportunity Employer and Educator • Facilities Accessible to the Disabled