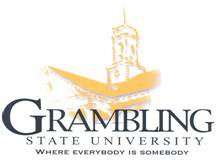 Office of the President
February 18, 2016
RE: Search for Athletics Director at Grambling State University
I have heard your resounding sentiments and enthusiasm regarding the search for the permanent Athletics Director for our university.
Acknowledging Grambling State University's legacy of excellence in athletics and the significance of our athletic programs to the survival of our great institution, I stand in agreement with you that we are much better served if we indeed continue the search for a permanent director of athletics.
Again, our core value of shared governance empowers us to partner, and collaboratively guarantee that the vitality of our institution remains intact.
As a result, we will move forward with high expectations of hiring the best candidate to lead and advance our athletic programs.
With Great Enthusiasm and a Steadfast Commitment to Excellence,
Willie D. Larkin, Ph.D.
President
P.O. Box 607.403 Main Street • Grambling, LA 71245 • Office: (318) 274-6117 • Fax: (318) 274-6172 • www.gram.edu
A Constituent Member of the University of Louisiana System • Accredited by the Southern Association of Colleges and Schools
An Equal Opportunity Employer and Educator • Facilities Accessible to the Disabled