Category Archives:
Uncategorized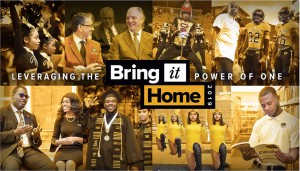 Apply Now to Receive Gap Funds for Pre-registration Fees and Balances
Grambling, LA – September 3, 2019 – Thanks to generous donors and supporters who continue to Bring it Home, Grambling State students can apply now to access the "GAP Fund," which covers fees and past due balances that can prohibit students from registering for classes.

"Sometimes, the ability to cover a single fee can make the difference between being enrolled and sitting out a semester," said Dr. Gavin Hamms, Director of Financial Aid. "The Gap Fund allows qualified students to breathe easier knowing that their financial hardship won't keep them from enrolling."

Students in need of gap financial aid assistance are encouraged to apply for assistance if they meet the following criteria:

Student must have a 2.0 cumulative GPA
Student must exhaust ALL federal financial aid options before being considered for GAP funds. (Subsidized Loans, Unsubsidized Loans, Plus Loans,
Student may not receive a refund from GAP funds.
If a student is awarded GAP funds and then receives additional funding from a different source after the GAP funds are posted, the GAP funds may be canceled if the additional award creates a credit balance (refund)
The maximum GAP award will be $800 (based on availability of funds)
"Ensuring opportunities for the next generation of innovators is the reason why this institution is the epicenter of Louisiana's innovation," said University President Rick Gallot. "The Gap Fund exists only because of the investors who are committed to making Grambling State's growth a priority."
Students are encouraged to apply now (http://www.gram.edu/finaid/scholarships/gap.php) to access the Gap fund. For more financial aid assistance, visit https://www.gram.edu/finaid/ to schedule an appointment with the Office of Financial Aid.
In light of the ongoing Bring it Home campaign, giving opportunities are plentiful at Grambling State. Givers are encouraged to visit https://www.gram.edu/foundation/homecampaign/. For non-traditional gifts, please contact Marc Newman, Vice President of Advancement, at (318) 274-2245.