Department of Political Science & Public Administration
---
Mission Statement & Objectives
The Department of Political Science and Public Administration at Grambling State University is dedicated to maintaining an academic environment in which students can be actively engaged in the acquisition of the necessary knowledge, skills and abilities to advance themselves in all their endeavors.
The Political Science curriculum is designed to provide students with an understanding of basic political institutions in the United States and internationally by providing the theoretical, conceptual, and methodological tools to analyze political phenomena, current events, and political systems in an effort to prepare them for governmental careers, or further study in the discipline of political science or in law.
Degree Offerings
As a unit within the College of Arts and Sciences, the Department of Political Science and Public Administration offers the following undergraduate degrees:
B.A. in Political Science
Sponsored Activities
The department sponsors many co-curricular activities for Political Science majors. These include: the Political Science Association; Kappa Theta Chapter of Pi Sigma Alpha—-the National Political Science Honor Society, and Pi Gamma Mu National Social Science Honor Society.
Research Opportunities
Political Science majors are encouraged to present papers on student panels at professional conferences, engage in independent research, work with faculty on research projects and obtain practical experience through internships. Students may also take courses at Louisiana Tech through the Inter-Institutional Cooperative Program.
Admission
Admission into the Department is obtained by declaring Political Science or Minor in Political Science/Pre-Law as your official major through the Registrar's Office. All majors will be assigned an advisor upon entrance into the department.
Department Head: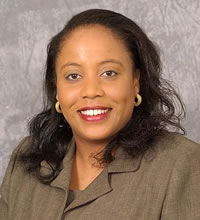 Dr. Rose Harris, Chair
Office Location: Woodson Hall - Room 135A
Office Hours: 9:00 a.m. - 11:00 a.m.
and 2:00 p.m. - 4:00 p.m. daily
Phone Number: (318) 274-2310
Fax: (318) 274-3427
Email: harrisr@gram.edu