Louisiana State Rep. Edward "Ted" James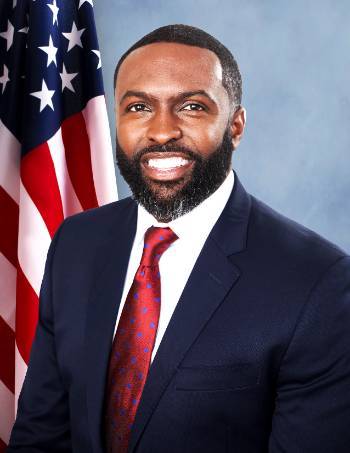 Representative James (D-Baton Rouge) was appointed by President Joe Biden to serve as the U.S. Small Business Administration's Regional Administrator for Region 6 South Central Region in December of 2021. In that position James oversees the administration of SBA products and services in 10 district offices; with one each located in Louisiana, New Mexico, Oklahoma and Arkansas and six located in Texas.
James says his passion for leadership is driven by a deeply held desire to impact the lives of others while transforming the community he simply calls "his village."
The Baton Rouge native was taught at an early age the value of service, the strength of community, the importance of a quality education, and the principles of social justice.
Upon being admitted to the Louisiana Bar, James began his career working in the Office of Governor Kathleen Babineaux Blanco where he was actively engaged in policy reform efforts targeted at establishing affordable housing solutions across the state of Louisiana.
Later, as the governor's policy advisor on housing and community development, James assisted in securing a $25 million investment into the Louisiana Housing Trust Fund and served on the Louisiana Commission on Housing and Community Development, where he continued his dedication to establish affordable housing solutions for the people of Louisiana.
In 2009, Ted was appointed to serve as Confidential Assistant to the Secretary of the Louisiana Department of Revenue where he was charged with developing the Department's legislative strategy. His leadership led to an appointment by Governor Bobby Jindal to serve on the Louisiana Advisory Commission on Intergovernmental Relations where he effectively managed relationships with other governmental agencies to further the well-being of the people of Louisiana.
James was elected to the Louisiana House of Representatives in November of 2011 and has now served for more than a decade, rising to leadership as Chairman of the Administration of Criminal Justice Committee and Chairman of the Louisiana Legislative Black Caucus.
He has worked with Gov. John Bel Edwards to reach across the aisle and pass historic criminal justice reform and has authored more than 160 pieces of legislation and 56 bills that became law.
James enjoys partnering with various not-for-profit organizations where he is dedicated to giving back to the community by committing countless hours to mentoring students in Baton Rouge schools and sharing his acquired wisdom and knowledge by way of public speaking throughout the state of Louisiana.
He is the recipient of the Baton Rouge Business Report's "Forty Under 40" award and the National Chapter of the NAACP's "Top 40 Power Players under 40" award and was also named to the National Bar Association's 2013 Nation's Best Advocates: 40 Lawyers Under 40.
James earned a Bachelor of Science degree in Accounting from Southern University and went on to obtain his Juris Doctorate with honors from the Southern University Law Center, where he also served as the president of the Student Bar Association.
He is a member of Beacon Light Baptist Church and Kappa Alpha Psi Fraternity, Inc., and is the proud father of his daughter, Harper Ryan James.