Spring 2022 Commencement
---
Congratulations! You have been recommended for graduation for the Spring 2022 Semester. The conferring of your degree is contingent upon your successful completion of all degree requirements and your academic department officially certifying you as having met all degree requirements. The commencement ceremony is reserved for those students who have met all degree requirements and have been certified by their departments.

COMMENCEMENT
We extend an invitation to you to participate in commencement as outlined below. To ensure social distancing, two (2) ceremonies will be held that are organized by colleges. Each ceremony will be held in the Fredrick C. Hobdy Assembly Center. Upon arrival to the assembly center, please check in at the loading dock to obtain your name card and seating assignment.
Commencement Schedule
9:00 a.m. – Thursday, May 12, 2022
This ceremony is for students earning the following degrees:
Graduate Studies

(Doctor of Education, Master of Arts in Teaching, Master of Arts in Social Sciences, Master of Education in Special Education, Master of Education in Curriculum and Instruction, Master of Public Administration, Master of Science in Criminal Justice, Master of Science in Developmental Education, Master of Science in Sports Administration, Master of Science in Nursing, Master of Social Work, Post Master's Certificate).
College of Business
(Accounting, Computer Information Systems, Economics, Management, Marketing)
College of Education
(Kinesiology, Leisure Studies, Teacher Education degree programs)
2:00 p.m. – Thursday, May 12, 2022
This ceremony is for students earning the following degrees:
College of Education
(Kinesiology, Leisure Studies, Teacher Education degree programs)
College of Arts and Sciences
((Biology, Chemistry, Child Development and Early Literacy, Computer Science, Cybersecurity, Engineering Technology, English, General Studies, History, Mathematics and Physics, Music, Political Science, Visual and Performing Arts)
SPEAKER | ALL CEREMONIES
Louisiana State Rep. Edward "Ted" James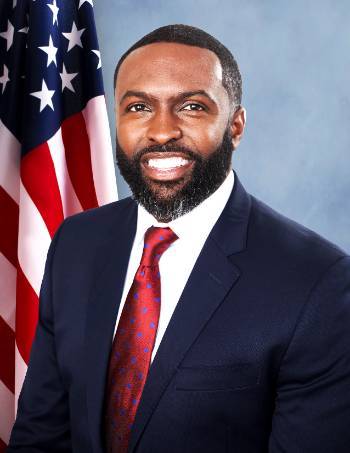 Representative James (D-Baton Rouge) was appointed by President Joe Biden to serve as the U.S. Small Business Administration's Regional Administrator for Region 6 South Central Region in December of 2021. In that position James oversees the administration of SBA products and services in 10 district offices; with one each located in Louisiana, New Mexico, Oklahoma and Arkansas and six located in Texas.
James says his passion for leadership is driven by a deeply held desire to impact the lives of others while transforming the community he simply calls "his village."
The Baton Rouge native was taught at an early age the value of service, the strength of community, the importance of a quality education, and the principles of social justice.
Upon being admitted to the Louisiana Bar, James began his career working in the Office of Governor Kathleen Babineaux Blanco where he was actively engaged in policy reform efforts targeted at establishing affordable housing solutions across the state of Louisiana.
Later, as the governor's policy advisor on housing and community development, James assisted in securing a $25 million investment into the Louisiana Housing Trust Fund and served on the Louisiana Commission on Housing and Community Development, where he continued his dedication to establish affordable housing solutions for the people of Louisiana.
In 2009, Ted was appointed to serve as Confidential Assistant to the Secretary of the Louisiana Department of Revenue where he was charged with developing the Department's legislative strategy. His leadership led to an appointment by Governor Bobby Jindal to serve on the Louisiana Advisory Commission on Intergovernmental Relations where he effectively managed relationships with other governmental agencies to further the well-being of the people of Louisiana.
James was elected to the Louisiana House of Representatives in November of 2011 and has now served for more than a decade, rising to leadership as Chairman of the Administration of Criminal Justice Committee and Chairman of the Louisiana Legislative Black Caucus.
He has worked with Gov. John Bel Edwards to reach across the aisle and pass historic criminal justice reform and has authored more than 160 pieces of legislation and 56 bills that became law.
James enjoys partnering with various not-for-profit organizations where he is dedicated to giving back to the community by committing countless hours to mentoring students in Baton Rouge schools and sharing his acquired wisdom and knowledge by way of public speaking throughout the state of Louisiana.
He is the recipient of the Baton Rouge Business Report's "Forty Under 40" award and the National Chapter of the NAACP's "Top 40 Power Players under 40" award and was also named to the National Bar Association's 2013 Nation's Best Advocates: 40 Lawyers Under 40.
James earned a Bachelor of Science degree in Accounting from Southern University and went on to obtain his Juris Doctorate with honors from the Southern University Law Center, where he also served as the president of the Student Bar Association.
He is a member of Beacon Light Baptist Church and Kappa Alpha Psi Fraternity, Inc., and is the proud father of his daughter, Harper Ryan James.
Golden Grad Anniversary
Congratulations, Golden Graduates!
Grambling State University (GSU) will celebrate the Classes of 1970, 1971, and 1972. Commencement Exercises will be held on Thursday, May 12, 2022 at the Fredrick C. Hobdy Assembly Center. As you are aware, the Covid-19 pandemic and its variants caused the University to cancel the Golden Graduates' participation in the 2020 and 2021 graduation exercises. All CDC guidelines will be followed at the event.
Registration is now closed for the 50th Anniversary Class Reunion; however, Golden Graduates may now order the commemorative Golden Anniversary Box for those who cannot attend.All CDC guidelines will be followed at the event.
Venue:
Fredrick C. Hobdy Assembly Center, 100 North Stadium Drive, Grambling, LA 71245 | View in Google Maps
Guests:
All guests should be seated 30 minutes prior to the start of the ceremony in designated seating.
Transfer Credits:
If you were enrolled in courses at other regionally accredited institutions this semester or there is a hold for another transcript not yet received, please forward the official transcript to bostonji@gram.edu so credits may be added to your official transcript for certifying purposes as soon as possible.
Graduation regalia:
Candidates may also contact the University Bookstore at (318) 247-1006 regarding ordering regalia and graduation announcements, or order online.
Commencement Exercises:
Commencement is a significant ceremony; therefore, the ceremony is expected to be carried out in a proper and dignified manner. To guide candidates in selecting attire for participation the ceremony, outlined below are suggested forms of dress.
Cap and Gown
White or Black Dress
White or Black Slacks
Light Color Shirt
Black (or other dark color)Shoes


Your name will appear in the official commencement program. An official listing of the 2022 Spring Candidates for Graduation will be posted on the GSU graduation webpage. Additional information will be forwarded at a later date related to the commencement exercises.
Honor Students:
Students who graduate with honors will receive honor cords. There will also be a gold sticker placed on the diploma for all undergraduate honor students.
Clearance:
It is imperative that all indebtedness to the University be cleared in a timely manner. Candidates can monitor the clearance process on-line via BannerWeb. (The steps for online graduation clearance are found at the end of this document.). Please allow approximately (3) business days for your clearance to be processed in the system. Students who have been identified as having delinquent accounts will not be allowed to participate in commencement exercises.
Cancellation of Graduation:
If for some reason you are not graduating this semester, please request permission from your academic dean to cancel your graduation application and they will notify the Registrar's Office. Upon notification, the cancellation will be processed and updated in BannerWeb, and your graduation hold will be released. You will then be eligible to register for the upcoming semester.
Diploma Issuance:
Diplomas will be released after the commencement ceremony. If you do not plan to attend the ceremony, your diploma will be mailed via certified mail in January or you may pick-up in the Office of the Registrar located in Grambling Hall, Suite 18. Please confirm your mailing address is accurate to avoid any shipping delays. If your address changed after you applied for graduation, please email your correct mailing address to registrar@gram.edu. Remember to include your name and G#, major and college in any correspondence sent to the Registrar's Office.
Graduate School at GSU:
Have you considered graduate school here at GSU? We encourage you to apply online today at www.gram.edu.
---
Graduate Information
The ceremony will be streamed live on our
youtube page
and will be archived there for all perpetuity.
Download and take note of the following to help make your Commencement celebration one to remember.
---
External Media Coverage
External media are asked to contact the Office of University Communications at
communications@gram.edu
or 318-243-5012 for further information regarding admittance to commencement and to make interview requests. All external media must park in a designated parking area (the loading dock area at the back of the Assembly Center), and are required to show media credentials to enter the parking area and the back of the building.
---
Questions?
Look for updates regarding the ceremony, including distribution of tickets for guests, at a later date. If you have any questions or concerns, please contact us via email at registrar@gram.edu