Chicago Family Raises Funds for Grambling State Student Advancement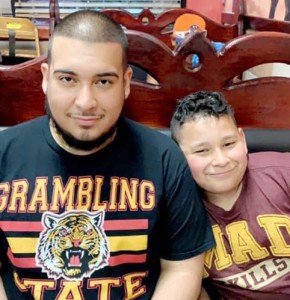 GRAMBLING, La – October 14, 2019 –Philanthropist Alejandro Valadez Jr., age 9, hosted a garage sale in his Chicago community to benefit Grambling State University students when he learned of the ongoing Bring It Home campaign.
"I decided to create a fundraiser by having a yard sale for these students," said Valedaz in a letter he wrote accompanying a check to the University. "I was able to raise $300. Hopefully it will help towards some of the things needed to have a great school year."
Young Valadez is the brother of freshman business management and marketing major, Santiago Tamez, who recently shared with his family about the University's need for support to continue student advancement. The funds raised by this Chicago family will be added to the Grambling University Foundation's unrestricted donation pool.
"Progress will not come if we wait for some other person or some other time," said Grambling State University President Rick Gallot. "This kind of resourcefulness is a powerful example of the dedication that progress requires."
There are only seven weeks left to help Grambling State beat the $1 million Bring It Home 2019 goal. Ongoing campaign segments include the Greek Challenge, the All-In Employee Challenge, the upcoming Radiothon and the Bayou Classic Kicks Ball.
Visit https://www.gram.edu/foundation/homecampaign/ to learn more about the Bring It Home campaign and other opportunities to invest in Grambling State University.
To give a non-traditional gift to the University, contact Marc Newman, Vice President of Advancement, at 318-274-2245.
For media interviews and information with Grambling State University, email mediarelations@gram.edu or call (318) 274-2866.
###
About Grambling State University
Grambling State University, located in Grambling, Louisiana, is a historically black university founded in 1901. The University has been accredited by 13 accrediting associations and holds accreditations in all programs required by the Louisiana Board of Regents. The 590-acre campus offers 42 undergraduate and graduate academic programs. Grambling State University is a member of the University of Louisiana System. For more information, visit www.gram.edu.