STEM Grambling Brings Education Opportunities to North Louisiana Youth November 23
Registration Opens for K-12 Youth Program at Grambling State with STEM NOLA and SodexoMagic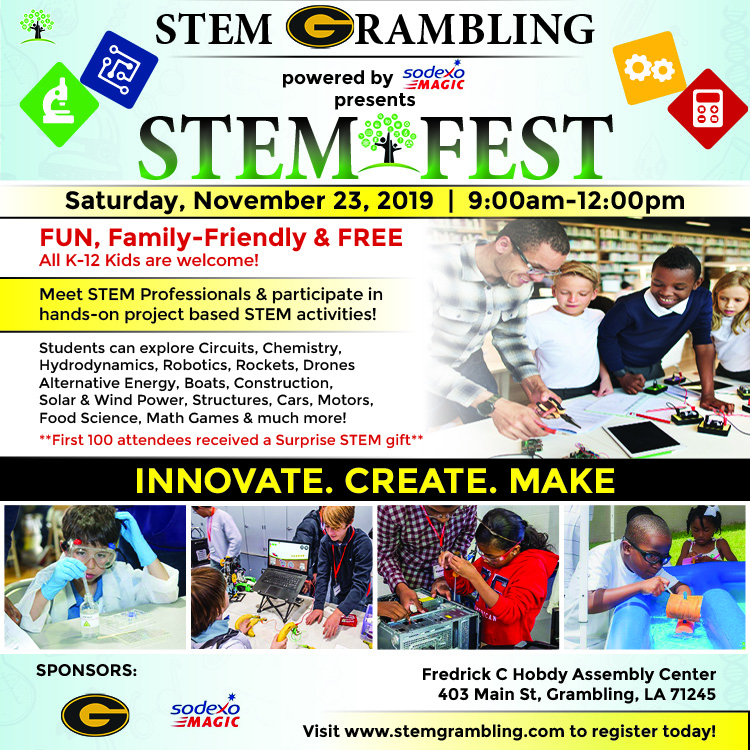 Grambling, LA, November 13, 2019 – Grambling State University will be hosting the first STEM Grambling "STEM Fest" engaging North Louisiana's K-12 youth in hands-on education in Science, Technology, Engineering and Math (STEM). In early September, plans to launch STEM Grambling were introduced as part of the University's ongoing partnership with Magic Johnson's SodexoMAGIC in conjunction with STEM NOLA, a successful community-focused educational initiative based in New Orleans, LA.
"We know that with the right support, HBCUs will continue to lead as a critical answer to the 3-million-person Cybersecurity job gap that exists globally," said President Gallot at his recent testimony to the United States Department of Homeland Security Subcommittee on Cybersecurity, Infrastructure Protection, and Innovation. With the announcement of STEM Grambling, he stated "I am excited to create a cradle-to-career pipeline of success for young members of our community and to support Governor Edwards' vision for more STEM professionals and careers along the I-20 Technology Corridor."
What is STEM Grambling?
STEM Grambling will leverage the University's advanced STEM facilities, faculty and students to provide monthly programming to expose grade school students from across the region to the broad spectrum of STEM and computer science disciplines including cybersecurity.

Grambling State is a leading producer of minority graduates in several disciplines, including computer science and engineering. This August, Grambling State welcomed the first cohort of students into Louisiana's first cybersecurity bachelor's degree program and just last week the University announced System approval to propose the first 4-year Cloud Computing degree in the state.
During GSU's Homecoming game, the two announced that dining partner, SodexoMAGIC, had just committed a $2 million contribution to the Bring It Home fall fundraising campaign. A portion of those funds support educational initiatives like STEM Grambling and the upcoming STEM Fest.
A Model for STEM Success
SodexoMAGIC's team and Grambling State's leadership is partnering with STEM NOLA to build on the organization's successful community engagement model for spreading STEM awareness and education among the youth and families in New Orleans, LA.
"In the 21st century, one of America's greatest challenges will be motivating, educating and training a technical workforce to ensure that we can compete and thrive globally and we must expose all youth to the necessary skills needed to pursue STEM-based careers," said Dr. Calvin Mackie, founder of STEM NOLA. Now, with two local offices and an active team out of STEM Baton Rouge, Dr. Mackie's team is bringing STEM to a growing number of communities.
STEM NOLA offers unique hands-on activities, inquiry-based learning methodology that STEM Grambling will adopt. Students participating in the upcoming STEM Grambling will have the opportunity to learn by observing demonstrations, completing experiments, building kits, engaging in group projects.
About the STEM Fest at Grambling State University
STEM Grambling's first STEM Fest will take place on November 23, 2019 from 9 am – 12 pm in the Frederick C. Hobdy Assembly Center. Students and parents from Grambling and the surrounding areas in Northwest Louisiana will participate in over 40 different hands-on activities, explore science in new ways, experience technology in different applications, engage in engineering activities, and embrace the fun in mathematics. Registration is now open for K-12 students is offered at no cost to attendees. Register at www.STEMGRAMBLING.com
Related Articles:
SodexoMAGIC Makes History with $2 Million Donation to Grambling State

Grambling State Receives Designation for a Center of Academic Excellence in Mathematical Achievement for Science and Technology

Grambling State Approved For First Steps Toward Offering Louisiana's First Bachelor's in Cloud Computing
Louisiana's First Bachelor's in Cybersecurity to Enroll Cohort in 2019

###
About Grambling State University
Grambling State University, located in Grambling Louisiana, is a historically black university founded in 1901. The University has been accredited by 14 accrediting associations and holds accreditations in all programs required by the Louisiana Board of Regents. The 590-acre campus offers 42 undergraduate and graduate degree programs. Grambling State University is a member of the University of Louisiana System. For more information, visit gram.edu.
About STEM NOLA
Founded by Dr. Calvin Mackie in 2013, STEM NOLA's mission is to grow future innovators, creators, and entrepreneurs through inspiration, engagement, and exposure to opportunities in the fields of Science, Technology, Engineering and Math (STEM). STEM NOLA addresses the lack of support for low income and low resource communities to pursue future careers in STEM ­ and the significant economic opportunity they bring. STEM NOLA has engaged over 40,000 K-12 students in hands-on STEM activities.
About SodexoMAGIC
By leveraging the "Magic" of Chairman and CEO Earvin Johnson's business acumen, with Sodexo's extensive experience as a global leader in Quality of Life services, SodexoMAGIC provides innovative solutions. Mr. Johnson's proven background includes a conglomerate comprised of multiple entities in the food, service, and entertainment and retail spaces, including partnerships with Starbucks, Sony Theatres, and the LA Dodgers. SodexoMAGIC employs over 4800 employees across more than 1600 locations throughout the country, in segments such as Corporate, Healthcare, Education & Aviation.
For interviews and more information, please contact  mediarelations@gram.edu  or call (318) 243-5012.