Grambling State Student Entrepreneurs Win $3,000 in Startup Support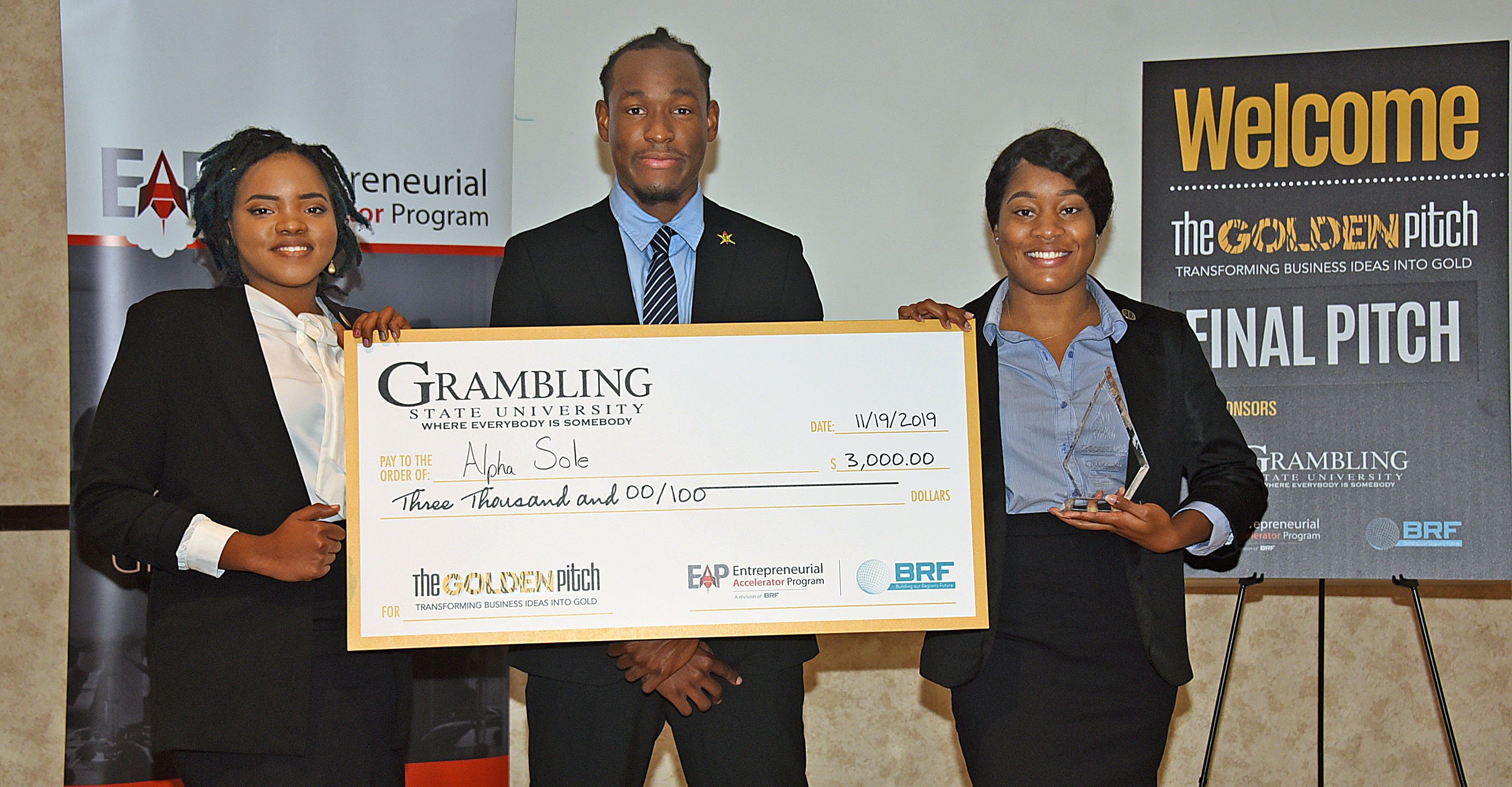 BRF's Entrepreneurial Accelerator Program invests cash and training in GSU's Golden Pitch Winners
This week, six Grambling State University student entrepreneurs were rewarded more than $10,000 in support for their startups through the Golden Pitch Business Model Competition sponsored by BRF's Entrepreneurial Accelerator Program (EAP).
The Golden Pitch, one of three Louisiana university business plan competitions that make up the Grand Prix program, attracted student teams from Grambling State University. Student entrepreneur teams received training and mentorship from local entrepreneurs, investors, and faculty members in hopes of winning one of three cash prizes, scholarships to Louisiana Startup Prize 2019 and the Patent Academy, and one year of business services from EAP.
This year's winners include:
$3,000 Cash Grand Prize Winners: Alpha Sole
Product: Another Step Forward
Alpha Sole is a team of three students from Dominica, Alain Pacquette, Kimorah John and Kish Jean. Together they pitched their plans for "Another Step Forward," a shoe that produces electricity through movement, is a new green energy powered way to charge small devices while on the go!
$1,000 Cash Runner Up: Tyra Jones
Product: Cultivate Praise
Tyra Jones is a junior accounting major whose pitch for a faith-based book accompanied with a mobile application won her second place in the contest.
$500 Cash Third Place: LuvHerBeauty
LuvHerBeauty team members, Destney Johnson and Jyandria Carr-Vaughn, developed a plan for a mobile beauty service that provides convenience, comfort, and enjoyment for patrons seeking health and beauty services.
Related Articles:
Tech Tour Winner Advances to Finals in $3,000 Business Model Competition
Golden Pitch Returns: $3,000 for Winning GSU Student Business Idea
For more information on this year's winning ideas or the Golden Pitch, please contact mediarelations@gram.edu or (318) 243-5012.