September Brings Internship, Career Opportunities to Campus
Students Can Receive Information About Major Companies and Interview Advice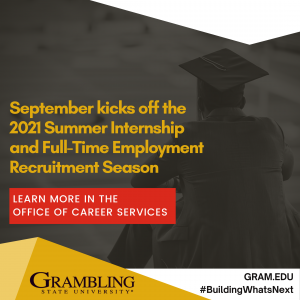 GRAMBLING, La. –September 3, 2020 – As the Career Center at Grambling State University reopens after the Hurricane Laura closure, it will immediately launch events to pair students with companies that may be hiring.
The first one will be Monday, September 8, at 10 a.m. as the Career Center reopens. This is a virtual interview workshop with State Farm Insurance. The sessions are open to all majors and are video on demand. The workshop will prepare students for the State Farm 2021 Summer Internship selection process.
Other September events include:
September 13, 5-8 p.m. JC Penney Suit Up Event at Pecanland Mall
Annual event, discounted professional attire
Open to GSU, Students, Staff and Faculty
Transportation available – reserve your seat on Handshake
September 14, 1 p.m. IBM Women in Technology Virtual Workshop
Information Session for female 3rd and 4th Year STEM majors
September 15, 11 a.m. USAA Information Session 
Information Session for CIS & CoB Sophomores and Juniors about 2021 Summer Internship opportunities
September 15, 11 a.m. PWC Information Session 
Information Session for CIS & Accounting students interested in internship opportunities with a Big 3 company.
September 17, 11 a.m. IBM Apprenticeship Program Technical Interview Virtual Workshop and Information Session Speaker – Carl Jones, GSU Alumni/IBM employee.
Open to graduating seniors all mayors. GSU SGA leaders and IBM representatives will host workshop to learn about:
How to succeed in a Technical Interview
Full time paid training programs with IBM in Monroe and Baton Rouge.
(30 vacancies)
September 23, Rocket Mortgage- Virtual Interview Workshop–open to all majors.
Participants will learn about:
How to succeed in a Virtual Interview
Internships and full-time jobs with the Rock family of companies.
For more information, contact the GSU Career Services Office.
Daily via Microsoft Teams, 7:30 a.m. – 5 p.m.
In Person Tuesdays and Thursdays, 9 a.m. – 5 p.m.,Jacob T. Stewart Building
Appointments required: Please email: Kellye Blackburn, Career Services Director (blackburnk@gram.edu) or Altha Madison, Career Services Assistant Director (madisona@gram.edu).
About Grambling State University 
Grambling State University, located in Grambling, Louisiana, is a historically black university founded in 1901 that combines the academic strengths of a major university with the benefits of a small college. This combination enables students to grow and learn in a serene and positive environment. The 590-acre campus offers 43 undergraduate and graduate academic programs. A member of the University of Louisiana System, Grambling State University has been accredited by 13 accrediting associations and holds accreditations in all programs required by the Louisiana Board of Regents. With a longstanding tradition of excellence, Grambling State University continues to emphasize the value and importance of each student, exemplified by our motto: Where Everybody Is Somebody. For more information, visit gram.edu.
Contact:
Tisha Arnold
mediarelations@gram.edu
(318) 243-5012