GSU Founder's Week Observance Moves from September to November
November 1, 2021, will mark 120 years of educational excellence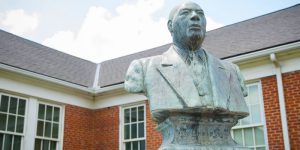 GRAMBLING, La. – Sept. 14, 2021 – Traditionally, Grambling State University (GSU) has held its Founder's Day observance beginning in September but this year's celebration will begin Nov. 1. The date is significant because it will mark 20 years of educational excellence for GSU.
Moving forward, the observance will continue to be held in November, said GSU President Rick Gallot.
"Founder's Day has been observed in September in years past, however, it is imperative that we align the celebration with the day the institution opened its doors," he said.
Gallot said that the dates for the annual celebration will transition to the first week in November each year to honor the historic moment in 1901 when the historically black university was founded. He added that he is "beyond excited to celebrate" during November 1-5, 2021.
The planning committee is working to develop events and bring programming that honors the history of Grambling State University and perpetuates its legacy to the next generation, he said.
"We have much to be thankful for, reflect upon, and look forward to for Grambling State University," Gallot said. "This institution has come so far, surmounted so many obstacles and accomplished so much. The best part is, we're just getting started."
GSU opened on November 1, 1901, as the Colored Industrial and Agricultural School. It was founded by the North Louisiana Colored Agriculture Relief Association, organized in 1896 by a group of African-American farmers who wanted to organize and operate a school for African Americans in their region of the state.
In response to the Association's request for assistance, Tuskegee Institute's Booker T. Washington sent Charles P. Adams to help the group organize an industrial school. Adams became its founding president.
In 1905, the school moved to its present location and was renamed the North Louisiana Agricultural and Industrial School. By 1928, after becoming a state junior college and being renamed the Louisiana Negro Normal and Industrial Institute, the school began to award two-year professional certificates and diplomas. In 1936, the curriculum emphasis shifted to rural teacher education; students were able to receive professional teaching certificates after completing a third academic year. The first baccalaureate degree was awarded in 1944, in elementary education.
In 1946, the school became Grambling College, named after P.G. Grambling, the white sawmill owner who donated the parcel of land where the school was constructed. In addition to elementary educators, Grambling prepared secondary teachers and added curricula in sciences, liberal arts and business, transforming the college from a single purpose institution of teacher education into a multipurpose college. In 1949, the college earned its first accreditation by the Southern Association of Colleges and Schools (SACS).
In 1974, the addition of graduate programs in early childhood and elementary education gave the school a new status and a new name – Grambling State University. To learn more about GSU's history, visit https://www.gram.edu/aboutus/history/.
About Grambling State University
Grambling State University, located in Grambling, Louisiana, is a historically black university that was founded in 1901. The institution has been accredited by SACSCOC, 13 associations, and in all programs required by the Louisiana Board of Regents. A member of the University of Louisiana System, Grambling State University has the academic strengths of a major university with the benefits of a small college. Offering 43 undergraduate and graduate academic programs, the 590-acre campus is home to world-class athletics, an internationally renowned marching band, and vibrant student life that enable our scholars to grow and learn in a positive environment. For more information, visit gram.edu.