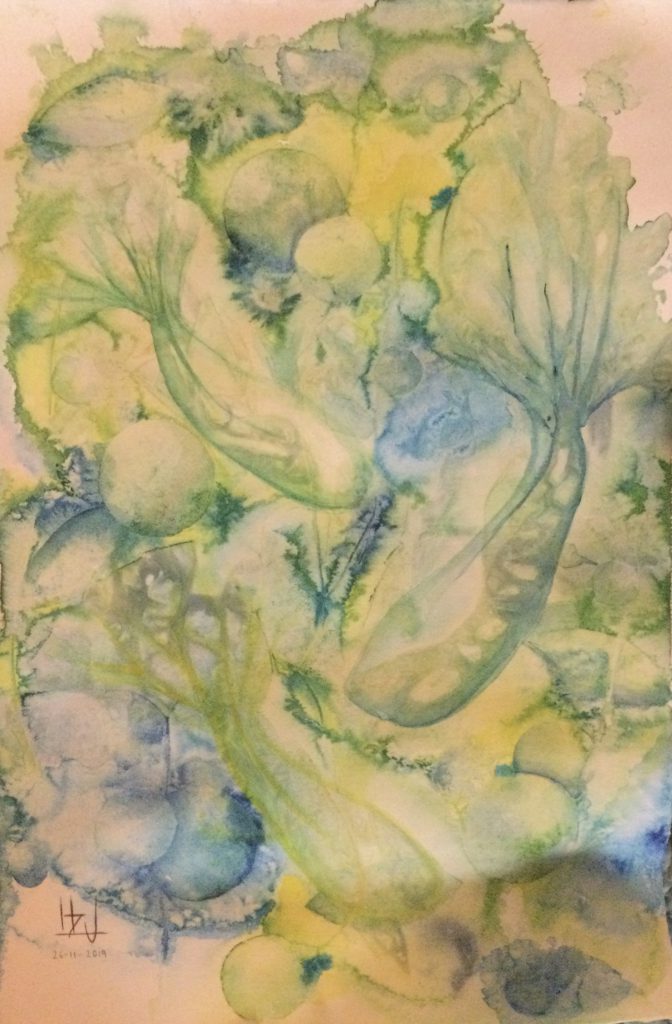 BATON ROUGE, La. — October 3, 2022 — On Saturday, Grambling State University Art major Itzel Leon debuted a painting titled, "Agua de Mar," at the College Art Exhibition, presented by Gallery 46 in Baton Rouge, Louisiana. 
This art exhibition features the works of undergraduate and graduate art students from multiple colleges and universities in Louisiana and its coastal contiguous states. 
The show was juried by Loveday Funck and judged by Betsy Neely, both Baton Rouge-based artists.  The primary purpose of the exhibition is to showcase college student work from the Louisiana region.
Leon was awarded third place for "Agua de Mar," which translates to mean seawater.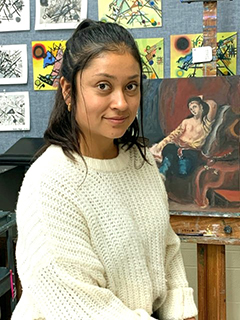 "My piece focuses on the mystery of the ocean — how deep and strong it can be," Leon said. "It represents how our mind thrives when we are calm and at inner peace, so we flow as the ocean does."
Leon, a native of Puebla, Mexico, was a Fall 2021 GSU President's List student.
"I feel so excited, and extremely happy," Leon said about having her painting showcased at the College Art Exhibition. "This is another achievement to my future professional career as an artist and it really makes me feel motivated to keep working hard and still being consistent. I am doing one of the things that I most love doing and getting into this exhibition makes me feel that all my energy spent and sacrifices have been worth it." 
"Of course, this would never happen without the help of my professors who create for our faculty an incredible environment for us to work, as well as they support us in any goal that we have in mind," Leon continued. "I will add as well that I feel honored to represent my classmates and teachers who made part of this process at this event. I will be forever thankful to the GSU Art Department."
Rodrecas Davis, head of Grambling State's Department of Visual Arts, said Leon was deserving of the honor bestowed upon her.
"The Department of Visual & Performing Arts is thrilled at Itzel Leon's acceptance into the College Art Exhibition presented by Gallery 46 in Baton Rouge," Davis said, "The work done by, and the ethic displayed by Itzel, is an exemplification of the caliber of artistry and professionalism that we want all VAPA majors to demonstrate. We are pleased that she is representing Grambling [State] and the Department of Visual & Performing Arts."
The exhibit will run through Oct. 16 at Mid-City Artisans' Gallery 46 located at 516 Moore St., Suite 101 in Baton Rouge.