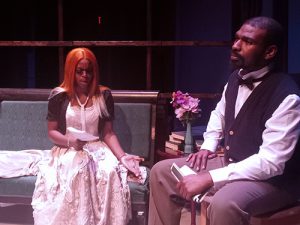 Grambling, La. – November 14, 2022 – The Grambling State University Department Visual and Performing Arts is set to perform a fictional imagining of a well-known, actual story in the play "Knock Me a Kiss," which will open at 7 p.m. Tuesday at the Floyd L. Sandle Theatre inside the Conrad Hutchinson Performing Arts Center.
Based on what was supposed to be the wedding of the century, at least in terms of African-American advancement, the play will also be performed at 7 p.m. nightly on Wednesday, Nov. 16 through Friday, Nov. 18 with an additional matinee performance set for 10 a.m. on Nov. 18.
GSU students can attend the play for free with a valid student ID while general admission tickets will cost $10 for adults and $5 for children 12 and under.
Set in the spring of 1928 at the height of the Harlem Renaissance, the six-actor play concerns events when Yolande Du Bois, the pampered only daughter of scholar and activist W.E.B. Du Bois, married up-and-coming poet Countee Cullen, a suitor handpicked by her well-known father.
While the wedding was attended by thousands of well-wishers went off without a hitch, Yolande soon filed for divorce as the marriage, seen as a triumph of pomp and pageantry, ended up failing to be a true union of man and woman.
"The theme of 'Knock Me A Kiss' is playing on the period era and essence of the Great Migration — .the Harlem Renaissance, which will be different in its approach than most productions of the past," said Jonathan Jackson, a lecturer in GSU's VAPA department. "This has become our classical period piece which gives not only an immersed glimpse into the lives of wealthy famous and determined African Americans during a time of racial segregation lynchings and calamity in America.
"Not only does this play explore those avenues but more less it's the prophecy to examine the inner lives of these people and how their situations are relatable as of those today no matter the preliminaries."
Jackson said that approach allows viewers to become immersed in the lives of the play characters.
"We must remember this is a time when we as people had no entitlements rights and survived under post slavery conditions," Jackson said. "However, we come to understand that no matter the person; rich and famous or not, we're all dealing with or pursuing something in our lives. Whether it be an illness, failed relationship, love triangle, seeking personal representation; identity and or just trying to survive, the truth of this play is about how life eventually teaches its lesson in all things we actualize, endeavor, and encounter.
"This play is essentially Nina's story being relived through her daughter Yolonda as to whether she chooses to listen or learn by her mistakes for not thinking for herself."
The cast for GSU's presentation of "Knock Me A Kiss" will be Liberty Anderson as Yolanda DuBos; Lakeidrick Wimberly as WEB DuBois; Madison Smith as Nina DuBois; Walter Jenkins as Jimmy Luncefor; Steven Thompson as Countee Cullen; and Victoria Eggleston as Lenora/
"Rehearsals have been great — smooth and productive," Jackson said. " I must say this is a strong cast with a real desire and passion for the craft in their research methodology of acting with character development of these people since they are indeed real-life beings that existed.
"Therefore, the approach to these types of characters has a cut of biopic preparation to uphold as well and the cast seem to fall right into the roles for that matter. For the most part, I feel the cast has done the necessary work to deliver and honor this message."