KGRM Underwriting Policy
---
WHAT IS UNDERWRITING?
KGRM-FM is a "non-commercial" radio station. Underwriting is a special way for KGRM-FM to thank businesses for making donations to help keep our programming on-the-air.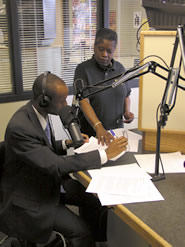 The donor statement over KGRM can include:
The name of the company or business
The address and/or location
The phone Number
A value-neutral description of the service or product line
Thanks for bringing the musical programming to the listeners
KGRM-FM thanks a donor for contributing! The announcement stands alone between musical selections. Only one donor announcement is given at a time.
UNDERWRITING BENEFITS
TAX DEDUCTIBLE!
Because KGRM-FM is owned by Grambling State University, all contributions to support KGRM Programming are Tax deductible. (Check with your tax advisor or accountant for more information about tax deductible donations)
APPRECIATED BY KGRM LISTENERS!
KGRM listeners are very loyal to KGRM and your generosity in supporting their favorite station will be remembered and appreciated.
Giving you music & more!