Local campus queen needs three votes from everyone in northern Louisiana before midnight to be included in a national magazine
By MINIYA SHABAZZ
GSU Media Bureau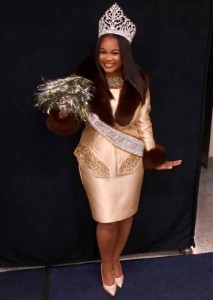 With less than a day left, Miss Grambling State University Astra Watts is racing for a top spot on Ebony magazine's HBCU campus queen spread this spring.
In a national competition featuring more than 60 campus queens from historically black colleges and universities, Watts was in the top 10 at one point, fell to #14 and then, with a big push last week, rose to seventh in just a few days. If Watts wins one of the top 10 slots, she would be the third Miss Grambling State to be featured in the magazine since the national publication started a public voting process to determine which campus queens get featured.
Watts had becoming Miss Grambling as a dream when she arrived on campus, and becoming an Ebony campus queen is another of her dreams. The GSU community has rallied behind her to vote daily to get, and keep, her in the top 10. Some members of her royal court and her Alpha Kappa Alpha Sorority Inc. are among those helping her reach for success.
"I feel as though Astra Jahira Watts is a great Miss Grambling because she is selfless in her ways," said De'Jeauna Mullen, GSU's Miss Junior from California who grew up in Shreveport.  "She loves to perform duties with or without her crown."
When Watts thought the contest would end by the original Sunday (Jan. 15) deadline, she went into overdrive to get vote. She worked tirelessly with close friends, her sorority sisters, alumni and the university's communications team to best ensure she's one of the top vote-getters. She did interviews with Grambling State's KGRM, a series of television interviews and she had lots of promotion on social media. In a short few days, she went from #14 to #7.
Then, Watts and the other campus queens competing found out this past weekend that contest voting would be extended until 11:59 p.m. on Wednesday (Jan. 18). Just when Watts thought she had won one of the top positions, she had to work harder. Not one to be deterred, Watts ramped up again and she's working feverishly to finish strong today (Wednesday, Jan. 18).
"Not only will this be an amazing milestone as a queen, but also a great opportunity to showcase my beloved institution," said Watts, a New Orleans native and a senior major in biology.
Watts has been active on campus for the last few years. She was Miss Sophomore 2014-2015, junior class president 2015-2016 and she is an active member of the Society of Distinguished Black Women and the campus chapter of AKA.
Support Watts' dream and help Grambling State University by voting three times before 11:59 p.m. today (Wednesday, Jan. 18) at www.ebony.com/contestants/astra-watts
###
Media Contact:
Office of Communications
318-274-2866
mediarelations@gram.edu