Grambling State faculty and staff come together to support school financially,
aiming for 100 percent participation
By REAGAN HIGGINS/GSU Media Bureau
Grambling State University President Rick Gallot challenged faculty to go all in and give 100 percent at the third annual president breakfast.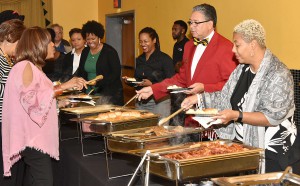 The breakfast, held in the Black and Gold Room, was an opportunity for faculty and staff to show their financial commitment to the university. The campaign is a crucial component for the Bring It Home campaign to reach a $1 million fundraising goal by GSU's homecoming in late October.
"The Bring It Home ALL IN campaign allows all faculty and staff to annually coordinate efforts in giving back to GSU," said Susan Billups Wiley, 51, the interim director of student success and retention at GSU. "I am excited each year to participate and encourage everyone to give."
During the event, Gallot stressed the importance of faculty and staff participation for the ALL IN campaign, saying it is important that those who work at GSU show that they are committed to making the university better. Gallot said his department has 100 percent commitment, and he challenged the faculty and staff in each department to have the same commitment.
"We understand that finances are one of the things to keep the institution going and the Bring It Home campaign is a total initiative to meet several goals of the university, and the employee component will help us to get to that goal," said Marc Newman, vice president for institutional advancement at the university.
Like other Bring It Home donations, Grambling State University faculty and staff donations can be given through five areas, including scholarship support, endowment growth, faculty support, athletic facilities improvements and a greatest needs/unrestricted category. GSU employees can donate at http://www.gram.edu/giving/events/all-in.php
Some in the campus community enjoyed the opportunity to get a free breakfast first thing in the morning on Sept. 7, including Karla Atwater, a security administrator in the university's information technology center.
"I think the breakfast was a great way to kick off the campaign and get everyone on the same page," said Atwater, a 1987 GSU graduate. "We should continue to invest in our university. It just makes it easier to ask for other sources of funding when we can show that we are investing and care about the future of our students and university. It's our responsibility to take care of home first and give back to a great university that prepared us for the future."
"Every person that works here, we are a part of the legacy of Grambling, and I think that alone should make or encourage every faculty or staff to give," added Rita Hood, the school's nursing program admissions coordinator. "We can't expect other people to give if the family's not giving, so I now feel the family needs to support his efforts and making sure we give 100 percent. I believe we can do it."
Gallot is confident the faculty and staff will come through. "Each year we have seen increases in our faculty and staff giving," he said. "So, this year, we are really stressing 100 percent involvement in all our faculty and staff, and we feel really good that we will be able to reach that goal."
Wiley encouraged colleagues and friends to participate. "No gift is too small.  We would love to have 100% participation from each department," said Wiley, a Grambling, Louisiana, native who graduated from GSU in 1988 with a marketing degree. "As an alumna of GSU, I am very honored to give back to my alma mater."
###
University has increases in freshmen, continuing student enrollments,
hitting highest enrollment since 2013
 By WILL SUTTON/GSU Media Bureau
Grambling State University has recorded an important enrollment increase for fall 2017.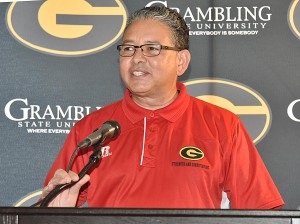 The fall undergraduate and graduate enrollment is 5,188, a seven percent increase from fall 2016 when there was a seven percent enrollment increase. There are 926 new freshmen, a 6.68 percent year-over-year increase. A key enrollment figure is the number of continuing students, the lifeblood of a university beyond first year student arrivals. That number increased by 9.5 percent, a positive sign for continuing enrollment growth for the institution.
"I am ecstatic and thrilled with these numbers," said GSU President Rick Gallot. "Our admissions, recruitment and enrollment teams worked really hard this past year, and the past few weeks, to help interested students clear hurdles to get them enrolled so they can start their matriculation for a successful college career at Grambling State University.
"These numbers prove that GSU is a viable college option, and we have to continue to build on the successes we've had for decades."
The last time the university had an enrollment of more than 5,000 was 2013 when the total student population was 5,071. The last time GSU had an enrollment higher than 6,000 was 1996 when there were 6,701 students enrolled. The highest enrollment in institution history was 7,883 in 1993.
Patricia Hutcherson, executive director of enrollment management, said the news is good and the future is bright for Grambling State University. "We aim to get every interested student and their parent or guardian the information they need to consider our school and we work to give them good reasons to choose to become a tiger," she said. "I'm happy to say that the hard work and long hours have paid off. Now we turn our attention to retention and recruiting for the spring and fall 2018 semesters."
Gallot attributed the enrollment progress to the admissions and recruitment office; the strengthening of the academic programming; a strong athletics program, including the 2016 HBCU national championship football team and a steady effort to build good will among GSU stakeholders.
Gallot, who said early in his tenure that he would like to see an enrollment of 6,000, that big increases are good but incremental increases like this fall's increase are much better. "We can get where we want to be as we continue to work as a team," he said. "We have a dynamic group of recruiters determined to fulfill this goal, and we have to support them with each faculty and staff member also recruiting."
###
Washington, D.C., transfer student finds comfort, peace at rural university 
 in a place she didn't know 
By JASMINE HARRIS /GSU Media Bureau
I've been a college student, in another city and another state. I went about my days living an average student life.  I went to class. I studied. I ate in the cafe. I did well, but something was missing.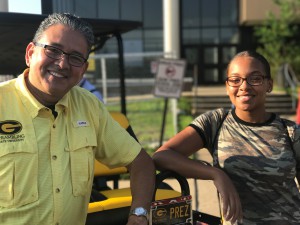 On a Friday night, my mother called as she normally did. She asked about classes, how my week had gone. It was clear to her that I was in a bit of a rote cycle, with nothing much changing and not much exciting happening. At a minimum, my life was monotonous, if not boring.
My mother asked, "Well, baby, you know you can still transfer?"
I had to admit that I wasn't sure I wanted to stay, and I didn't know where I would go if I left.
She told me that Dr. Bobby Burkes, a colleague and longtime friend, had suggested Grambling State University, the school where he teaches and a school that was not on my radar. I lived 16 hours away and I had never been to Grambling or Louisiana.
I grew up in Washington, D.C. and its nearby suburbs, so I was yearning for something different from my city lifestyle. Maybe I could do without city lights, the bustling streets and metro buses. Maybe I could handle a slower pace and the sounds of crickets and frogs as dusk fell. And what was this place that they claim, "where everybody is somebody"?
I decided it was worth considering, and I applied. I checked often to see whether I had been accepted, and I was excited one day when I read an email saying "Congratulations. This is your official notification of admission to Grambling State University."
I called my mother right away to share the good news. I was on my way to Grambling, Louisiana, for a June visit. I liked it. I had found my school.
After an eventful first several days on campus in August, I know why GSU is the place "where everybody is somebody." Our students and alums bleed black and gold pride.
I am an introvert by nature. I shy away from any kind of scene, often wondering how people might look at me and fearing that some may perceive me negatively. Day by day, though, at Grambling I feel that less and less.
I don't know how this has happened, but I'm coming out of my cocoon. I'm comfortable talking with strangers, striking up conversations in situations that would have made me uncomfortable previously.
By my city girl standards, the campus sits in the middle of nowhere. But it doesn't matter. The campus is so friendly and warm. There are plenty of activities and events and my life is far from monotonous and boring.
I was the lucky student chosen to receive a ride on the presidential golf cart on the first day of school with President Rick Gallot. I was the one on the cart, but that let me know that he truly cares about every student. They want to see us succeed. They want us to work hard, so they work hard. They want more for us than some of us may want at this stage. I haven't stumbled yet, but I know when I do that I'll be given a Band-Aid and get the encouragement I need to get up and get back in the game. If my first few days are any indication of what is to come, I know I have a great team rooting for me.
I transferred to Grambling State University, and I know I made the right choice. This is where I belong.  I'm somebody, and I know everybody is somebody, too.
###
Jasmine Harris, 18, is a transfer student from Bowie State University in Bowie, Maryland. She graduated from McKinley Technology High School in Washington, D.C. in 2016. She's chosen mass communication as her major at Grambling State University.
University hosts first home football game in Robinson Memorial Stadium with field,
 sound, digital board upgrades
By MINIYA SHABAZZ/GSU Media Bureau
Grambling State University faces Northwestern State University in GSU's first home football game of the season, and alumni, students and fans are excited. There will be an official ribbon cutting at the Eddie G. Robinson Memorial Stadium, taking note of more than $2 million in stadium upgrades.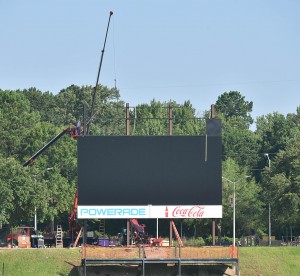 There are big plans for the pre-game and half-time shows.
"We're expecting an especially good crowd because we're playing Northwestern, a sister school in the University of Louisiana System," said GSU President Rick Gallot. "We're honoring all branches of our military with a military appreciation, and we have a tremendous football team anxious to show their stuff on our new turf."
When fans go to the 6 p.m. game, they should go early, according to Gallot, noting that Louisiana Tech University also has a Saturday (Sept. 9) football game starting 30 minutes later than the GSU 6 p.m. kickoff and a big crowd is expected from Northwestern's home turf in Natchitoches, Louisiana, just 90 minutes away. "There will be heavier than normal traffic on I-20 and nearby streets and roads," he said. "We want our fans to get in without delays so they can enjoy what we have to offer."
GSU fans will see a lot of changes, including a top-quality football field turf, installed by Hellas Construction of Austin, Texas, the same company that installed turf in the Dallas Cowboys home stadium. There's a new, 47.18' x 22.5' digital scoreboard that will show some live game action, key replays, in-game promotions and sponsorship spots. Installed by NEVCO of Greenville, Illinois, the board will be an important part of enhancing the fan game day experience. In addition, fans will see four-foot-high brick retaining walls covered with padding to make the end zones safe for players, expanded game day parking an increased security presence. The new field was completed in August and this will be the first time the G-Men will play on it.
"The tailgating area will be an enhancement that the fans will experience that will be something they haven't experienced in a while," said GSU Athletics Director Paul Bryant. "We're going to be doing more interactive activities with our fans with the (digital scoreboard).We're going to have a dance cam, a smile cam, and a kiss cam, and that's going to enhance the game day experience."
Bryant said there will be a kids zone available for two hours before the game.
Pre-game activities will start about 5:40 p.m. with a ribbon cutting and a performance by the World Famed Tiger Marching Band, including the playing of the national anthem. Fans will be in for a special treat as a U.S. Air Force flyover takes place before three World War II veterans give the game ball to the game officials and a Wounded Warrior Project representative serves as an honorary captain for the coin flip. The game against the NCAA Division I Northwestern Demons will start at 6 p.m.
Korean War veterans will be recognized, and each of the five branches of the armed forces – Army, Coast Guard, Marines, Air Force and Navy — will be recognized during game time outs. These include Army, Coast Guard, Marines, Air Force, and Navy. At halftime, the Spirit of Northwestern marching band will perform and then the World Famed will play.
There will be a special tribute to the recently deceased Lamore J. Carter, a former Grambling State provost and vice president responsible for many of modern-day GSU academic strengths, during half time.
Gallot said he's excited about the first home game with so many big improvements, and he's looking forward to giving his wife, First Lady Christy Gallot, a big kiss on the kiss cam.
"Plus, we want people to see what it means to invest in Grambling State University," he said. "We have beautiful stadium upgrades, fans will enjoy what they see and we want help paying the cost as we continue to compete as a first class higher education institution."
###
Fans can follow game updates at @GSU_Tigers (Twitter) or visit the official home of Grambling State Athletics at gsutigers.com, and check the @GramblingStateUniversity Facebook page for game-related updates.
Student government, student union, Houston and other Grambling State students
work to aid families, friends in need
By SARAH-RENEE GARNER / GSU Media Bureau
Grambling State University students are going door to door in campus dorms this week, and not to just visit. These students are seeking donations to help victims of Hurricane Harvey.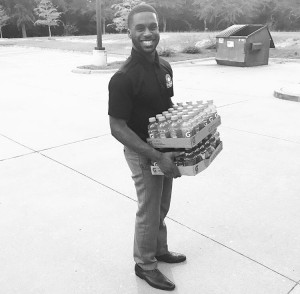 When news spread about Harvey's devastating winds and flooding in Houston and southeast Texas, several GSU students decided they had to help. About three percent of the school's students are from the Houston area, and some of their families have been hurt. GSU Student Government Association President Adarian Williams was on the phone and meeting with Grambling State students as he discussed options with student leaders from across the University of Louisiana system of nine institutions.
"This initiative allows our administration, faculty, staff, student, and citizens of the surrounding areas to donate non-perishable food items, toiletries, clothing and other items needed to assist those during this difficult time," said Williams. "We would like to thank the donors who have given kindheartedly and extensively to ensure that the affected areas are restored following Hurricane Harvey."
Williams worked with Jimmitriv Roberson, Miss Grambling State University; Ja'Mariea Miller, Miss Cover Girl; Morilyn Fontenot, president of the Favrot Student Union Board and other students to quickly develop a campus-wide food and supply drive. Student leaders are picking up donations at dorms, and students and community members can drop off donations at the Favrot Student Union's Tiger Den from 8 a.m. to 5 p.m., and at the Tiger Express from 10 a.m. to 10 p.m.
Students Veronica Sanders and Jeffery Harris, both Houston, Texas, natives said they were extremely emotional about the state of their city. The storm and its aftermath had a direct impact on Harris, who said he knows his life will be changed though his family asked him not to worry while at school.
"I remember hearing the stress and hurt in my mother's tone as she spoke to tell me they were packing to leave. I could remember hearing the same in my grandmother's voice as she would tell me, 'Everything is going to be alright,'" said Harris.
Though he's concerned about his own family, Harris said it is important that he be a part of gathering donations to help Houstonians and others.
"Hurricane Harvey has affected my family tremendously and it has destroyed our home, car, and washed away our hard-earned belongings," he said. "Personally, it is a battle everyday trying to cope with the fact of losing so much, but I do manage because I depend on the word of God … I'm rejoicing that my family's lives are not lost. God spared them. For that I am eternally thankful."
Sanders' family was more fortunate, but she is heartbroken about what she sees happening back at home. "One moment everything in my city was fine and then in the next breath I look up, scroll on social media, and my friends are tweeting that they need to be rescued," said Sanders. "Although my immediate family was not directly affected at all by the hurricane, I still was in a state of shock and remorse for a day or two…"
Williams, a member of the Universities of Louisiana Student Advisory Council and a member of the Louisiana Board of Regents, worked with system SGA leaders as he worked with GSU campus leaders and students. He helped decide what the system would do and assisted with the drafting of a statement. The council agreed to host a fundraising drive for Hurricane Harvey relief during three intersystem football games this weekend. According to a news release, funds raised "will be placed in the University of Louisiana System Foundation's Hurricane Harvey Relief Fund and distributed to impacted students in the Houston area."
"The human spirit really comes alive in the midst of disaster and with on of the largest university systems in the nation, it only makes sense to come together for our neighbors in Texas," UL System Board Member and Louisiana Tech SGA President Ben Rice said in the release. "Louisiana has felt the pain of disaster and this is the perfect opportunity to pay it forward."
In an interview, Williams added, "The time is now that we work together to exemplify that we are one, and that we are here to help."
###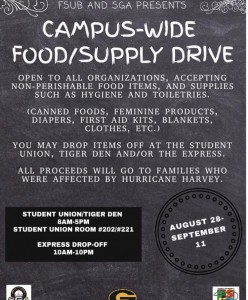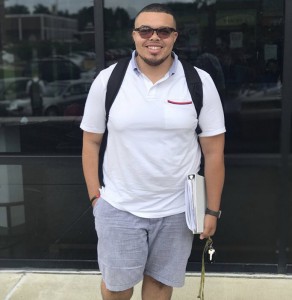 Facilities director sees tailgating improvements, cabins and a pavilion in the future
By SARAH-RENEE GARNER/GSU Media Bureau
Lots of trees are coming down on campus, and it is intentional.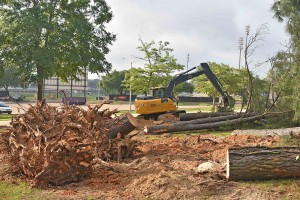 As a part of a campus-wide beautification effort, Grambling State University has had scores of trees cut down to better manage the woodlands, to make campus safer and to make it more community oriented, said Frederick Carr, the director of facilities.
As students return for fall classes, they may notice fewer trees in some key places. Trees have been thinned a mile or so down the road from the Subway, the areas by the catfish and fish ponds, the area behind the Conrad Hutchinson Performing Arts Center, the trees by the Judicial Affairs office and a few miles away on GSU's West Campus.
Grambling State University has hired Halley Timber Company, Inc., of Farmerville, Louisiana. Halley employees are trained to help customers with timber cutting, timber thinning, land management and timber harvesting. GSU hired them to harvest their timber, and to then help them sell the timber for profit.
"We did this mainly because it needed to be done," said Carr, who added that some of the trees were dead or unhealthy trees and others just needed space. "It gets rid of the wild growth, and now the trees will be able to grow better."
He said the clearing "will make managing the land easier, which will make keeping up with the campus a lot less expensive."
Meanwhile, Carr likes that the university is seeing some financial gain from the project. "When you cut trees down and start to sell them commercially, they are measured by the ton," said Carr. "The more tons that you have, and the better the quality of the tree is, the more money that you will receive for the ton." He said Grambling State has harvested more than 200 tons of timber since June.
Once more work is done in the area of the facilities building and along the road leading to the fish ponds not far from RWE Jones, there will be a large space for fans to tailgate when they visit during football season. Carr has an idea that would entice some fans to come early or stay longer once games have ended.
"What would really be great is if we had a pavilion with restroom facilities, water, and we could even put cabins out here that people can come rent over the weekend during home games," he said. "We can also use the cabins for family reunions or camps that people need space for the off season."
Linwood Banks, 21, a junior business management major from Alexandria, Louisiana, knew very little about the project, but was happy to hear about how it's coming along. Banks, a defensive lineman for GSU's football team said it is good for the team and all students.
"I know that there are a lot of people that want to see us play," said Banks. "This allows more people to be able to come and watch us, which brings in more money, which makes our school better. It's a win-win situation."
###
Gallot drives transfer student from dorm to class, visits several classrooms on first day of fall semester classes
By WILL SUTTON, GSU Media Bureau
It was the first day of class for Jasmine Harris, and it was an extra special day.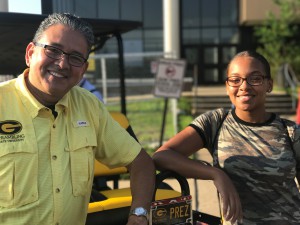 For the first time in her life, Harris, 18, rode in a golf cart – and it was the Grambling State University presidential golf cart. It wasn't what she expected on her first full day of class at Grambling State University, but she was pleasantly surprised that she was chosen by President Rick Gallot as he fulfilled a promise to take a lucky student to their first class of the day on the first day of class for the fall semester.
"My experience with the president was delightful," Harris said in an interview after a full day of classes. "I enjoyed being able to wave at students and have them associate me with him, to be able to be in the atmosphere of family. He treated me like I was his own."
Gallot, entering his second year as GSU's 10th president, told a reporter a few weeks ago that his school was still accepting student applications from high school graduates and transfer students, and he said, "Who knows, I may even give you a ride to class on your first day."
The president was up early and working in his office on the first floor of Long-Jones Hall until it was time to go outside, get in his cart and drive to pick up a previously unidentified student. It didn't take Gallot long. He drove a short few yards to Jewett Hall, walked up the steps, met Harris in the dorm lobby, walked her to his black-and-gold golf cart and whisked her away.
Once at Jacob T. Stewart Hall, Gallot walked Harris to the front door, down the hall and to her class, where her teacher, Marcus Davis, greeted her and her classmates were surprised to see Gallot escorting a student to their class.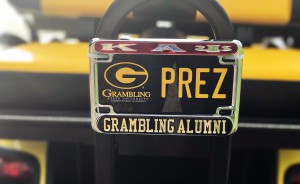 "As it turns out, the young lady we did give a ride to is a transfer student who hadn't applied yet, so it all worked out great," added the president, who drove the Washington, D.C., native to her 8 a.m. sociology class with Marcus Davis. "One thing that I think is important is a man's word is his bond, and I said I would take a student to class on the first day and I did it."
Harris, a transfer student from Bowie State University, enjoyed the attention, and the ride, though it was a little rocky compared to riding in cars. "It was scary pulling off because it kinda jerks when it pulls off, and there are no seat belts," she said. "I just had to grab onto the handle to my right….I was going up and down …and it was fun."
She received a lot of looks and waves as she rode with the president, and even later in the day.
"The experience was eye-opening….People were really excited for me to be on the cart," she said. "Random people on the street were saying, 'Hey, girl, congrats. You're in the cart with the president.'"
It was one of several classroom visits Gallot made, stopping in Brown Hall, T. L. James Hall and Carver Hall to visit faculty and students. For Gallot, it was a little like his former days as a politician, making lots of stops in the same day, bringing greetings, shaking hands, giving pats on backs and offering warm wishes as he moved from class to class. At each classroom told faculty how much they appreciated what they were doing, teaching GSU students, and thanked students for selecting Grambling State.
He did solicit one promise during each stop: Strive to earn all A's.
Fall 2017 First Day of Class Photo Gallery

Fall 2017 Eclipse Photo Gallery

Additional Photos/Galleries: https://www.flickr.com/photos/gramblingstateuniv/albums
The NCAA clarification does not include seasons prior to the 2012-2015 academic years.
Grambling State University will not have to vacate its 2011 football championship season, including the 2011 Southwestern Athletic Conference championship.
In a communication GSU received from the NCAA Monday, the national athletics governing body clarified that the NCAA sanctions previously announced include the 2012-13 through 2015-16 academic years and therefore the "violations that occurred during the 2011-12 academic year are not included." That means the 2011 football season record stands. The 2011 championship football team was 8-4 overall and beat Alabama A&M University 16-15 on Dec. 10, 2011, to win the SWAC title.
"This is a good day for Grambling State athletics," said GSU Athletics Director Paul Bryant. "We have been through a lot these last several years, and we've had some most unfortunate failings that we are working to continue to assess and correct. It's certainly good news that former head football coach Doug Williams and his G-men team will continue to be recognized for the good performances they had in fall 2011.
"Still, we acknowledge there were a number of things that should not have happened, and we have taken corrective action," he added. "We recently invited the NCAA to our campus to help educate and train our entire athletics administration team and coaches. We are confident that we will perform far more effectively in the future when it comes to NCAA guidelines and policies."
GSU President Rick Gallot expressed his appreciation to the NCAA for the review and clarification, and he thanked Bryant and his team for being dogged stewards of the school's academic and athletic obligations and responsibilities. "The NCAA has an important job to do holding all its institutions to high standards, and that includes our beloved institution with its storied athletics history," said Gallot. "We thank the NCAA for this clarification, which I know will bring relief to many of our alumni and fans. I assure everyone that we will come out of this situation better and stronger."
###
"Mini World Famed" musicians provide free concert, marching performances on Grambling State campus
By REAGAN HIGGINS/GSU Media Bureau
Grambling State University's summer high school band camp ends this weekend with two performances as the students share the musical skills they learned this week with band directors and members of the World Famed Tiger Marching Band. Both performances are free.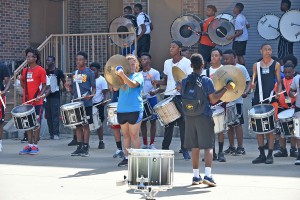 About 170 middle school and high school students from northern Louisiana, southern Louisiana, Houston, Dallas, Chicago, New York City, San Francisco and elsewhere have spent a week learning music fundamentals or enhancing their musical skills and music technique with Larry Pannell, GSU's director of bands, and a team of band directors, and experienced band members. Students have engaged in three distinctive styles of music — marching band, jazz band and concert band.
"It's been a camp that's been just full of excitement," said Larry Pannell, GSU director of bands. "The kids have been very energetic,…"
The first of two performances is today (July 14) with a concert at 7 p.m. in the Conrad Hutchison Performing Arts Center near the Robinson Stadium Support building and the Eddie G. Robinson Memorial Stadium. The first half of the performance will feature the high school band camp beginner, intermediate, and jazz band units.
The second closing program is a marching band performance Saturday (July 15) at 10 a.m. in the Hutchinson PAC parking lot, near the football practice field and the intramural basketball courts. The high school marching band event will feature drum majors, the drumline, dance units and flag and ensemble twirling.
"The crowd should come out and see the Grambling style that has been taught to these campers," added Pannell. "We know the style is heading back to San Francisco. We know that the style is heading back to New York City and Chicago.
"That is what we want the crowd to see, that you are coming to see the World Famed (style) being taught and carried back all over the world."
###