GSU FRIENDS OF FOOTBALL DONATE $20K
National alumni group dedicated to support Grambling State University continues its support with donation to help students in need
By GSU Media Bureau
The Grambling Friends of Football has contributed $20,000 to support Grambling State University.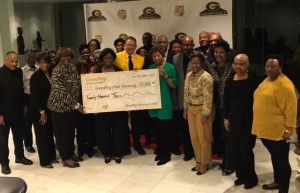 The donation was presented to GSU President Rick Gallot at a reception during the Southwestern Athletics Conference weekend of activities in Houston. The event, held at the offices of Grambling University Foundation Board member Wayne McConnell, was attended by alumni and friends as well as Foundation Chairperson David Aubrey; GSU Vice President for Institutional Advancement Marc Newman; Miss Grambling, Jimmitriv Roberson, and her court and GSU Student Government Association President Adarian Williams.
Shelia Carr, the group treasurer, said the money came from committed alumni and friends, and the giving won't stop.
"It will continue to be ongoing because that's what Friends of Football does," she said. "We donate and we give back to the university. It's for the love of the university, and that's what alums should do because if it wasn't for Grambling State University, there wouldn't be any successful alums like us."
Carr noted that despite the name of the group, its members give to the school's football program, other athletics programs and academic needs. In fact, this large amount is going to the institution's GAP fund, for students who have a gap between the amount of money they have available and the amount they need to stay in school.
Friends of Football has a long history of supporting Grambling State University Athletics. Although Football is in the group's title, the organization supports all GSU sports, and they recently supported fundraising for women's basketball program rings.
"The Friends of Football group has truly been a band of GramFam friends," said Newman. "This group has a strong history of supporting the university, no matter what's going on, and they are a committed, dedicated and unified group. We're grateful to have their continued support."
Grambling State thanks the Friends of Football group, especially its officers:
Thomas Jones, president; Issac Tatum, vice president; Jackie Pope, secretary; Shelia Carr, treasurer and Fred Holts, parliamentarian.
###