Judge Lynn Toler Keynotes Women's History Month Convocation
Woman Up, Grambling: Judge Lynn Toler highlights Opportunity for Grambling Today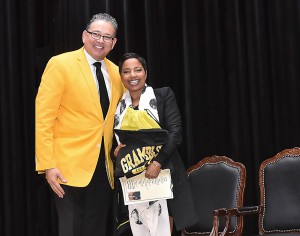 "Thump to your own rhythm," Judge Lynn Toler advised more than 300 young women during Grambling State University's 2018 Women's History Convocation.
Toler, well-known host of the nationally syndicated show "Divorce Court," took to the stage with Miss Grambling, Jimmitriv Roberson, President Rick Gallot, and other student leaders to help offer advice and encouragement on how the women of GSU can "rise up."
"As women, we have more in our arsenal than anyone thinks," said Toler. "If we, as a people, are going to survive and create a better world we have to honor the contributions of both men and women."
"Black women have to continue to be fearless and to go even where we haven't seen others go," said Toler. "There were no black women at the first or second law firms where I worked. I went anyway."
Toler, a graduate of Harvard and the University of Pennsylvania, while well known for it, is much more than a judge on TV. Toler is the author of "My Mother's Rules: A Practical Guide to Becoming an Emotional Genius," and has worked for more than 30 years to help communities, schools, and individuals advance both on and off the screen.
Her off-screen work includes serving on the boards and as a volunteer of The National Alliance for the Mentally Ill (NAMI), Cuyahoga County Criminal Justice Services Supervisory Board, Goodwill's Starting Over Program, and preventing domestic violence through Bloom365.org.
"Grambling State University has a long history of producing and engaging influential women like Judge Toler," said President Gallot. "We are educating a generation of game-changing women and it's an honor for our students to engage with someone of her caliber. Her success in criminal justice, women's rights and media affirms to our students that their big visions are possible."
To follow more of the GSU conversation with Judge Toler and learn more about historic women from Grambling State, follow hashtag #WomanUpGrambling2018 on Twitter and Facebook.