GSU Calendar Cover Girl Pageant Turns the Big 5-0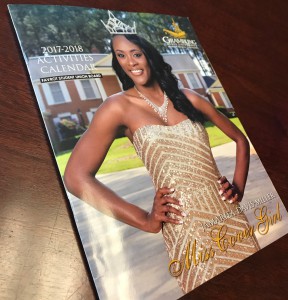 Since 1968, the Grambling State University Cover Girl Calendar has highlighted a long history of stellar women and incredible alumnae. This Saturday, students and the campus community will celebrate and crown the 50th Calendar Cover Girl in the University's History.
Grambling State University
50th Anniversary Calendar Cover Girl Pageant
Saturday, April 14, 2018 | 7 p.m.
T.H. Harris Auditorium
Admission: Free for Students and Community Members
This year's momentous program will feature a record-number of Cover Girls who will return to celebrate the pageant's milestone.
"The 50th Annual Cover Girl Pageant will highlight past, present and future pageant excellence. Terry Lilly, pageant choreographer has once again outdone himself in capturing this unforgettable pageantry experience," said Sharon Perkins, Director of the Favrot Student Union.
This Year's Cover Girl and recently elected Miss Grambling, JaMariea' Davis-Miller, will pass on the crown to one of this year's beautiful contestants:
Enausha Abney
Arcadia, LA
Talisia Mcmurray
Ruston, LA
Tia Wright
Washington, DC
Jade Belton-Coleman
MILWAUKEE, WI
Kierara Moore
Monroe, LA
Onshala Alexander
Milwaukee, WI
Jakayla Caleb
Springfield, LA
Ashton Myers
Savannah, Ga
Ahmya Ash
Davenport, Iowa
Jessica Clinton
Ruston, LA
Ahmani Ownens
Minden, LA
Dalyia Booker
Miami, FL
Lillian Christian
Little Rock, AR
Faith Poole
Asheville, NC
Nikky Dunbar
Chicago, IL
Allysa Crane
Atlanta, GA
Mikeia Ridgell
Pine Bluff, AR
Lajazzmond Pichon
Houston, TX
Mata Drain
Shreveport, LA
Jaalyn Roane
Ruston, LA
Jericha Richards
Springfield, IL
Cristina Franklin
Beaumont, TX
Antallia Ross
Farmerville, LA
Mariah Smith
Chicago Heights,IL
Megan Gainous
Grambling, LA
Yrrasha Taylor
Baton Rouge, LA
Dazmeiah Turner
Winnfield, LA
Taylor Graham
Chicago, IL
Destini Thurman
Orlando, FL
Alianndra Williams
Ruston, LA
Tori Guyton
Detroit, MI
Alexis Walker
Monroe, LA
Jazmine Hunter
Chesepeake,VA
Cienna Washington
Ruston, LA
Rickenzie Jhonikin
Farmerville, LA
Zakiyah Whaley
Tyler, TX
Madison Levingston
Dallas, TX
Jammie Wilson
Dallas, TX
De'Lia Madison
New Orleans, LA
Kelsey Woods
Shreveport, LA
Doors will open for this year's event at 6 p.m. at T.H. Harris Auditorium. To get updates first on this year's Cover Girl winner, follow @Grambling1901 on Facebook and Twitter.