Computer Science & Digital Technologies Department
---
The mission of the Department of Computer Science & Digital Technologies is to provide excellence in teaching, research, and public service. The Department fosters an environment that supports scholarship; encourages innovative thinking, mutual respect and diversity; and promotes ethical behavior and life-long learning. Programs are designed to meet the educational, cultural, and social needs of a multi-cultural clientele that is primarily statewide and secondarily, national and international. The Computer Science curriculum was developed to provide a purposeful and creative program that emphasizes both the theory of computing and its practice. Faculty use current technologies to stimulate learning and promote an enjoyable and worthwhile background experience for lifetime use in the profession.

The Computer Science Program at Grambling State University is accredited by the Computing Accreditation Commission (CAC) of Accreditation Board for Engineering and Technology, Inc. (ABET), Complying with APPM Section II.A.6. The Computer Science Program was first accredited in 1997 by Computer Science Accreditation Commission (CSAC) of the Computing Sciences Accreditation Board, Inc. (CSAB) (http://www.abet.org).
The department of Computer Science & Digital Technologies has developed the following program educational objectives and student outcomes for all graduates of our program.

Program Educational Objectives - Graduates from the Computer Science Program at Grambling State University will be able to:
Pursue a productive career in any computer-related field
Pursue graduate studies in Computer Science and related areas
Adapt to technology advances by embracing life-long learning and continued professional development through participation in computer oriented workshops and events
Demonstrate professional attitude and effective communication with their peers, customers, supervisors through both written and oral means
Make well-rounded decisions when faced with social, ethical, and legal issues inherent to the computing field.
Develop innovative ideas for solving emerging real world problems in any computer-based field using hardware and software.
Demonstrate teamwork skills in their organization for the execution of complex technological solutions.
Student Outcomes - By the time of graduation, our students must be able to:
Apply mathematical foundations, algorithmic principles, and computer science theory in the modeling and design of computer-based systems in a way that demonstrates comprehension of the tradeoffs involved in design choices
Analyze a problem and identify and define the computing requirements appropriate to its solution
Design, implement, and evaluate a computer-based system, process, component, or program to meet desired needs
Apply design and development principles in the construction of software systems of varying complexity
Effectively work on a group/individual project
Understand professional, ethical, legal, security, and social issues and responsibilities
Communicate effectively with a range of audiences
Analyze the local and global impact of computing on individuals, organizations, and society
Recognize the need for and engage in continuing professional development
Use current techniques, skills, and tools necessary for computing practice
Enrollment Data
Enrollment number of majors in Computer Science and Graduates
| | | | | | | |
| --- | --- | --- | --- | --- | --- | --- |
| Year | 2011-12 | 2012-13 | 2013-14 | 2014-15 | 2015-16 | 2016-17 |
| Number of Majors | 42 | 54 | 60 | 61 | 72 | 73 |
| Graduates | 9 | 6 | 8 | 6 | 11 | 11 |
| Summer Interns | | | 8 | 12 | 13 | 12 |
Contact Information: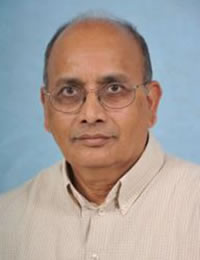 Dr. Y. B. Reddy, Professor, Program Coordinator
Department of Computer Science & Digital Technologies
College of Arts & Sciences
403 Main Street - Box 4260
Grambling, Louisiana 71245
Phone: (318) 274-2421
Fax: (318) 274-3230
Email: ybreddy@gram.edu