Music Department
---
Overview
Music has been an integral part of Grambling's history and development since the very founding of this institution. Indeed, one of the very first members of the teaching faculty taught music. Since 1905, when the historically black, public institution offered its first music classes, the Grambling State University Music Department has held an important place in the life of the university and the surrounding community. The first degree in music, the Bachelor of Science in Music Education, was conferred in 1952; and the department grew to seventeen faculty and two secretaries by 1977-78. While experiencing steady growth in its faculty and staff, the Music Department continues to increase its student enrollment, community involvement, and service activities.
All degrees offered by the Department of Music are accredited by the National Association of Schools of Music (NASM), 11250 Roger Bacon Drive, Suite 21, Reston, VA 20190 Phone: (703) 437-0700. https://nasm.arts-accredit.org/
Purpose
The purpose of the department is to provide appropriate curricular offerings, required and/or elective courses, activities, knowledge, services, talent, and skills which enable the university to fulfill its mission.
Mission
The mission of the Music Department, an academic and service unit whose programs and activities are planned and executed in full agreement with university goals and objectives, is to:
provide undergraduate, graduate, professional and continuing education courses for both music majors and non-music majors regardless of race, color, sex, national origin, age, religion, disability, and veteran status;
educate future music professionals through appropriate curricular offerings leading to the Bachelor of Arts in Music degree through pure and applied research related to curricular emphases in liberal arts, and education;
enable the university to fulfill its mission through talent and skill development and community service dedicated to raising the standard of living and enhancing the quality of life;
provide students with opportunities for research and performances experiences, utilizing information technologies in preparation for participation in a global society;
prepare students for involvement in musical and artistic endeavors in the society at large; and
promote self-actualization through electives, service courses, and community service for those who pursue music as a collateral subject or for personal enrichment.
The total departmental program has been developed in direct response to specific elements of the stated purpose and mission.
Degree Programs
The Bachelor of Arts in Music degree has four possible concentrations:
Liberal Arts
Music Education-Vocal
Music Education-Instrumental
Commercial Music (Sound Recording Technology)
The Bachelor of Arts degree in Music with a concentration in Liberal Arts is granted to students who successfully complete the outlined program with a minimum "C" average in music, with no grade lower than "C", and meet the requirements of the College of Arts and Sciences.
Credit for applied music is based on (1) the completion of the outline for study for each area semester, (2) a successful jury appearance before a faculty committee in a designated applied music field at the end of each semester of study, and (3) the approval of the recital jury regarding the student's ability to present the senior recital.
See the department head or an academic advisor for details concerning the following areas of applied study and additional information relative to degree requirements.
Applied Areas of Study
Baritone Horn
Trombone
Oboe
Bassoon
Percussions
Trumpet
Clarinet
Piano
Violin
Cornet
Saxophone
Viola
Flute
Tuba
Voice
French Horn
String Bass
The Bachelor of Arts degree in Music with a concentration in Music Education-Vocal or Music Education-Instrumental is awarded to students who complete the required program outlined in general, specialized academic, and professional education areas. The program leads to teacher certification at the K-12 level.
In instrumental music, candidates may choose band or orchestra. The academic advisor will provide specific course selections that apply to the respective option. Students must check with their academic advisor for updated curriculum changes required by state and national accreditation bodies that may affect existing requirements.
Department Head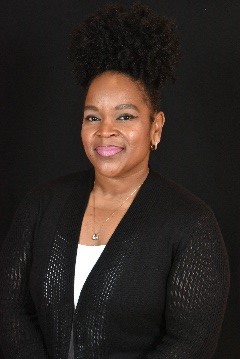 Dr. Nikole Roebuck, Music Department Chair/Assistant Professor of Music/Director of Bands
Office Location: Performing Arts Building, Room 201
Office Hours: 8:00 a.m. - 5:00 p.m.
Phone Number: (318) 274-2682 or (318) 274-2254
Fax: (318) 274-3723
Email Address: roebuckn@gram.edu