Scholarships
---
The Army ROTC scholarship program provides financial assistance for the education and training of highly qualified and motivated young men and women who desire to be commissioned as officers in the Army after graduation from college.
The 4-Year Scholarship
The Army ROTC Four-Year Scholarship Program gives students who have graduated from high school the opportunity to attend college and also earn a commission through participation in the ROTC scholarship program.
Scholarships are available for 2, 3, and 4 year students up to the amount of $81,000 which includes tuition and fees, books, monthly stipend paycheck and in some cases, room and board.
Green to Gold
The Army ROTC Green to Gold Scholarship Program provides selected active duty enlisted members of the Army an opportunity to complete their baccalaureate degree requirements and obtain a commission through participation in the ROTC scholarship program.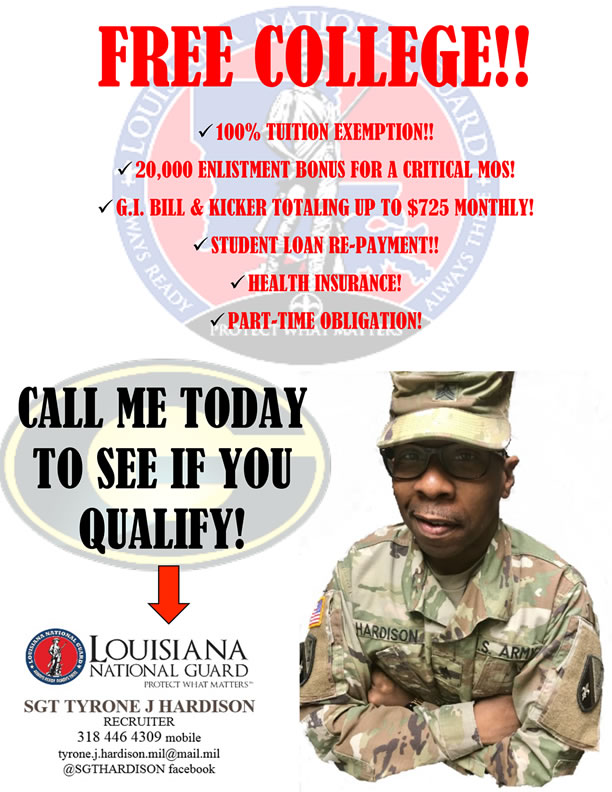 Special programs are available for nursing students, veterans, and current members of the Reserves and National Guard. Current Army Reserve and National Guard members can qualify for the Simultaneous Membership Program, Guaranteed Reserve Force Duty Scholarship, or the Dedicated Army National Guard/Reserve Scholarship.
Here is a breakdown of the money: Not currently serving in the military-Free tuition, Book allowance, Monthly stipend $350/month(Freshman) $400/month (Sophomore), $450/month (Junior), $500/month (Senior); Currently serving with ROTC Scholarship- Free tuition, Room and Board, Book allowance, Monthly Stipend, Drill Check ($200), G.I. Bill ($339/month), G.I. Bill Kicker ($350/month).
Additional offers and opportunities
If you have questions about the Campus Based Scholarships perhaps our FAQ Page will help or visit the university Scholarship Document Site for current forms, policies, and applications.