BEYONCE'S BEYGOOD FOUNDATION AWARDS GRAMBLING STATE STUDENT SCHOLARSHIP
Grambling State Graduate Student, Cletus Emokpae receives $25,000 Scholarship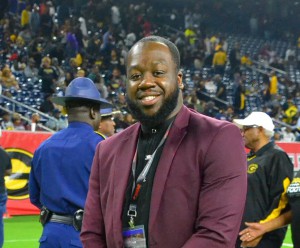 GRAMBLING, LA–July 23, 2018– Today, Beyonce's BeyGood Foundation announced it has awarded a $25,000 scholarship to Grambling State University Mass Communication student, Cletus Emokpae.
"This is incredible," says Cletus Emokpae, a graduate student from Staten Island, New York. "I knew that me coming to Grambling was going to lead to big things, but I never imagined this."
Emokpae (pronounced ee-moe-pay), is a native New Yorker currently enrolled in graduate studies in Grambling State's Department of Mass Communication. Emokpae received his Bachelor of Arts in Communication from the University of Buffalo in Buffalo, NY where he raised more than $1,600 in scholarships to give to high school students and contributed to a number of independent student publications, including the student-run Spectrum.
"We're very grateful to Beyoncé and the BeyGood foundation for their support," said President Rick Gallot of Grambling State University. "Our team works hard to raise as many scholarship dollars and when HBCU supporters like Beyoncé get involved it makes those efforts even more impactful."
In the past 12 months, Grambling State has raised more than $250,000 towards helping students make it to the graduation finish line.
Emokpae is one of eight students selected to receive this year's BeyGood Foundation scholarship which was announced on the heels of the Beyoncé's headline-making Coachella performance.
For interviews or more information please call (318)243-5012 or email mediarelations@gram.edu.
###
About Grambling State University
Grambling State University, located in Grambling Louisiana, is a historically black university founded in 1901. The University has been accredited by 14 accrediting associations and holds accreditations in all programs required by the Louisiana Board of Regents. The 590-acre campus offers 41 undergraduate and graduate degree programs. Grambling State University is a member of the University of Louisiana System. For more information visit gram.edu