Grambling State Fraternities and Sororities to Boost $1 Million Goal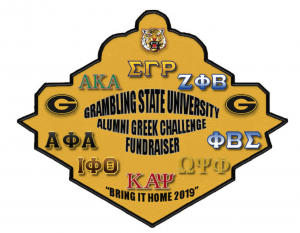 University's Second Annual Greek Challenge Unites National Panhellenic Organizations for Fundraiser
GRAMBLING, LA – September 12, 2019 – Members of nine fraternities and sororities across the U.S. have kicked off the Second Annual Grambling State University Greek Challenge to help the University reach a $1 million fall fundraising goal. The contest is a part of the University's third Bring it Home campaign, which has raised more than $2.5 million since 2017.
"Greek life is more than an on-campus experience," said Talmon Butler, Director of Development at Grambling State University. "This Challenge is a great way our alumni sorority and fraternity members show their combined support for organization's and their institution."
Online & In-Person Giving Events
Last year's challenge spurred nationwide events that included receptions, social media challenges, and other fundraisers.
The 2018 Challenge winners Kappa Alpha Psi, Inc., leveraged the opportunity to take advantage of a University of Louisiana System 80/20 matching program to create a new endowment. That endowment, the Dr. Joseph B. Johnson Endowment, is valued at more than $100,000 today.
Supporters, both members and non-members of Greek organizations, can join the Greek Challenge at gram.edu/giving/greekchal/.
"The Challenge is not limited to Greeks or those who joined at Grambling State University," said Butler. "It's an opportunity for HBCU supporters nationwide to impact the long-term growth and sustainability of our historic institution."
The 2019 Greek Challenge winners will be announced during halftime November 2, 2019, at the University's Homecoming football game at Eddie Robinson Stadium.
For interviews or more information about the Greek Challenge, please contact mediarelations@gram.edu or call (318) 243-5012.
###