Category Archives:
awards
HBCU students chosen to experience a training intensive with Coca-Cola will receive a $1,000 school stipend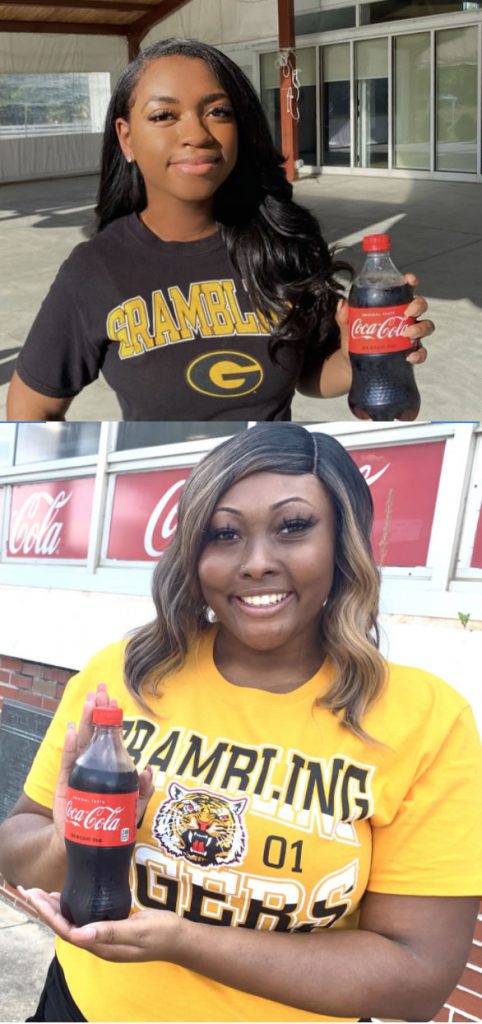 NEW ORLEANS, LA – September 1, 2020 –Coca-Cola Bottling Company UNITED is gearing up for the 2020 edition of the companywide "Pay It Forward" program, which aims to provide African-American youth with opportunities to celebrate students' achievements and further their success. Normally, this program is a week-long, in-person experience; however, this year due to COVID 19, students will participate virtually.
Historically Black Colleges and Universities (HBCU) students from 16 schools throughout Coca-Cola Bottling Company UNITED's six-state footprint submitted applications February 1 – May 15, 2020. The program, now in its fifth year, was promoted actively across participating HBCU campuses and in area Walmart locations. Coca-Cola reviewed the applications for the program, selecting 25 students total based on their standout applications. A $1,000 stipend will be given to each of the HBCU students at the end of the program and a lifetime Coca-Cola Brand Ambassadorship.
"From the West Region, the following HBCU students were chosen to participate in the "Pay it Forward" internship program:
Jasmine Franklin and Lindsey Johnson, Grambling State University
Ashalyn Washington and Tiana Thomas, Southern University
Adeboye Aladekoba and Kaziah Robinson, Alcorn State University
Justin Baker and Paulina Webber, Dillard University
These selected students engaged with Coca-Cola Company teams to learn more about the organization and how to conduct business most effectively during a two-day fun and informative development session held August 4-5, 2020.
During this internship, students gained experience in a range of roles at Coca-Cola including sales, production, marketing, pricing, event planning, packaging, philanthropy, and community relations. One of the main goals of the program is to teach the interns, to put it simply, how to go to work. It exposes them to real-world work situations, including business practices and protocols, how to network, and other important skills that will prepare them for the job market. Over 100 students from Coca-Cola's partner HBCU Colleges and Universities have participated in the Pay it Forward internship to date.
"Although we will not be able to meet these students in person this year, we are excited to get to know this remarkable group of 'Pay It Forward' interns," said John Sherman, President and CEO Coca-Cola Bottling Co. UNITED. "Our intent through the two-day program is to encourage these young adults and help enable them to further develop career goals as they plan for the next phase in life."
About Coca-Cola Bottling Company UNITED
Coca-Cola Bottling Company United, Inc., founded in 1902 and headquartered in Birmingham, Alabama, is the second-largest privately held Coca-Cola bottler in North America and the third largest bottler of Coca-Cola products in the U.S. Now with its fifth generation of family working in the business, Coca-Cola UNITED has approximately 10,000 associates located in more than 60 facilities across six southeastern states (Alabama, Florida, Georgia, Louisiana, Mississippi, and Tennessee). Historically significant franchises within our Coca-Cola UNITED family include Chattanooga, the world's first Coca-Cola bottler; Atlanta, home of the worldwide Coca-Cola System; and Columbus, Georgia, development site of the original Coca-Cola formula.
Coca-Cola UNITED is engaged in the production, marketing and distribution of a diverse portfolio of leading sparkling (Coca-Cola®, Diet Coke®, Coke Zero Sugar®, Dr Pepper®, Sprite®, Fanta® and AHA®) and still (smartwater®, Dasani®, POWERADE®, BODYARMOR®, Fairlife®, Gold Peak®, Monster® and Minute Maid®) non-alcoholic brands under exclusive franchise agreements principally with The Coca-Cola Company® and Keurig Dr Pepper®.
For 118 years, Coca-Cola UNITED has remained true to its foundational core values of: Quality, Excellence, Integrity and Respect. Local relationships, personalized customer service, and strong community engagement have been the foundation of the business for more than a century. Each year, millions of dollars are invested in local communities, supporting education, community development, sustainability and nonprofit organizations that empower and impact those in need.
####
About Grambling State University 
Grambling State University, located in Grambling, Louisiana, is a historically black university founded in 1901 that combines the academic strengths of a major university with the benefits of a small college. This combination enables students to grow and learn in a serene and positive environment. The 590-acre campus offers 43 undergraduate and graduate academic programs. A member of the University of Louisiana System, Grambling State University has been accredited by 13 accrediting associations and holds accreditations in all programs required by the Louisiana Board of Regents. With a longstanding tradition of excellence, Grambling State University continues to emphasize the value and importance of each student, exemplified by our motto: Where Everybody Is Somebody.