Drew Brees-Autographed Football Among Prizes for Grambling State Event Guests
Bayou Classic Kicks Ball to Feature Silent Auction with Online Bidding Through Qtego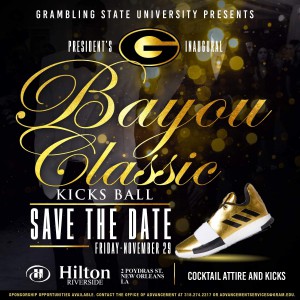 GRAMBLING, La – October 28, 2019 – Today, Grambling State University released a partial list of prizes available to guests of the Inaugural Presidents Bayou Classic Kicks Ball at the Hilton Riverside Hotel in New Orleans on Friday, November 29, 2019 at 8:00 p.m. Attendees who participate in the event's silent auction can take home a football autographed by New Orleans Saints quarterback, Drew Brees, among other exclusive items.
"Each year of the Bring It Home Campaign we've exceeded our annual goal and raised a total of over $2.5 million to support our students and campus," said Marc Newman, Grambling State's Vice President of Advancement. "We're closing the campaign by stepping up our 'thank you' to donors and supporters with celebrity performers and a few big surprises."
The University has partnered with Qtego, an online-auction service, to enhance the auction experience for those in attendance and give the opportunity to bid to those who are unable to attend the event. Online bidders can join the auction at https://qtego.net/qlink/kicksball for a chance to take home such items as:
a Magic Johnson autographed basketball,
Chester Rogers autographed cleats,
Bayou Classic 2020 Package including tickets & hotel,
Homecoming 2020 Package including weekend VIP Passes to all events with hotel included,
signed artwork from Frank Kelly, and
a custom quilt made by acclaimed seamstress, Hazel Hunter.
Tickets for the evening, highlighted by cocktail attire and kicks (sneakers), are available at https://bit.ly/2maCS6B in the following tiers:
General Attendance Ticket ($135.00) – Includes event access complete with live Musiq Soulchild and DJ Jubilee performances, silent auction, two (2) specialty drinks and buffet style dining.

VIP Kicks Ball Ticket ($200.00) – Includes all the access granted to General Attendance Ticket holders plus a private cocktail reception with Earvin "Magic" Johnson, recording artist E-40 and other A-list guests, unlimited specialty drinks, buffet-style dining, swag gifts, and preferred event seating.

VIP Kicks Ball Ticket Table ($1,500.00) – Includes all the access granted to General Attendance Ticket holders plus unlimited specialty drinks for ten (10) guests.
The Office of Advancement is still accepting contributions for the event. Those interested in submitting a tax-deductible donation for auction at the Kicks Ball can contact advancementservices@gram.edu.
Related Article: https://www.gram.edu/news/?p=7685
For media information or interviews, contact mediarelations@gram.edu or (318) 274-2866.
###
About Grambling State University
Grambling State University, located in Grambling, Louisiana, is a historically black university founded in 1901. The University has been accredited by 13 accrediting associations and holds accreditations in all programs required by the Louisiana Board of Regents. The 590-acre campus offers 42 undergraduate and graduate academic programs. Grambling State University is a member of the University of Louisiana System. For more information, visit gram.edu.