Randy Huggins, Executive Producer and Writer of Hit STARZ Network Drama BMF, Says Grambling State Changed His Life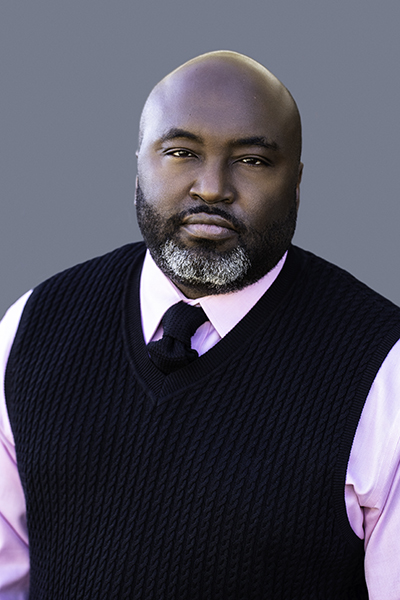 GRAMBLING, La. – Nov. 16, 2021 – Before becoming executive producer and writer of the hit STARZ network drama "BMF," Randy Huggins built up his entertainment career on several successful shows. It is the experience at Grambling State University that forever changed the Detroit native's life.
"Grambling changed my life because it offered a slower pace than living in a city as big and treacherous as Detroit," he said. "The faculty and students at Grambling [State] really care about your wellbeing."
Huggins said he was a lost college student until GSU faculty members helped guide him.
"Mr. Garner told me that I was gonna be a history major. So, I started pursuing a history degree and Dr. Mildred Gallot as well as Ms. Cato really took care of me, especially once I started doing my work-study in that department," he said. "She made sure the courses I was taking would help me graduate. She encouraged me to enroll in Mr. [Karl] Norman's drama class. At the time, I knew nothing about drama and would get up and act out these skits from situations that happened in my life."
Huggins' real-life drama also captured the attention of one of his classmates.
"One of the students, Erica Wright, used to tell me that I was lying all the time and that she didn't know anyone's life as dramatic as mine," Huggins recalled. "She encouraged me to start writing that stuff down to go in a book or movie. I had never considered writing prior to that class and that student, who three years later released her first album, was Erykah Badu."
After graduating from GSU with a history degree, he worked as a teacher in Detroit before relocating to Los Angeles.
Huggins is now the creator, writer, and showrunner of the STARZ's drama "BMF," and an executive producer along with Curtis "50 Cent" Jackson. Before that, he was a consulting producer on "Power Book II: Ghost" and spent two seasons on the FOX drama, "Star." He also served as a consulting producer on BET's "The Quad" and was the showrunner of BET's "Rebel," which he executive produced with John Singleton.
Huggins also wrote on three seasons of the STARZ hit drama "Power "and later served as the show's co-executive producer. He launched his writing career on FX's police drama "The Shield," where he served as the writers' assistant for four seasons. That same year, he joined the writing staff of "The Unit" and went on to become the executive story editor on the STARZ drama, "Crash." Then, he became a co-producer on NBC's medical drama, "Trauma." Huggins also served as a producer on "Criminal Minds."
It is the "BMF" drama that is close to home for Huggins. Short for Black Mafia Family, the show is set in Detroit and inspired by the true story of two brothers who "rose from the decaying streets of southwest Detroit in the late 1980s and gave birth to one of the most influential crime families in this country," Huggins explained. "Demetrius "Big Meech" Flenory's charismatic leadership, Terry "Southwest T" Flenory's business acumen, and the fraternal partnership's vision beyond the drug trade and into the world of Hip Hop would render the brothers iconic on a global level. The show is now in its second season.
"This is a story about love, kinship, and capitalism in the pursuit of the American dream," Huggins said.
The show is just the latest in his pursuit of his Hollywood dreams.
"The best advice or encouragement I'd give to anyone pursuing their dreams is to honor the 4 P's: planning, patience, persistence, and prayer," Huggins said. "You have to map out your goals and the obstacles you may face achieving them. You have to be patient and understand the time it may take to accomplish your dreams. You have to be relentlessly persistent to make that objective happen. And you have to pray about it."