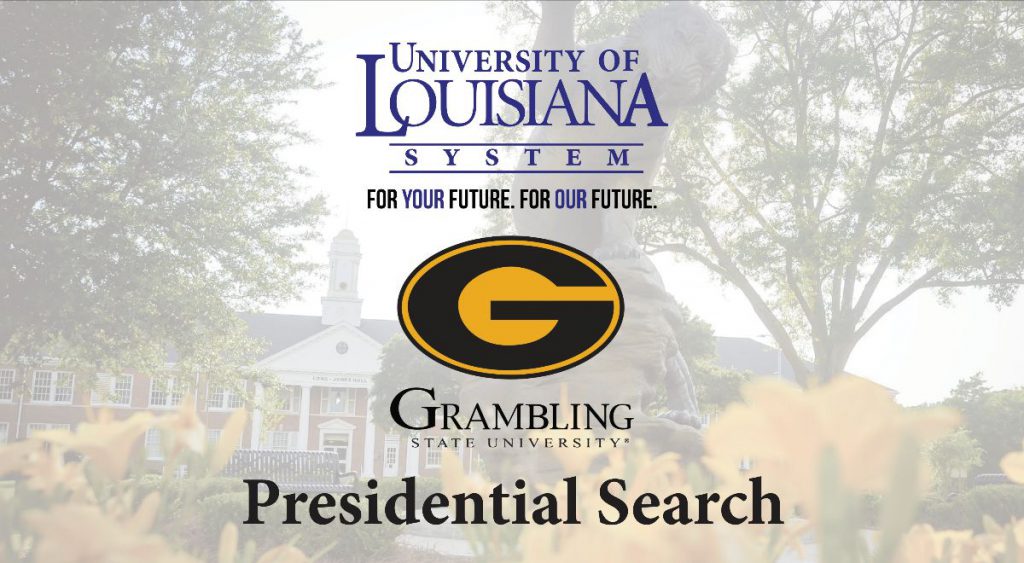 University of Louisiana System Board of Supervisors Chair Liz Pierre is announcing the Grambling State University Presidential Search Committee. The group is responsible for reviewing applications, interviewing candidates, and recommending finalists for the presidency. The finalists will ultimately be interviewed and a president selected by the full UL System Board of Supervisors.
"President Gallot's leadership at Grambling will be felt for generations to come," Chair Pierre said. "We greatly appreciate the community members who have agreed to serve on the committee charged with finding the next leader for this historic institution."
Current UL System President Dr. Jim Henderson will chair the committee and incoming System President Rick Gallot will co-chair, both as non-voting members. The committee includes select System Board members and Grambling's Faculty Senate president as voting members as well as non-voting community members to serve in an advisory capacity.
"I look forward to working with President Gallot and the search committee members during the coming weeks. Together, we will find the ideal president to lead Grambling State University into its next era," Dr. Henderson said. "We encourage members of the community to get involved. We will be accepting feedback from the public during next Friday's committee meeting and throughout the process."
The committee's inaugural meeting is public and will take place Nov. 17 at 10 a.m. on Grambling State University's campus in the Betty E. Smith Nursing Building Auditorium, Room 104 and will be streamed live on the UL System YouTube Channel. During that meeting, the committee will vote to accept their charge and the search timeline after hearing desired leadership qualities from the university's constituencies. Information regarding the search will be housed on the System's website at https://www.ulsystem.edu/gramblingsearch.
The Presidential Search Committee is made up of the following members:
Dr. Jim Henderson, Search Committee Chair, non-voting
Rick Gallot, Search Committee Co-Chair, non-voting
Liz Pierre, UL System Board Chair
Dr. Jimmy Clarke, UL System Board Vice Chair
Barry Busada, UL System Board Member
Steve Davison, UL System Board Member
Lola Dunahoe, UL System Board Member
Al Perkins, UL System Board Member
Virgil Robinson, UL System Board Member
Bailey Willis, UL System Student Board Member
Dr. Gary Poe, Faculty Senate President
David Aubrey, Community Representative, non-voting
Alvin Bradley, Community Representative, non-voting
James Bradford, Community Representative, non-voting
Wilbert "Coach" Ellis, Community Representative, non-voting
Alexa Johnson, SGA President, non-voting
Dr. Frederick L. Pinkney, Community Representative, non-voting
Dr. Tammy Richardson, Community Representative, non-voting
Rodney Welch, Community Representative, non-voting
President Gallot was named president of the University of Louisiana System Oct. 25. He will assume the role Jan. 1. Since 2016, he has served as Grambling's 10th president where he has presided over a period of historic growth including enrollment records and a 200 percent improvement in the institution's fiscal health score.
ABOUT THE UL SYSTEM
The University of Louisiana System is the largest higher education system in Louisiana enrolling more than 92,000 students at Grambling State University, Louisiana Tech University, McNeese State University, Nicholls State University, Northwestern State University, Southeastern Louisiana University, the University of Louisiana at Lafayette, the University of Louisiana at Monroe and the University of New Orleans.