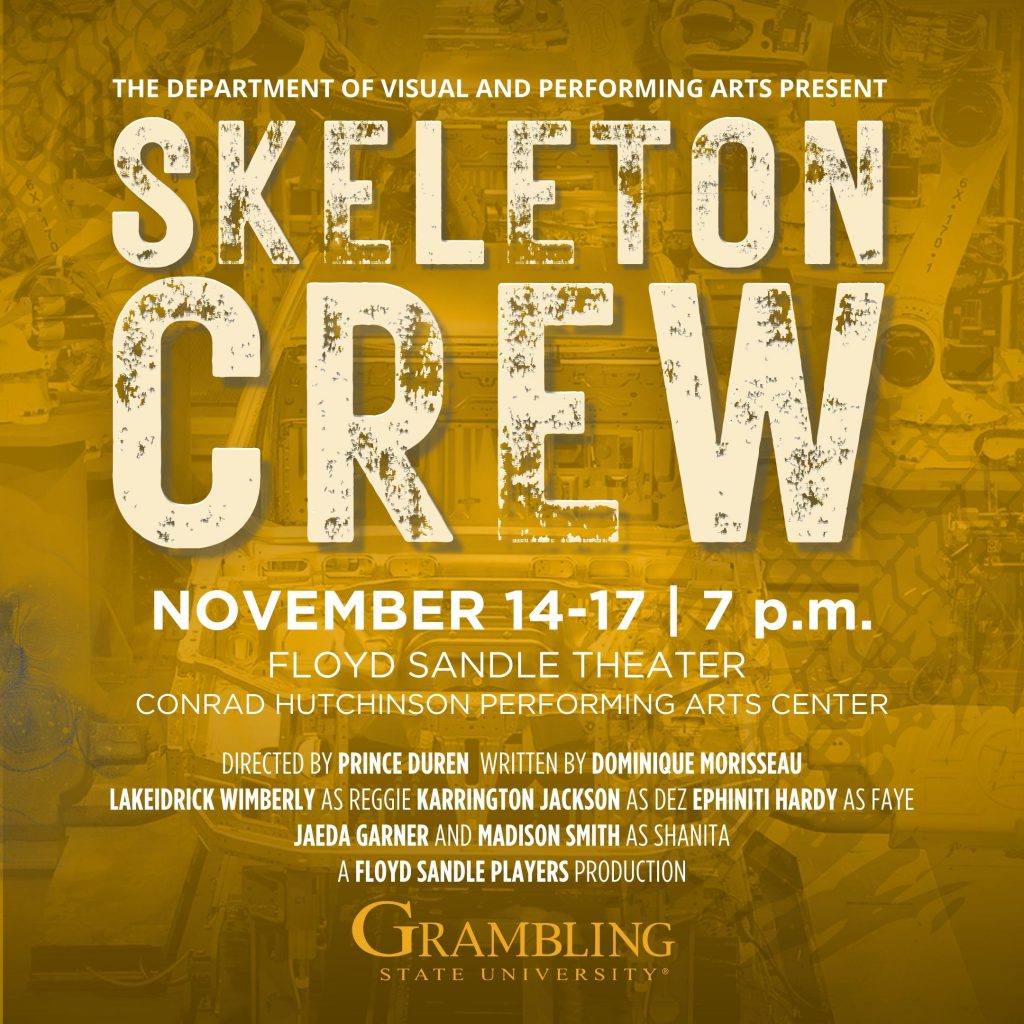 Grambling, La. – November 8, 2023 – The Grambling State University (GSU) Department of Visual and Performing Arts will present the play "Skeleton Crew" at 7 p.m. nightly from Tuesday, Nov. 14 to Friday, Nov. 17 at the Floyd Sandle Theatre inside the Conrad Hutchinson Performing Arts Center.
A High School Day matinee performance is also set for 10 a.m. Friday, Nov. 17 at the Floyd Sandle Theatre.
Tickets are $5 for children, $10 for general admission, and free for students with a valid ID.
In Dominique Morisseau's third play in her Detroit trilogy, a makeshift family of workers at the last exporting auto plant in the city navigate the possibility of foreclosure.
Each of the workers must make choices on how to move forward if the plant goes under. Shanita must decide how she'll support herself and her unborn child, Faye has to decide how and where she'll live, and Dez has to figure out how to make his ambitious dreams a reality.
Power dynamics shift as their manager Reggie is torn between doing right by his work family, and by the red tape in his office. When the line between blue collar and white collar gets blurred, how far over the lines are they willing to step?
Directing the play will be GSU Assistant Professor Dr. Prince Duren.
"I could not have asked for a better cast to make my directorial debut with because they have truly brought this play to life," Dr. Duren said. "There is truly something special about your first cast. While there will be others sure enough, you'll never forget your first. I am excited for what is to come with the number of talented artists we have in our department. Theater is alive and well in the Visual and Performing Arts Department here at GSU."
GSU's "Skeleton Crew" cast includes:
• Lakeidrick Wimberly as "Reggie"
• Karrington Jackson as "Dez"
• Ephiniti Hardy as "Faye"
• And Jaeda Garner and Madison Smith share the role of "Shanita"
"Skeleton Crew" ran on Broadway as a limited-run engagement at Manhattan Theatre Club's Samuel J. Friedman Theatre from December 2021 through February 2022 under the direction of Ruben Santiago-Hudson and starred Phylicia Rashad as "Faye." Rashad earned a 2022 Drama Desk Award for Outstanding Actress in a Play and a 2022 Tony Award for Best Featured Actress for her work on the Broadway run.
For more information, call (318) 274-2201.