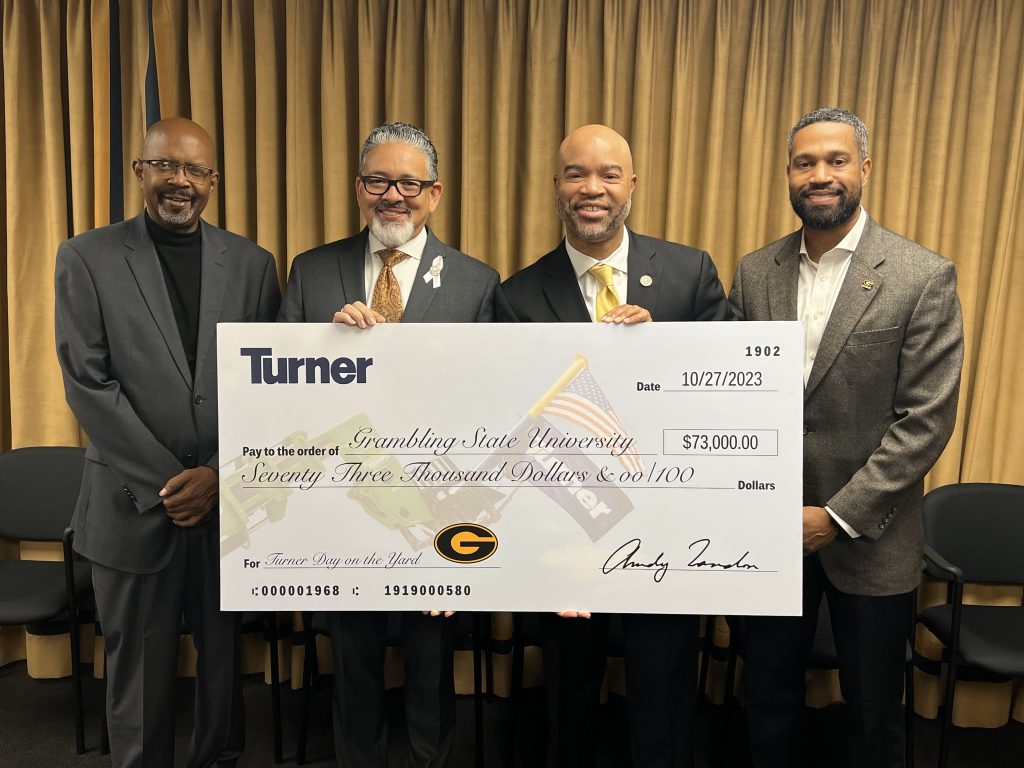 Grambling State University's Department of Engineering Technology isn't only about building bridges, roadways, and the like.
It's also about building relationships with not only its students but also its alumni, and one such connection recently paid off in a big way with a donation of $73,000 from Turner Construction for scholarships and other expenses.
Turner is a North America-based, international construction services company with a staff of more than 10,000 employees, the company completes $15 billion of construction on 1,500 projects each year. It plans, designs, and delivers building projects of all types and sizes — schools and hospitals, stadiums and museums, airports, data centers, offices, and more — throughout North America and in 30 countries around the world.
Fortunately, Turner Procurement Director Chris Compton is a 2005 engineering graduate from GSU more than ready and willing to help give back to his university.
"Grambling is near and dear to my heart," Compton said. "Not only am I an alumnus, but my parents are alumni and I have a younger brother who is a GSU alumnus as well."
GSU Interim Director of the Department of Engineering Technology Dr. Edwin Thomas said it was earlier this year that Compton brought up the possibility of Turner Construction making the donation.
"Mr. Compton was the liaison between the Department of Engineering Technology and Turner Construction," Dr. Thomas said. "During the spring 2023 semester, he approached me and proposed the idea of his company donating funds to aid our students with scholarship assistance. For us in the department, it was definitely a welcome proposal. From there we began working toward making it a reality by working with Mr. Brandon Logan, GSU's Vice President of University Advancement and Innovation.
"This donation certainly makes it possible for engineering technology students to receive financial assistance directly from the department for their education. Students often inquire about scholarships we offer for their major and we have been limited in helping students with tuition assistance. The donation allows the department to recognize and reward deserving students for their hard work toward receiving a degree."
Compton said that partnering with and helping Historically Black Colleges and Universities is nothing new for Turner Construction.
"Turner has a big initiative for HBCUs and other universities," Compton said. "Especially with HBCUs, they're working to try and give back, especially with engineering departments, to help prepare those students for life after graduation to help them pursue their education in STEM or something like that.
"We've done this program successfully on Texas Southern's campus, Sam Houston's campus, North Carolina A&T's campus, and Prairie View's campus. And with me being the only Grambling State alumni within Turner, we wanted to extend that to GSU as well. So, we talked it over with our higher-ups and we all came to the agreement that since we were doing this at other universities, and because Grambling has an engineering department, we wanted to do the same thing there. That's how Grambling got on the radar for the scholarship."
Compton said the $73,000 donated to GSU's Department of Engineering Technology will fund six scholarships along with some other expenses.
"What we're going to do is that there are going to be six scholarship award recipients at $11,000 per student with the remaining $7,000 going to the Engineering Department's National Society of Black Engineers and Society of Women Engineers programs for things like lodging to be able to go to different programs and engineering conventions that the department may have on its calendar," Compton said.
Compton said establishing the scholarships is only the first step that will strengthen ties between GSU and Turner Construction.
"When we partner with a university, it's not only scholarships we're trying to help provide," Compton said. "We also pick a day or two where we'll come back to work with students with things like a resume' writing class where they'll bring in their resumes and we'll review them and tell them how they might enhance their resumes. Then we have another session for mock interviews where we bring students in and ask them questions as a potential employer would do.
"And we'll also have a session where we'll set up professional headshots for their profile pages to be used on the LinkedIns of the world or something, Then we'll also set up a panel discussion with myself and a group including maybe some professors and some professionals from outside and speak to the students — and we're talking all students, this will be open to not just only engineering students."