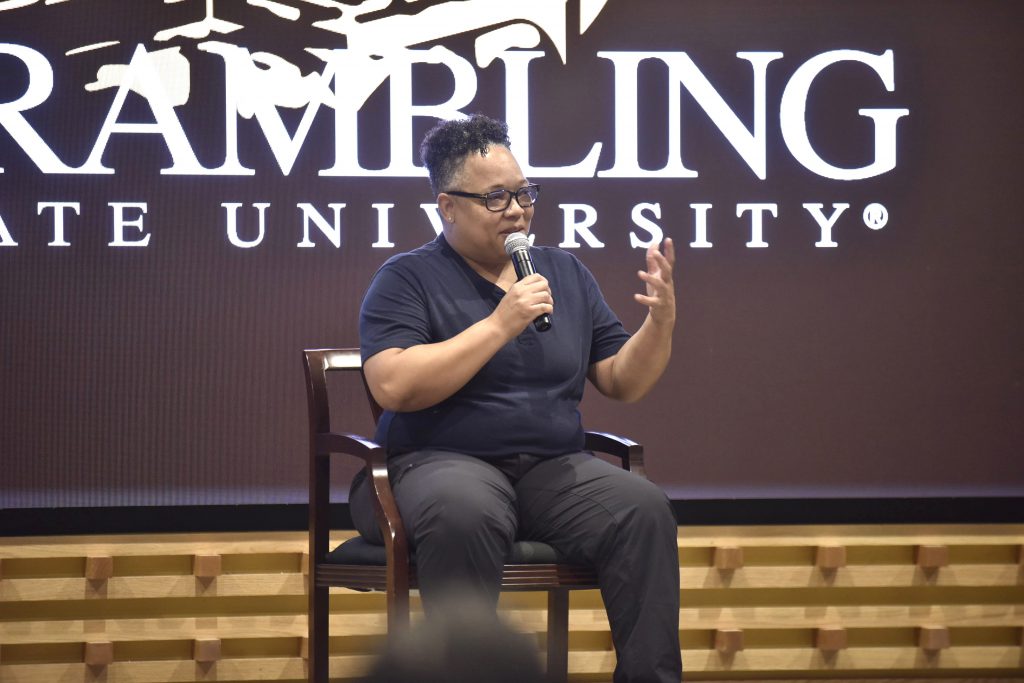 Grambling, La. – November 9, 2023 – Entrepreneurship is a risk, but sometimes it's important to be brave.
That was the overall message brought by Kimberly Penn, who appeared Thursday at a midday program sponsored by Grambling State University's College of Business and Office of Student Affairs in the Betty Smith Nursing Building Auditorium.
The program was part of the inaugural College of Business (COB) "Entrepreneur in Residence" series.
Penn is president of Webtropolis, the first woman-owned tech firm in the state of Texas, and also the founder/CEO of Professor Drones. Penn currently has clients in greater Houston, 13 states, Washington-DC, Canada, Mexico, Poland, and Dubai, and has worked on technology and security-based projects with budgets of more than $30 million.
"She's the one who suggested the 'Entrepreneur in Residence' idea because it's something she's done at the University of Houston," said Derrick Warren, dean of GSU's COB. "I met her down in Baton Rouge before the LSU-Grambling game earlier this year. (GSU alumnus) David Aubrey reached out to me down there and told me he had someone who he wanted me to meet, and it was Kimberly, who has a daughter who goes to LSU."
The "Entrepreneur in Residence" event was originally planned to be a straightforward lecture until the script flipped early Thursday morning, shifting into a Q and A format with students from GSU's College of Business asking the questions and Penn providing the answers.
"I brought a presentation, but after getting here I realized that I didn't want it to be like a class," Penn said. "So, then we grabbed some folks here to start asking the questions. The students didn't know they were going to do it until they got here this morning. Dean Warren grabbed them and told them about the idea and off we went.
"And it went pretty good to me. The students were engaged, and that was the goal. I want to come back, and I want to make sure that they're looking forward to me coming and that I want to listen to them. I can listen differently than an eight-week or 16-week class. So I think it all went well."
One of the key messages coming from the questions Penn was asked was that while entrepreneurship can be a risk, some risks are worth taking.
"When you take the risk of being an entrepreneur, there are great gains that can come with that, but you also have to take on the risk associated with it," Penn told those in attendance.
And that means sometimes potentially dealing with failure.
"I have absolutely faced failure," Penn said. "I would say I've probably had more impactful failure than success."
She then explained by telling a story about buying equipment on credit for a contract she thought she would get but didn't.
"I had $80,000-worth of equipment that you can't just use anywhere," Penn said. "And so I was really upset, my feelings were hurt, my ego was impacted and I remember to this day — and that was many, many years ago — how that felt."
But then Penn found out the company that got that project didn't have the equipment or credit Penn had, so Penn offered and ended up working with that other company for a while on a consulting basis and renting the equipment she had purchased to it in order to cut her losses and find another way to continue moving forward.
"So I took the failure, which felt bad, and turned it into an opportunity," Penn said. "So, there's some lessons in failure. It may not always be that big, But oftentimes it's a moment to be reflective and to keep it moving. You're just not going to win at everything. That's not how life is set up. And if you do (win at everything), you're probably not taking a lot of risk."
Penn said a big key to coming up with a successful start-up business is to have a plan and used an analogy to the "Pirates of the Caribbean" movies to try and explain her point.
"The running theme in those types of movies is that pirates always have a treasure map," Penn said. "Now it might be a map they have to hold up and 90 degrees and hold it upside down in order to figure out how to get to that treasure."
"But you have to have a map — a business plan. I have the pleasure of advising about 36 startup companies across the United States and every single one of them has a business plan. They didn't always have that before they became connected with me. And I liken that to the map pirates have."
Penn said having a business plan before startup should tell you if you should even create that business.
"There's no doubt you're all brilliant and can come up with things to do," Penn said. "But you have to decide if it's viable. Is there a demand? Is someone (else) doing it 30 minutes away? The internet has changed everything."
"Is someone doing it 24/7? And if you're doing it from 9 a.m. to 9 p.m., then what does that look like? That's why you have folks like myself, your professors and others who can help you make some good decisions about what it is you're working on doing."
Penn was also asked if she could give three habits to entrepreneurial success.
"If I said three things I needed to do would be to get some rest, have a great support system, which also leads to accountability, and be a constant learner," Penn said. "Being here at this university is a gift. I know you want to graduate and go on to your next steps but be a constant lifelong learner because one thing that we do know is that nothing does truly stay the same. Those are the things I could encourage you all to be mindful of."