Stephon Wilson to Represent Grambling State at International Manufacturing Conference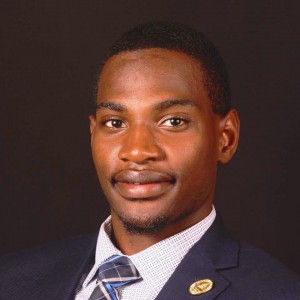 Stephon Wilson, a junior Business Management and Computer Information Systems major, will represent Grambling State University at the 2018 Private Label Manufacturers Association (PLMA's) Annual Private Label Trade Show November 11-13 in Chicago, Illinois.
Wilson, who was nominated by GSU's Dean of the College of Business, Dr. Donald White, will shadow and get real-time pitch experience and mentorship from retailers and buyers for large brands. Last year's mentor companies included big names such as Walmart, Whole Foods, Hormel Foods, Wegmans, H-E-B, and 45 others
"Mr. Wilson's personality and leadership here on campus gave us great confidence that he will represent the University well," said Dr. White. "We know it's vital for students to receive professional experience, so we are doing all we can to work with alumni and businesses to create more of these opportunities."
"I'm very excited about it. It is an honor to be able to go represent the university again in Chicago," said Wilson. "I'm looking forward to the experience and networking."
In Chicago, Wilson will have the opportunity to connect with more than 2,800 exhibitors from 70 countries with more than 5,000 buyers and visitors who serve Fortune 500 companies across the globe. These include supermarkets, drug store chains, and some of America's largest online retailers like Amazon.
"I'm hoping to learn more about how large companies are pitching their ideas," said Wilson. "At PLMA, I know there are a lot of industry leaders who have an in-depth experience we can use right here on campus."
Here in Louisiana, Wilson is involved in a variety of campus and community projects. His work includes helping manage GSU's shuttle service and fleet as Assistant Transportation Director; advocating for Louisiana higher education funding through the Student Government Association and University of Louisiana system; and serving as the 2018-19 President of Phi Beta Lambda National Business Fraternity's Grambling State chapter.
From all of your fellow students and community members, congratulations Stephon!