GSU Tiger Marching Band
---
History of Tiger Marching Band
BAND STARTED IN 1926
The plot began in 1926 when President R.W.E. Jones struck up an instrument deal with Sears and Roebuck. As the years passed, the script became juicer. So, here is our story: " How a once small, country band became not only the best band in the land, but also a household word...
GRAMBLING STATE UNIVERSITY WITHOUT A BAND?
Yes, that was the situation in 1926 when then President Charles P. Adams asked new faculty member Ralph Waldo Emerson Jones to form a group of marching musicians. Jones, who later served as the institution's President for over 50 years, began the tough task by obtaining 17 instruments from Sears and Roebuck and the Tigers were ready to take their first giant step.
At that time, there was no Music Department at Grambling, so sharps, flats, lines, spaces, notes and rest were mysteries to members of that initial group. But the inexperienced Tigers persisted, and soon they were performing their first "melody strained" concert.
Later, the action switched from chairs to grassy fields as the tiny group began marching at football games. Since several band members were usually on the grid squad, interesting situations frequently developed. It was a common sight to see Ralph Jones substituting for a band member who had suffered a football injury.
Tiger tunes became more sophisticated during the 1930s, and Grambling musicians began to perform at concerts and dances in neighboring towns. By 1936, Jones, affectionately known as Prez, became the President, but he still directed the band and coached baseball. For the musical group to continue its development, Prez decided a full-time director was needed. So " Sarge" A.D. King, former college band leader and big band director, was hired. Tiger musicians were under his direction until 1949 when Langston band leader J.S. " Pop" Lee took over. Faltering health caused the Oklahoma product to step down and trumpet instructor Sheldon Booth filled-in as interim director until Conrad Hutchinson Jr. was hired in 1952.
Hutch Jr.," a Tuskegee institute graduate, had directed high school for over 12 years in Mobile, Ala., Covington, Ky., and Cincinnati. The professional musician and jazz band performer frequently performed at theatrical events and stage shows and on television and radio programs.
During World War II the multi-talented musician was in charge of the U.S. Army bands in the China-Burma-India Theater. His years of experience would be put to excellent use at Grambling.
"BEST BAND IN THE LAND"
When Conrad Hutchinson Jr. arrived here in 1952, he had a plan-to make the Grambling College Marching Band the best in the land. It didn't happen overnight and it certainly wasn't easy, but "Hutch" and his staff began molding embryo noise-makers into superb musicians and magnificent marchers. And today, his prized unit is frequently labeled, " The Best in the Land."
TIGERS GO "BIG TIME" AFTER SAN DIEGO SHOW
After years of playing front of small crowds in the country, the Grambling band got its first big break in 1964 when it performed at halftime during the American Football Leagues championship game in San Diego.
Since transportation wasn't provided, President R.W.E. Jones paid for charted buses out of his own pocket. The investment paid off on an almost unbelievable scale as invitations began pouring in from across the country. News media personnel labeled the unit, "The band That Never Gets Tired." San Diego Union reporters jumped on the Tiger band wagon. Excerpts from their stories follow:
" If you want to know what many people thought of Grambling's band, here's what one of the hundreds who watched the bandsmen enter their buses after the game said. ' That band looked better getting on the bus than most bands do on the field."
" The band was the best musical group to perform in San Diego at an AFL game."
" The Chargers knew they had to be great if they were to prevent the Grambling College band from stealing the show."
" The fast-stepping, 104-piece unit provided pre-game and halftime entertainment that was every bit as effective as the Chargers."
Following the game, Grambling put on a concert at Lincoln High of San Diego.
GROUP ENTERTAINS USO AUDIENCES
Having made a name for themselves in the states, Grambling College band members began developing international reputations in the mid-1960s when the " Mixed Notes" toured numerous foreign countries.
The 15-member group was composed of comedians, musicians, dancers, actors, actresses, and singers, and it entertained USO audience in Panama, Puerto Rico, Cuba, Korea, the Philippines, and the Bahamas Islands.
Directed by Conrad Hutchinson Jr., the touring party included Peetie McDaniel, Erleen Borne, Norma Watson, Gene Davis, Inez Reddo, Leon Dickerson, George Herts, Dock Edwards, Conrad Hutchinson III, Isaac Paggett, Maurice Johnson, and Charles Minifield.
WORLD TRAVELERS
During the early 1960s, the Grambling College Marching Band, a unit known for its sedentary habits, became restless and hit the road. No longer would it be known as a small, country band, for it was soon to become the " traveling band from tiger land." Initially, only a few felines ventured afar. They were known as the " Mixed Notes" and they performed in 1964 during USO shows in the Caribbean and later in the Far East
GRAMBLING COLLEGE UNIT IN FIRST SUPER BOWL
When the old AFL and NFL decided to stage Super Bowl I, they realized that a super unit was also required for halftime. What was needed was a well-disciplined collection of musicians, who could hypnotize the crowd with their delicious music and aerodynamic movements. Of course, Grambling College received the invitation, and the rest was history. In early 1975, another Conrad Hutchinson creation took the field in Tulane Stadium for a halftime happening during Super Bowl IX.
OFF TO AFRICA
Jan. 3, 1972, the marching Tigers took their show to Monrovia, Liberia, where they performed at the inauguration of Liberian President William R. Tolbert.
Accompanied by the first lady Pat Nixon, the 150-member marching unit captured the hearts of its African audience with such songs as " I'll Be There" and " The battle Hymn of the Republic."
AFRICANS ENJOY TIGERS
Invited to perform at the inauguration of Liberian President, William Tolbert, the Grambling College Marching Band fascinated African audiences for 10 days with performances at more than 14 functions and before dignitaries from 74 countries.
Liberian spectators were so enthusiastic that during the military review, Liberian Army and Marine Corps troops were called to quell the fired-up crowd. One of the band's more popular numbers was " Do Me Right," and the troops certainly did. Instead of quieting the crowd, they broke ranks and joined the celebration.
One fascinated private was heard saying, " I wish we marched to that."
Also at the review was Mrs. Pat Nixon, who was representing the President. She stopped the car which she was riding and congratulated Conrad Hutchinson Jr., calling Grambling " Our band."
Other activities in this country founded by freed American slaves included a performance by 60 Concert Band members at Providence Island, the first place where freemen landed in 1822.
A SUPER "SHOW BAND"
Band Members captured the hearts and souls of Super Bowl I and IX fans with sensational shows that had Los Angles Coliseum and Tulane Stadium spectators swaying in their seats.
During the 1967 California game, feet started stomping early as Grambling College, University of Arizona, and UCLA units put on a pre-game show.
Then the "Bayou Band" staged one eye-opening halftime happening before it combined with other units for the finale. " The Band That Never Gets Tired" certainly lived up to its reputation.
In January of 1975 the the G-Men once again entertained Super Bowl fans. This the scene was Tulane Stadium in New Orleans. From the initial balloon releasing ceremony to the final delightful dance routine, Super Bowl IX observers had all the heart-throbbing excitement they could possibly absorb without medical attention.
IT ALL BEGINS IN EARLY AUGUST
The seeds planted in early August after a month of intense nurturing, the crop is dispersed throughout the world.
That's basically how GSU bands are developed year after year.
It all begins Aug. 1 with something that's officially called "pre-school band training period." Freshmen show up along with a cadre of drill sergeants and section leaders. Ten days later, the veterans return.
The day begins around 5a.m. when temperatures are in the low 90s. Training goes throughout the day and until as late as 11 p.m. Jogging, calisthenics, and marching at a cadence of 180-steps per minute are just a few of the body-testing activities available.
Initially, freshmen and veterans operate separately until about a week prior to their first performance. Then the groups combine. Only the strongest survive and those that fall behind are placed on reserve. Changes are as needed and "at anytime."
Even before the freshman arrive, staff members are busy planning upcoming routines. But plans cannot be finalized until the group's ability and schedule of events are known.
The routines use dance steps that are popular in different areas of the country- a technique Hutchinson accomplished by selecting students from various parts of the country to create routines. Seventy percent of the bands is from out-of-state and only one-third of its members are music majors.
A perfectionist and master disciplinarian, Hutch demands 12 hours practice for every four minute drill. Tardiness is a deadly sin and band members missing the bus or plane must arrange their own transportation at their own expense.
If it's not right, Hutch and his staff will work until it is. It's not uncommon for members to be awakened around mid-night to polish up a routine
The GSU Marching Band is one of the university's most important public relations tools. For that reason, halftime appearances in distant cities often involve other considerations. Parades, high school clinics or impromptu appearances in inner city neighborhoods are quite common.
GSU WINS "BATTLE OF BANDS"
Although there are no longer any nationally organized collegiate band contest, the marching Tigers were winners of one such event in 1972. Held in Dallas by Braniff Airlines, the " Battle of the Bands" featured competition between GSU, Southern, Jackson, Mississippi Valley, Kentucky State, and Bishop. The Tigers won the overall trophy as well as awards for showmanship and continuity.
TIGERS CUT TWO ALBUMS
As a tribute to its outstanding sound, two records have been cut of Grambling State University Marching Band music.
Mercury Records produced the first soundtrack in 1972 and it featured such numbers as "Ball of Confusion," "Six-Fifty East," and " The Love You Saved." Entitled " Tiger Time," the album was recorded in T.H. Harris before a live audience.
A Japanese company produced the other soundtrack prior to Mirage Bowl I. The 1977 album included that year's top hits and was targeted for the Japanese market.
BICENTENNIAL BAND
Over one million people watched the Grambling State University Marching band perform during the nation's bicentennial celebration in Washington D.C.
The gyrating Tigers marched in the July 4, 1976, parade and then performed at the Washington Monument that evening.
"COKE, BAND ARE IT"
When Coca-Cola began filming a commercial featuring the Grambling Marching Band, no one imagined it would become that firm's highest ranking advertisement.
Sub-freezing temperatures greeted the film makers that December of 1981, and it took a while to crank those tigers engines. But once in motion, there was no stopping them. The Commercial, which dubbed GSU as, " The No. 1 Band in the Land," became Coke's most popular promotional piece.
COAST TO COAST PERFORMANCE
Since the early 1960s, Grambling's multi-talented musicians have performed in nearly every major stadium in the country.
Tigers have prowled such spacious arenas as the Coliseum, Astrodome, Superdome, Silverdollar, Orange, Cotton, Sugar and Rose bowls, River Front, Bush, Balboa, Yankee, Shea, Cowboy, JFK, Veterans, Three Rivers and Arrowhead stadiums and Solider Field.
Tigers Are Highly Organized Group Halftime at many stadiums is when fans flee to the concession stands so they won't be bored with the band.
But that's not the case when the "show band" from Tigerland prances onto a field. Forget the popcorn and soda pop. It's time to "get down." Toes start twitching, hearts begin thumping and bodies start bumping as the the marching Tigers take complete control of their captive audience.
The black magic has been working its spell on delighted victims for decades and there is no sign of demise.
The success can be attributed to a number of things including discipline, organization, creativity, dedication, hard work and electricity.
" Being the best you can be" is constantly stressed from band camp in August to basketball show in February.
Once band members arrive in August they are organized both musically and drill-wise.
Musically, the organization is divided into sections by instrumentation. Each unit has a section leader, who can have as many as two assistant section leaders. These heads report to members of the who are responsible to Conrad Hutchinson Jr.
For drill purposes, the band is divided into squads of eight- each with drill sergeant who can have as many as two corporals.
The sergeant answers to the master drill sergeant and they in turn report to the drum major. This individual communicates directly to staff members who ultimately report to Hutch.
This type of organization has enabled the marching Tigers to play at practically every major stadium in the country and several overseas.
ALOHA
Nov. 4, 1972, the Tigers took their swinging soul sound to Honolulu, Hawaii. Typing played during halftime of the GSU-Hawaii grid game and at a special band concert.
FROM 17 TO 300 PIECES
Over the years Grambling's band has developed from a 17-piece unit to the current squad which features 250 individuals.
In the '50s two buses could haul the 84 members, but that's no longer possible. As demand for the Tigers grew, so did the band. It went from 84 individuals to 130 to 200 to 250 (including staff, dancers, and color guards.
Marching Band size is often determined by the type of performance. For instance, when the Japanese invited GSU to the 1983 Mirage Bowl and Jazz Festival, they required a 300-unit outfit.
Sixty Gramblinites traveled to Dallas last March for a performance at a Dallas Mavericks professional basketball game.
PIONEER BOWL
The GSU band first stepped foot on Japanese soil during the autumn of 1976 when it performed during the first Pioneer Bowl in Tokyo.
TIGERS JAM IN JAPAN
Take exotic Japan, a country deeply-rooted in ancient traditions. Stir in a lot of jazz. Finally, blend with the GSU Marching Band.
What have you created? It's a happening and it's been happening since 1976 when the Tigers performed in the Pioneer Bowl, but this time after having participated in the Osaka Mitsubishi Jazz Festival.
And a fourth trip has been planned for the fall of 1985.
CHAMPS TWIRL FOR TIGERS
In the early 1950s majorettes were worked into the organization and by 1957 there were 10.
But Conrad Hutchinson Jr. was searching for something more innovative than the standard majorette line, so a featured twirler spot was created. Only three have held there position and all were national collegiate champions.
Peetie Green was the first and she performed in the early 1960s. Louie Nelson followed in the mid-70s and Tammy Washington twirled from 1977-81.
DRUM MAJORS LEAD MARCHING MUSICIANS
They are like towers- tall, lean, and eye-catching. But their majestic appearance also conveys feelings of leadership and dominance. These student band leaders are Grambling State University drum majors. Actually there is only one drum major. The rest are assistants and they can number as many as four, depending on the band's size. The drum major is responsible to the staff. The leaders aren't created in a day, for they must work their way through the ranks and display exceptional musical, drill, and leadership talents.
Patricia Patterson was Conrad Hutchinson Jr.'s first drum major and served through 1952. Others include Donald Moss, Donald Porche, Paul Dumas, Patrick Cooper, Don Washington, Willie Hill ('66), Gerald Williams, James Smoot, Herman Kemp ('72), Edward Robinson ('73), Eddie Brown ('74), Randall Morgan ('75), Robert Bryant ('76), Tommy Todd ('77), Edwin Thomas ('78), Gregory Sibley ('79), Lonnie Smith III ('80-81), and Jason Williams ('83-84). In the early 1960s the band had "a little edge" on its competition. It was in the form of "Little Jack" Hunter Jr., the midget assistant drum major.
ORCHESIS DANCERS JOIN THE GSU SQUAD
Women have played an important part in the Grambling band, serving as musicians, majorettes, featured twirlers, and most recently as Orchesis dancers.
Members of the latter group were phased into the band routines in 1977, and they have been electrifying audience ever since.
Actually, females were part of Prez's first band and they continued as marching Tigers until the 1963-64 school year when travel and lodging arrangements forced the band to go " all-male."
Except for featured twirlers, the unit was without women until 1977 when they were once again allowed to try out.
FIVE GSU BANDS
The marching Tigers are just one of five different bands at Grambling State University. These units, which are not directly under the Music Department, operate out of a special instrumental area of the university.
Bands and their directors include the Concert Band, Joseph L. Miller and Conrad Hutchinson Jr.; Symphonic Band. LeRoy Humphries; Experimental Jazz Ensemble and Symphony Orchestra, Lenward T. Seals.
BASKETBALL MUSICIANS
Another first was recorded by the marching Tigers during the winter of 1984. They performed for the first time on a professional basketball court. Fans at the Dallas- 76ers' game got their money's worth that night.
ALWAYS A TIGER
A feeling of "togetherness" surrounds the marching band, and that special closeness remains even after graduation. The band has a very dedicated alumni following that frequently returns to campus, especially for homecoming. Time is turned back during homecoming halftime as Alumni Band members recreate their magical performances of yesteryear.
It's their way of proving the still "have what it takes," and also saying, "Thanks for the memories."
FROM HUMBLE BEGINNINGS TO JAMMIN' WITH THE PRESIDENT OF THE UNITED STATES
During the week of GSU's Presidential Performance the band received a call from the NCAA. The band had been selected to represent the Pageantry of Bands section of the NCAA Hall of Fame. A request was made that the band send a drum majors uniform to be used a mold representing the band. Strange enough the uniform didn't fit. A day later GSU's Band Staff got a call from the NCAA requesting permission to fly up one of the bands drum majors to cast a mold of the actual statue.
Dignitary's from across Louisiana and surrounding areas gathered in Grambling's Robinson Memorial Stadium to hear the President's speech. President Clinton's commencement address was well received. Not only did The President get a chance to interact with some of the finest minds of Historically Black Institutions, he also picked up something extra while he was there.
GSU's Band staff presented the President a Jacket making him an honorary director of bands at the university. "The President says he's always been a fan of our band", says Dr. Larry Pannell, Director of Bands @ GSU, "He mentioned that he'd been following us since his days as governor in Arkansas".
In addition, thanks to Epsilon Rho (K K Psi), Members of Kappa Kappa Psi and Tau Beta Sigma will also be proud to know that on that same day the President became a member of their Honorary Band Fraternity.
But this was only the beginning of GSU's Post Season performances. A few days after the Presidents departure the band begin shooting a commercial for Tampax. Currently the band is waiting on a date to began shooting a commercial for DVD - Digital Video.
This summer the band shot 2 Television Commercials, represented college bands in the NCAA Hall of Fame and Performed for the 41st American Present, typical post season for GSU's Marching Tiger Band.
INAUGURATION OF PRESIDENT GEORGE W. BUSH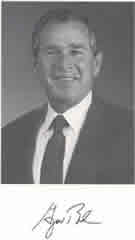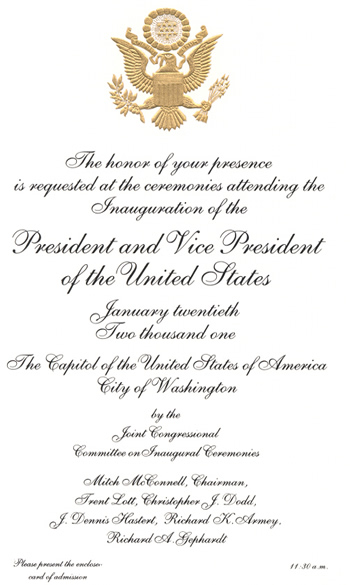 GRAMBLING MARCHING BAND DAY "MAY 3, 2003, DENVER COLORADO