Alpha Kappa Alpha Donates $50,000 to Grambling State
Grambling State University was chosen as one of the initial recipients of the AKA's nationwide HBCU support efforts.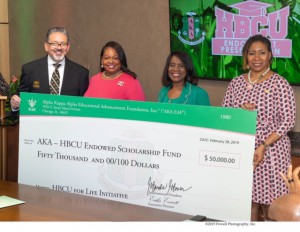 Grambling State University is one of the first 32 institutions who's presidents received endowment funding from a new initiative of Alpha Kappa Alpha Sorority Incorporated.
Through it's Educational Advancement Foundation (EAF), Alpha Kappa Alpha Sorority, Inc (AKA) announced the establishment of the AKA-HBCU Endowment Fund. As if that's not exciting enough, the international Sorority kicked off the endeavor with a history-making pledge to distribute $10 million dollars in endowment funds to 96 accredited Historically Black Colleges and Universities (HBCU) over the next four years.
"As an HBCU graduate and someone who has dedicated my life's work to the HBCU community, I personally know that the financial challenges of many institutions have an impact on student enrollment, retention and graduation rates," said Alpha Kappa Alpha Sorority, Inc. International President Dr. Glenda Glover. "Implementing an endowment fund is a critical need and has been a priority for my administration since I took office last year. Alpha Kappa Alpha's 111-year history is deeply interwoven into the history of HBCUs and therefore it is imperative that we continue to invest in these treasured institutions."
The Educational Advancement Foundation was founded in 1980 by Alpha Kappa Alpha Sorority, Incorporated, an organization with a rich and distinguished history of service that spans more than a century. The fund falls under the organization's target HBCU for Life: A Call to Action, which aims to promote HBCUs by encouraging students to attend and matriculate through these institutions as a sustainability measure in accordance with AKA Presidents vision of Exemplifying Excellence Through Sustainable Service.