Gallot urges freshmen to stay focused on academics, stay away from illegal activity
By SARAH-RENEE GARNER
GSU Media Bureau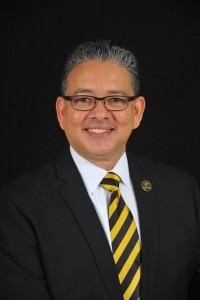 Grambling State University President Rick Gallot told a group of GSU students to focus on their studies without participating in illegal activities.
"You did not come here to sell weed," said Gallot, an alum and longtime attorney who has represented a variety of clients in court.
Gallot, the 10th president of Grambling State, addressed 600 First Year Experience (FYE) students at the T.H. Harris Auditorium on Tuesday (Jan. 31), going into some depth about the obligations Grambling State students have to themselves and obligations GSU faculty and staff have to the students. He shared several ideas, and focused on three key points: go to class, do good work and hold Grambling to a high standard.
The president said students should focus on what it takes to graduate, and that means "begin with the end in mind."
Students who fail to follow the president's three basic rules will suffer consequences, he said. If a student chooses not to attend class and not to do good academic work, money will be wasted, grades will likely drop and those students will not get the best jobs in their fields, the president said. In addition, if a student chooses not to show Grambling State in a positive manner, those students will be subject to expulsion — and the value of the university's degrees diminish.
Students and FYE instructors enjoyed Gallot's tough love talk.
"President Gallot was very relatable," said Lesli Woods, 18, a music education major from Columbia, Missouri. "He got very deep and real with us, especially with the drug dealing comment. He addressed real issues in our class and in the Grambling community."
Billy Booker, 19, a marketing major from Houston, Texas, said the president "really reminded me how much I want to be one of those alumni who gets their degree and comes to give back to Grambling."
Arlissia Giles, 19, a marketing major from LaPlace, Louisiana, appreciated Gallot's candor, and one other thing: "He was short, sweet, simple and to the point."
Brittany Hoskin, Coordinator of the Grambling Achievement Program and FYE instructor, said she hopes the president's talk sticks with the students as they matriculate through college.  "I like the fact that he reinforced what we do in the FYE classroom and the expectations that we have for the students as well as the expectations that the students should have from the faculty and staff," said Hoskins, a native of Tchula, Mississippi, who has taught FYE classes since spring 2012.
###
Media Contact:
Office of Communications
318-274-2866
mediarelations@gram.edu